better with friends: lunch and French boutique shopping
Without a doubt, the very best part of my eight plus years of blogging has been getting to know and often getting to meet so many fabulous, intelligent, caring, thoughtful, supportive, funny and accomplished women from all over the world. Some of the people I now consider my dearest friends are those whom I've met through our blogs.
So the opportunity for a blogger get-together in the company of one of those dear friends (Tish Jett) and to meet another woman (Sharon Santoni) whose blog "My French Country Home" I've read and admired for many years was something to look forward to and plan our time in Paris around. Sharon was wonderful company and I immediately felt comfortable with her. She is vivacious, funny and a straight-talker. I'm hoping that next time we visit France we'll be able to make time to schedule one of her amazing brocante tours.
Tish had made plans for us to have lunch at once of her favorite restaurants, and then do some shopping at Babette's boutique in the village near where she lives. In addition to the company, I welcomed the opportunity to see more of the French countryside outside of Paris. I took the train from Montparnasse, and the ride out clocked in at around 45 minutes through some gorgeous country, woods and rolling fields. Tish and Sharon picked me up at the station, and we went straight to lunch. The restaurant was lovely, with a patio backed up against a wooded hillside. The sky threatened rain but lost interest after a few random drops.
Of course when bloggers get together, blogging is the first topic of discussion. 🙂 But over lunch and dessert we also covered the conversational gamut from families to work to a bit of politics to real estate in France. It's a pipe dream at this point, but perhaps someday…..
Lunch was divine, and we could have lingered over another glass of wine and much more conversation, but Tish had made arrangements at côté rue, Babette's boutique, for a personal shopping session with Babette!
When we arrived, Babette visually assessed my size (and was right for the vast majority of pieces she chose) and started pulling items from the racks for me to try. She really knew her inventory, and which pieces might work well together.
By the time I ducked into the dressing room, she'd already placed about a dozen pieces in there. Babette also pulled a few pairs of shoes from her shoe store next door. The idea of this exercise was to expand my horizons a bit, to try some new styles, and to have the experience of shopping with a French perspective and eye toward style. I'd promised myself to keep an open mind. Tish took some pictures with her camera (which she'll share on her blog), and Sharon kindly snapped some photos with my iPhone. Both women offered straightforward and honest opinions on the pieces I was trying on. I really appreciated the feedback, and with all of the attention felt like Queen For A Day!
I tried these pants first with a couple of "crisp" blouses which we unanimously ruled out as unflattering. This softer top and whole look above worked for me, and I put both the pants and top into the "maybe" pile.
I'd promised to keep an open mind, remember, and everyone thought this jumpsuit looked adorable on the hanger. Not so much on me, though, another unanimous opinion. I liked the bow on the shoulder, but everything below that was All Wrong. I'm laughing here because it was So Not Happening, even with a cute jacket. Most of those dresses on the rack to the left were adorable, but just too voluminous for 5'1″ me.
I liked this blouse from the get-go, especially the color, print and asymmetric pleat detail at the neckline. This one went right into the keeper pile. The style of these shoes wasn't "me," but after seeing how much the red footwear adds to this outfit, I'm determined to find some nice red sandals, wedges maybe, or some espadrilles. (If that mannequin in the background looks mighty short, it's because the small shop had started to fill up and the only place to stand for a clear photo was in the children's section. BTW, the kids' section…très mignon!)
This little bouclé jacket had beautiful fabric and was a good cut for me, but was just too heavy and warm for our LA climate.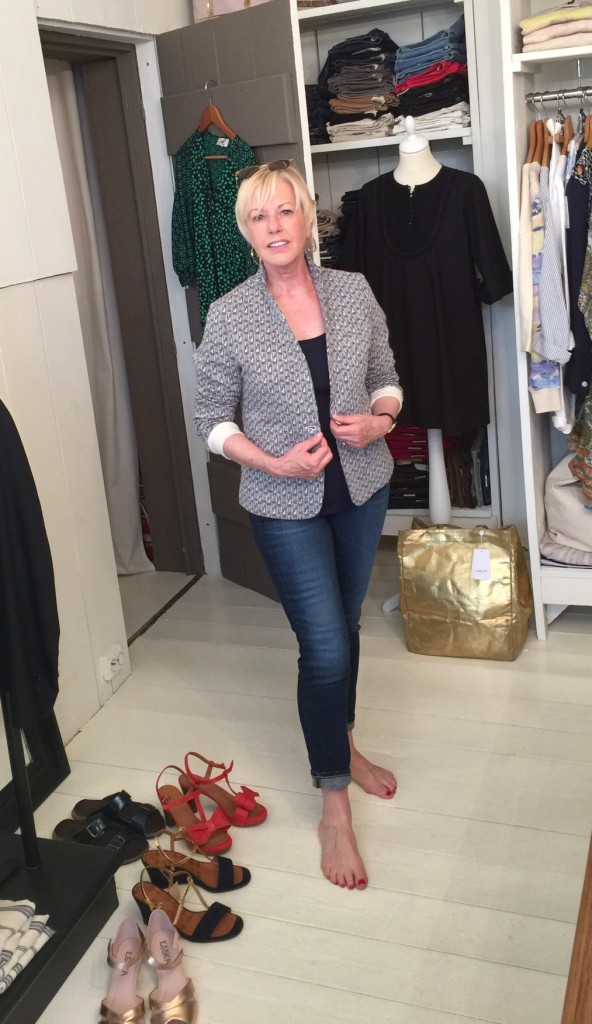 Likewise this jacket which had an interesting detail in the knit cuffs. You can see the shoes Babette had chosen to go with the clothing she'd selected.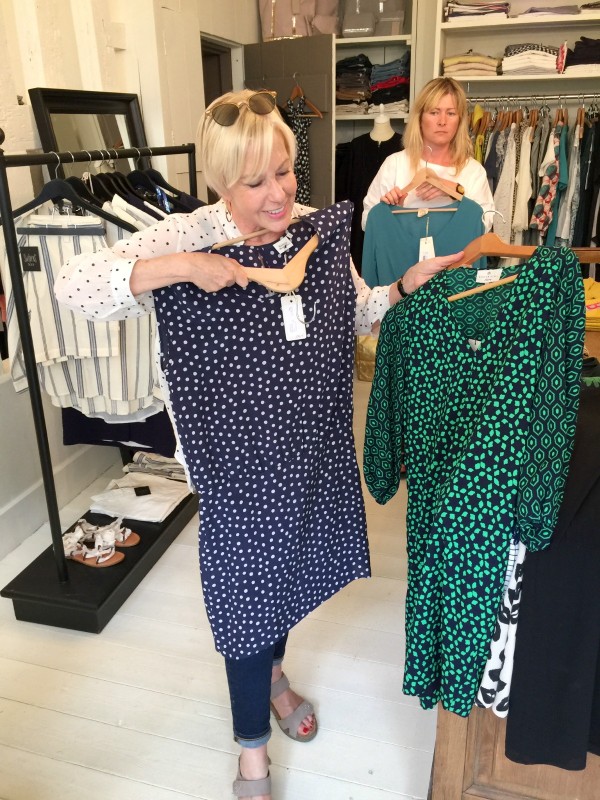 Of all the dresses I tried, the one that I hadn't expected to work was the navy petits pois (polka dots). The shape didn't look like much on the hanger, but I loved how it looked on me. I wouldn't let Tish take a picture, though as I'd taken a spill on some cobblestones back in Amsterdam and my lower legs were still quite scabby and bruised. I hemmed and hawed over this one, and decided to leave it behind, a decision I regretted by the time I'd returned to our hotel room. In the meantime, I did purchase the red spotted top and the purplish navy pants, both of which will work with other pieces already in my wardrobe. A mental inventory reminded me that I have plenty of blue tops already in my closet, and left the navy printed tunic behind. As I was standing by the register, I noticed a cute white cotton tee with splashes of gold from a brand called Hello I Love You / Leon & Harper, which I tried on quickly and purchased. We didn't get pictures but will post some soon.
Sharon had other obligations and said her goodbyes at that point.Tish took me on a walking tour around the village, and we stopped in to the pharmacie where she introduced me to Christine, her friend the pharmacist whom you might also remember from Tish's book
and who provides such knowledgeable advice. Tish drove me to the station to catch my train back to Paris, and we chatted for a few minutes more before the train arrived. Tish and I never seem to run out of conversation, and our time together is always too short! Exquisite company, delicious food, and personalized shopping…it just doesn't get any better than this.
But people, that navy dress haunted me for days. It was a serious case of Non-Buyer's Remorse. As soon as we arrived home, I emailed Tish to see if there was any way to complete the purchase remotely and have it shipped here. Tish and Babette's crew came through like champs, and the dress is on its way to me now. I promise pictures. 🙂
The red top is from a brand called Attic and Barn, made in Italy. More Attic and Barn styles on Yoox.com. The pants from are Bensimon Collection, which does not appear to be available online in the U.S. More Leon & Harper at Yoox.com. I don't remember the brand of the dress, but will update once I have received it. Le Monsieur, who had spent the day on a bike tour in the Champagne region, gave an enthusiastic thumbs up to the tops and pants. (He's always happy to see me wear more color.)
Thank you again Tish and Sharon for such a lovely afternoon! We'll talk more about that petite maison… 
Affiliate links in this post may generate commissions for unefemme.net. See complete disclosure policy here.
Stay in touch
Sign up to be notified of new posts and updates from une femme d'un certain âge.