It's sometimes called "dopamine dressing," but this time of year especially, I find myself craving more color in my outfits. It's like visual caffeine. (Yesterday's bright green sweater jacket was a happy example.)
Usually, I'm most comfortable in neutrals with one color accent. (Two, if one is a scarf.) If you've been living life in neutrals and are wary of color, sometimes a little is enough. Here are a few accessories that can add a some brightness to your look (and outlook).
Above, a striking teal shoulder bag.
Brighten it up…
If winter's the Real Deal where you live, scarves are a practical way to add some color. Here's a pretty ribbed cashmere scarf in bright cornflower blue (other colors available too).
If your palette is warmer, I love this muted plaid (perfect for you Autumns). This scarf is wool free, and available in other color combinations.
The first time I visited Paris in 2007, these Longchamp le Pliage bags were everywhere. One Paris street style account I follow on Instagram says they seem to be making a comeback. Sure, you could always play it safe with black, but this Blush is really a fun option.
I know many of you are fans of MZ Wallace bags. Here's a small Metro tote in a lively green. (There's also a small crossbody/fanny pack in this color.)
After months of eyeing colorful Roxanne Assoulin bracelets, I finally ordered some and have been wearing them frequently. That little hit of color is a shot of happy. Maybe next time I'll spring for this cheerful pink set…💕
If you have a warm-weather getaway planned, why not pack a colorful (and comfortable) pair of sandals for beach or poolside?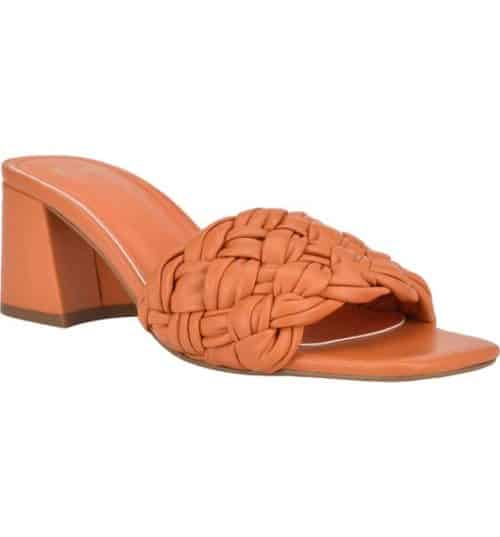 And a pair to wear out to dinner…
Here's a sunny color for your toes. This polish is clean and cruelty-free.
And if a sunny getaway isn't in the cards right now, get a little of that just-got-back-from-vacation glow with this sheer cheek color.
More colorful accessories for women

Affiliate links in posts may generate commissions for unefemme.net. See my complete disclosure policy here.