France Travel Diary: A Day In Levernois
One of the travel practices we've developed over the years is spending the first couple of days in the countryside. It's a nice way to decompress and gently ease ourselves into the time zone.
Hostellerie de Levernois
This time we decided on the Hostellerie de Levernois just outside of Beaune. It was a perfect choice, with quiet location, beautiful grounds, attentive staff and fantastic food and wine.
To combat jet-lag, I try to spend as much time as I can outdoors, while moving as much as possible. We took several walks around the grounds and surrounding area yesterday.
The hotel has it's own Potager Bio (organic vegetable garden) to provide produce for both the Gastonomique and Bistrot restaurants on site.
Above, the street entrance to the Bistrot.
I thought this street-side lending library next to the Mairie (village administrative hall) looked inviting…
Our room was charming and comfortable.
We capped off the day with a wine tasting…
While we often think of red wine when we think of Burgundy, they actually produce more whites. We learned about the climate, geology and soil conditions that make each appelation unique. We tasted wines at three of the four quality categories (Bourgogne, Village, Premier Cru and Grand Cru). Then we toddled off to dinner at the Gourmet restaurant, (which was out of this world!)…
What I Wore To Dinner…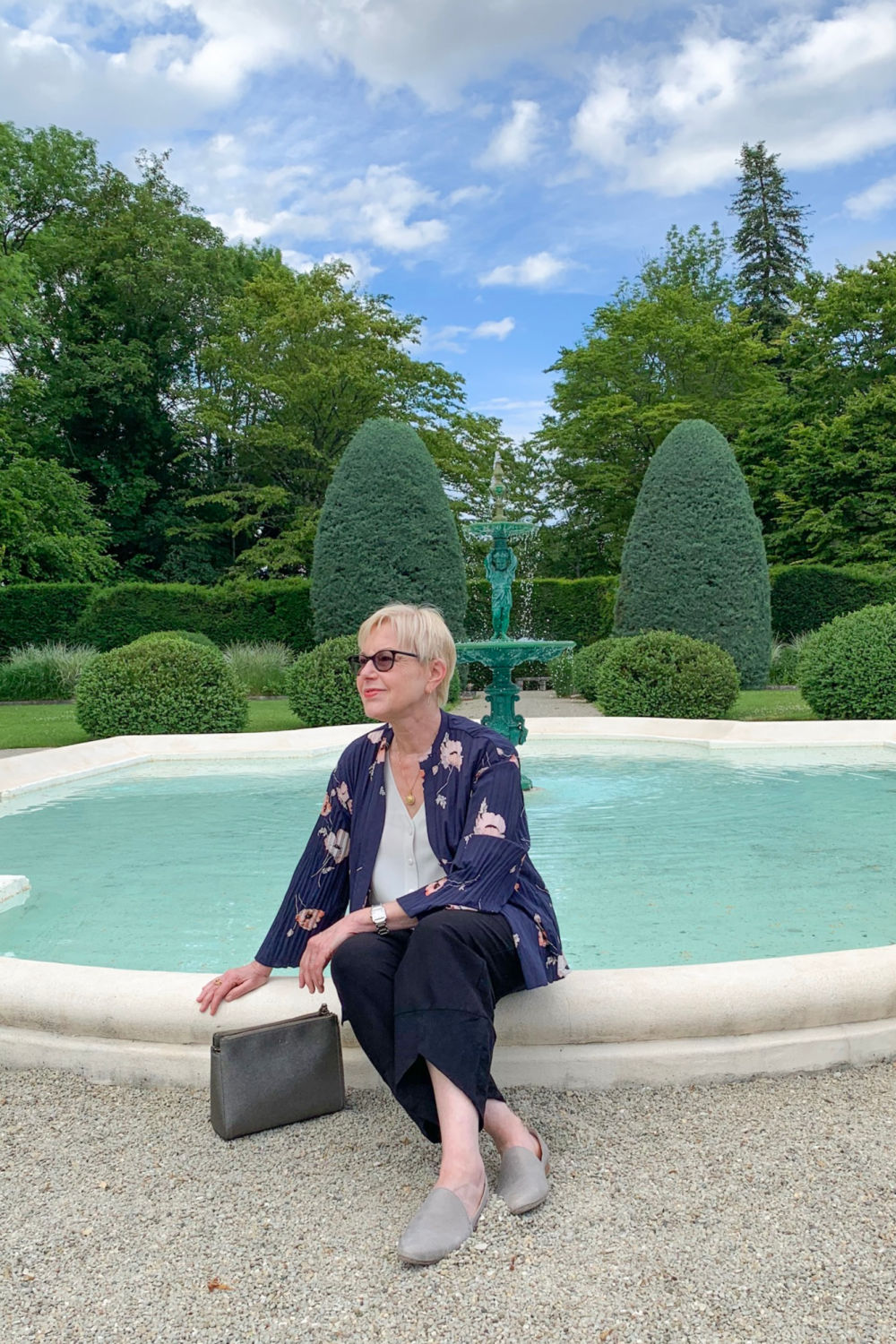 But first stopped for a quick outfit photo. It was such a beautiful evening I could have just stayed here for hours. You're right, that floral top (which I'm wearing as a jacket) wasn't in my original 15. After checking the weather reports again right before we left, I made one quick swap and added one Wild Card.
I replaced the black floral top with this one, which I just rolled up and stuffed into a corner of the bag. It came out looking pristine. I also added one of my Easy White Shirts in linen. And a good thing too, as there's now a major heatwave forecast for next week. 😫 I may have to re-think my "no dresses" stance and do a little quick shopping once we get into Beaune later today.
If you'd like more updates, be sure to subscribe by email (form below) and follow me on Instagram.
À bientôt!
Stay in touch
Sign up to be notified of new posts and updates from une femme d'un certain âge.