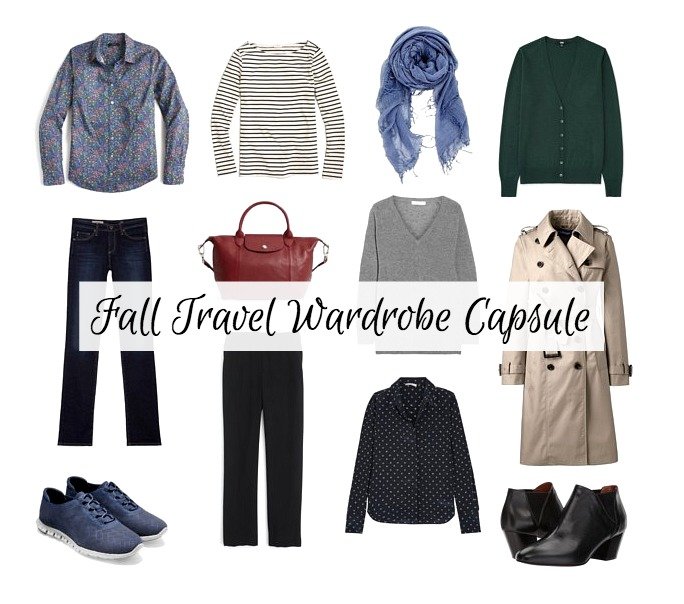 Fall is my favorite season to travel. The temperatures are (usually) cooler, and the crowds are thinner. Yes, there's some travel on our calendar this fall, so I've been doing some advance planning of my travel wardrobe.
Fall Travel Wardrobe Building Blocks
Several of you have mentioned that you'd like to see less black in these wardrobes and more skirts/dresses. So for the sake of this exercise, I've built a travel wardrobe with a neutral base of mostly navy and grey.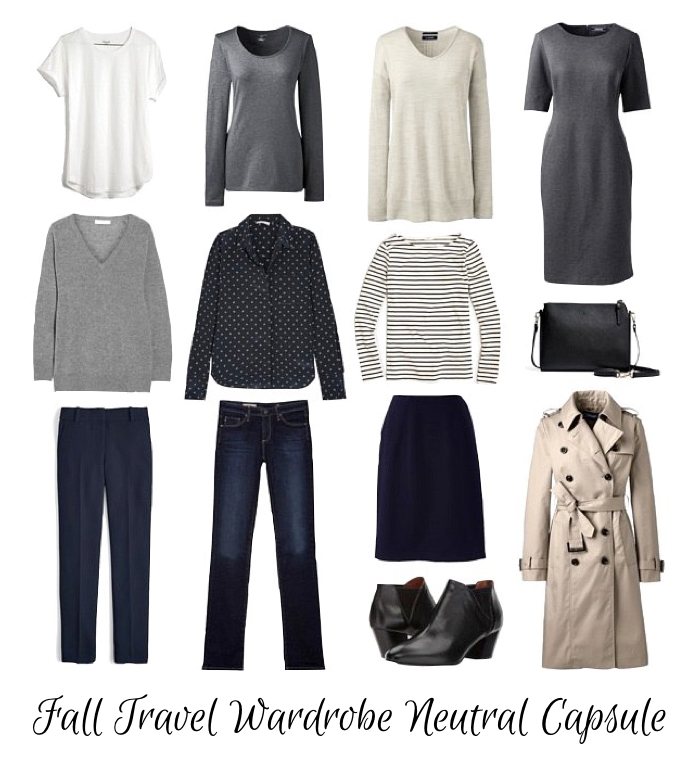 Top row: tee (similar) | tee | tunic | dress
Middle row: sweater | blouse | tee (similar) | bag
Bottom row: pants | jeans | skirt | boots (similar) | trench (similar)
Then, I've added some color and pattern to liven things up and provide variety.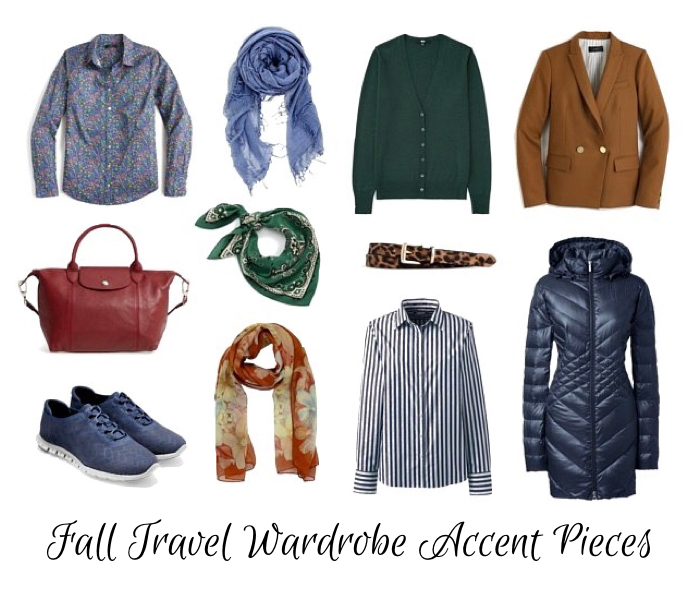 Top row: shirt (similar) | scarf | cardigan (similar) | jacket
Middle row: bag | scarf | belt | parka (similar)
Bottom row: shoes (similar) | scarf (similar) | shirt
As with all of my hypothetical travel wardrobes, these pieces are intended as suggestions and starting points. You can always select different items or colors, or include more items. My own travel wardrobe will have a bit more black, because that's what's in my closet.
Jewelry: Left – earrings (similar) | bracelet  Right – earrings (similar) | watch (similar)
Travel Wardrobe Planning Tips
Start with the shoes! They're truly the most important part of your travel wardrobe. I almost always include a pair of weather-resistant ankle boots and another pair of walking shoes or sandals (for warmer seasons or destinations). You want to be sure that the clothing you select works with your travel shoes. Unless you have a truly formal event to attend (e.g. wedding, fancy-dress party) leave high heels at home.
Lightweight knits are the backbone of my travel wardrobes. They're comfortable, usually washable, and layer well.
I find that neutrals are easiest to combine, look polished, and offer the most versatility. I plan my wardrobe around a neutral base, adding accents in 2-3 complementary colors.
Depending on the length of the trip, I usually plan on 3-4 bottoms and 6-8 tops. You can always pack more, but having a well-chosen capsule means you'll be covered for a range of weather conditions and activities. I try to make my selections so that all of the tops go with all of the bottoms, and the tops can layer as needed to accommodate fluctuating temperatures.
Be sure to try on all planned combinations before you pack.
Look for pieces that can be worn multiple ways. A lightweight cardigan that buttons can be worn either open over another layer, or closed underneath a jacket or coat.
Try to leave your heavier and bulkier pieces at home. Complicated design details, chunky knits or large amounts of loose fabric make pieces tougher to layer.
Think comfort and mobility. If you can't sit comfortably for several hours in what you're wearing or move around easily, leave it at home.
If the weather is cool enough, scarves can be a great way to add more color and variety. They're one of my favorite souvenirs to pick up when I travel too!
Don't forget a base layer. I almost always wear a silk tank underneath my tops. And if there's a chance you may encounter cold conditions, pack some long underwear.
Jewelry: Left – earrings (similar) | watch (similar) Right – earrings (similar) | bracelet
Will you be traveling this fall? Any particular packing challenges?
Travel-Friendly Knits
Affiliate links in posts may generate commissions for unefemme.net. See my complete disclosure policy here.