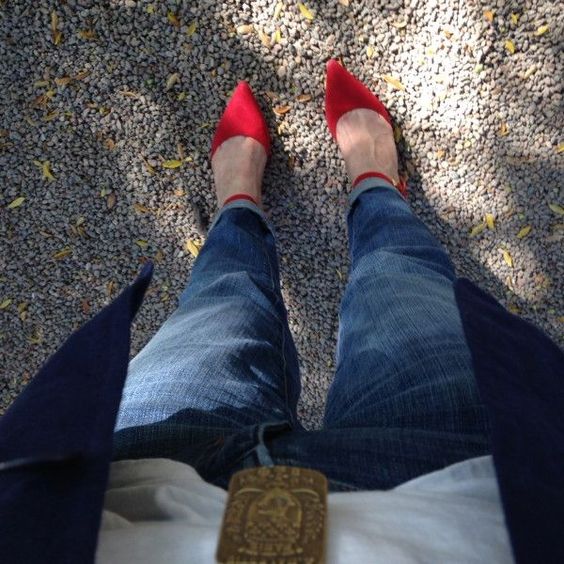 Style Balance Points
I often find myself thinking of personal style as finding our optimal balance between elements that reside on opposite ends of their aesthetic continuums.
For example…
structured / soft
classic / trendy
formal / casual
bright / subdued
polished / rugged
ornate / simple
bold / delicate
dark / light
fitted / voluminous
feminine / masculine
You could probably name dozens more.
When I was growing up and even well into my adult years, there were very clear proscriptions about what went with what. Structured with structured, classic with classic, etc. Mixing styles or levels of refinement was a no-no. Today, that same exacting level of consistency can feel limiting and a bit staid. We have a lot more freedom today to find our own Sweet Spot balance, and create unique personal style. And personally, I think mixing it up a bit looks and feels more modern.
Regaining My Style Balance
In addition to visual balance in an outfit, there's also emotional balance. Does this overall look express the image of myself I want to project? I find that when an outfit just doesn't feel right, it's often because something is out of balance. Not just the visual or proportional balance, but the less tangible and more personal aspects of expression.
For the past year or so, I feel as though I've been struggling more to get that balance just right, especially the feminine/masculine elements. I'm not a Girly Girl, but I can't do straight up "Gentlewoman" either. Looking back over some of the outfits I've liked the most from the last few years, I've realized that what's been throwing me off isn't clothing or accessories. It's my hair. While the short pixie cut has been fun, it's also started to feel a bit too severe.
So I've begun letting my hair grow out a bit, aiming for a bit more softness. I'm not sure where it will end up, but with my very fine, very straight hair, my options are somewhat limited. I also don't want something that's going to require a lot of daily maintenance and styling.
When it comes to your personal style, how do you create balance?
Top image: I love the look of boyfriend jeans paired with a classic pointy-toed pump. I'm still kicking myself for getting rid of those shoes a couple of years ago during a closet purge. jeans | shoes (similar)
Stay in touch
Sign up to be notified of new posts and updates from une femme d'un certain âge.