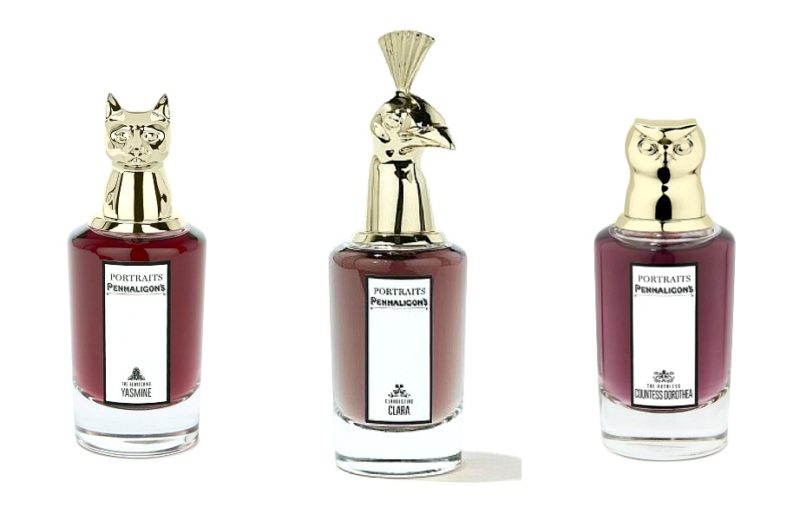 Fragrance With Character
Fragrance is such a tricky beast. I find that my tastes shift periodically, and scents that once delighted now leave me cold or even annoy. I like something feminine, but with an edge. And it has to have a warm heart.
I was first introduced to Penhaligon's a few years ago by Josephine of Chic At Any Age. At that time, the brand wasn't available in the U.S., so I'd try them out whenever I was in the UK or France. I liked their unique fragrances, and have since learned that they do not test on animals, and their products are made with only high quality natural ingredients.
I recently had the chance to try some of the fragrances from their Portraits collection, and am smitten. The blends are very unique, and complex without being heavy. The bottle designs are bold and dramatic. And who could resist these amusing snippets of backstories of the characters (the family of a mythical "Lord George") that populate the collection…
The Women
The Bewitching Yasmine. She is by all appearances soft and quiet. Yet at the same time, she conducts herself with a rare force. Some, the less determined, would find her distant, maybe cold, but appearances are notoriously misleading.
(This fragrance has top notes of coffee and cardamom, mid-notes of jasmine and incense, and an oud base.)
Clandestine Clara. And isn't she a complex creature… A forceful personality, spicy but equally sweet, she has travelled in exotic countries and company – and in her smoky, velvety, woody air you may detect a memory (or three) of his Lordship… She is rebellious, contradictory, independent, unconventional – a woman ahead of her time. 
(The notes I picked up on are vanilla, cinnamon and amber, but also a slightly chypre note I can't identify that sharpens and focuses the blend.)
Ruthless Countess Dorothea. A most ferocious matriarch, known for her sharp mind, even sharper wit and a secret fondness for the company of young men and scones. A fragrance that has impeccable manners. Refined and thoroughly reassuring. Both are misleading. Revenge. It's even better than biscuits. 
(I'd describe this fragrance as "refined spice." Notes of bergamot, ginger, sherry, and maybe a little vanilla to round off the edges.)
These are not the entire collection, but are my favorites. I'm having trouble deciding between the three, but am leaning toward Bewitching Yasmine which dries down quite nicely and seems to last longest on my skin. These "ladies" all have a very light sillage, are well-mannered and do not enter the room ahead of you.
Pour Les Hommes…
The men's fragrances in this line are no less colorful…
Monsieur Beauregard. "Our French friend" is how this unknown but over-familiar houseguest is typically introduced. His lingering gaze lets you know he'll take things from here. A special kind of perfection that with its strong caressing silence speaks volumes! Confidently quiet. Mysteriously sexy. Be warned. One look is all it took.
While this Portraits fragrance range isn't inexpensive, Penhaligon's does have a multitude of products from perfume and eau de toilette, bath and body, and even home fragrances. This Mixed Scent Library sampler includes a range of scents including the original house fragrance "Hammam Bouquet" and is $30.
I'm going to keep an eye out for more fragrance lines that aren't tested on animals and will report back.
Note: this is not a sponsored post. Just wanted to introduce you to the brand.
Affiliate links in posts may generate commissions for unefemme.net. See my complete disclosure policy here.