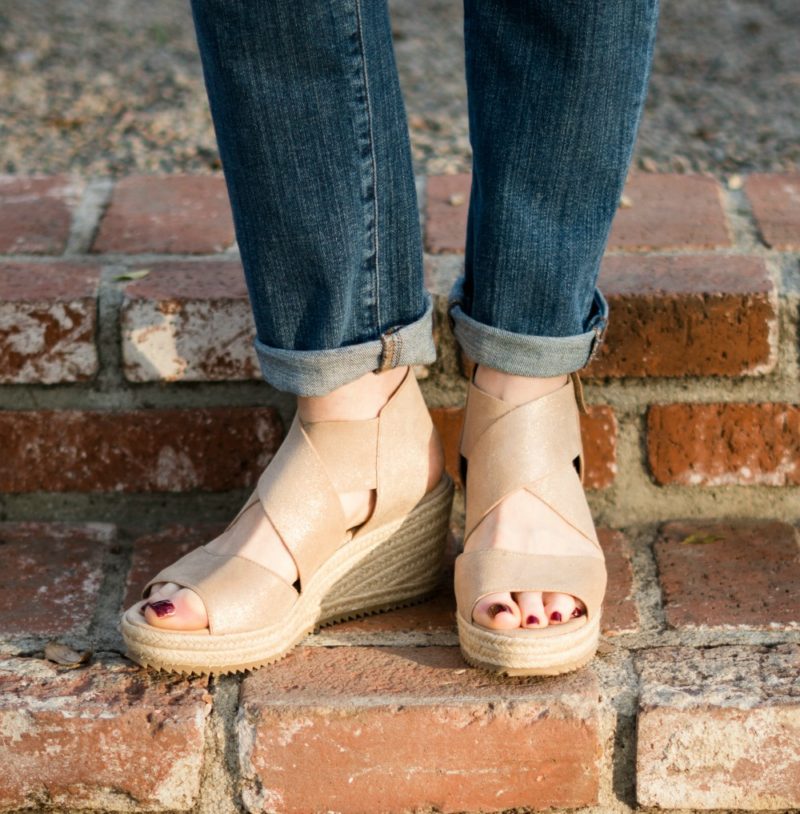 This week had its share of frustrations, but here are a few things that made me happy.
The Fab Five
These wedge espadrille sandals. After trying a few of the styles I featured last week, I did end up going with the first pair. We've had warm enough weather the last couple of days that I've been able to wear them at length. They are SO comfortable and I love that soft metallic gold!
My new washer and dryer. After 21 years of an apartment-sized stacked top-loading washer/dryer unit (similar style to this one, but a Maytag) this new full-sized front-loading machine is a revelation. With the old machine, I couldn't wash comforters or even a full set of sheets at once. With these machines I can, plus there are all kinds of special settings that I've already found useful. Like the "Instant Refresh" feature on the dryer. If you have something that's rumpled but doesn't need washing, this setting tumbles and steams it for 10 minutes to remove creases. Brilliant! And I swear my clothes come out MUCH cleaner than with the old washer.
The Instant Pot. OMG, this is worth it for the hard-boiled eggs alone. I've also used it to quick cook some boneless chicken breasts to use in salads. Can't wait to try some actual recipes!
Real coffee! We're beginning to settle in to the new kitchen. (Although we're STILL waiting on some finish work to be done before I show you the full Before and After.) But the space is mostly functional and I've been able to make freshly ground and brewed coffee on the stove again. I'm taking my time re-populating from storage in the garage to allow us to get a sense of the space and ergonomic aspects. It's a very different footprint from the old kitchen.
One more thing about the new design I really like is that I can use the counter as a standing desk. I've been trying to spend less time sitting, and this is an easy way to accomplish that.
Good Customer Service. This week I've had a few email exchanges or phone conversations with various customer service reps, and they've been 100% positive. Especially FedEx, who called yesterday morning because a package they were supposed to deliver had been damaged, and they wanted to know if I wanted it to be delivered anyway or returned. As the FedEx rep was examining the contents for damage, she said "oh trust me, you don't want this," so it's being returned. She saved me the hassle of having to do it, and this week I'm grateful for any small annoyances avoided!
Tell me about the good stuff in your week!
Affiliate links in posts may generate commissions for unefemme.net. See my complete disclosure policy here.