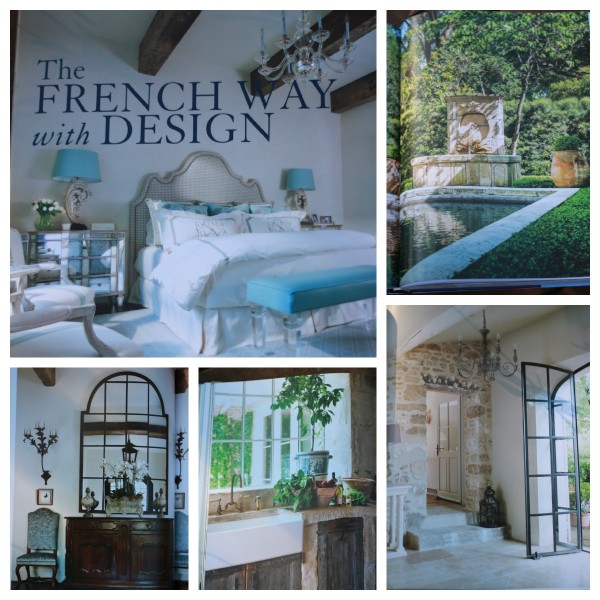 Images from The French Way with Design
by Betty Lou Phillips
Autumn is a season marked by a return to old routines and perhaps the thrill of some fresh wardrobe items. But for me it's also the time when my attention turns to home, as we prepare for holidays and celebrations that occur over the next few months.
I don't post many pictures of our home, mostly because our "decor" such as it is, is haphazard, and accidental. Yes, we have some vintage posters that le monsieur had beautifully framed, but almost everything else in our space is a result of practicality and finding space for inherited furniture and knickknacks. And the combination of a small space, a special needs teenager, dogs and a schedule that doesn't allow for a lot of time spent cleaning and arranging, has areas in a rather constant, if evolving state of disarray. I've mostly been content to let it ride until it's time to host a family gathering, when we scramble to organize and put away the detritus and remove the dog covers from the furniture.
As much as I appreciate beautiful interior design, out of necessity it hasn't been a high priority for me. But immediately upon opening this absolutely gorgeous book by "The French Way With Design" by Betty Lou Phillips, I was bitten by decorating bug. Unlike a lot of gorgeous spaces one sees in design magazines and websites, most of the rooms and gardens in this volume look like they are meant to be actually lived in. Aside from stunning and inspiring images, the book is also chock full of how-do-they-do-it tips, from materials to use of space to attitudes about blending old with new, and appreciating a certain patina that comes from time and wear.
Furniture artfully set on an angle opens up a room. Placing pieces on a diagonal, or simply angling an armoire, for example, in the corner rather than pushing it against a wall reflects the influence of the French, who have a talent for thinking inventively when it comes to crafting areas stylish and smart.

Harmony is more important than conformity. While some in the States crave five-piece place settings of the same china, our French cousins do not. In fact, most frown on matching sets of anything.

Still, unassuming elegance must mingle with ease. So even tightly edited spaces host heroic-sized family portraits, photographs in frames, pillows, throws, candles and freshly cut flowers arranged en masse. Heaped high on coffee tables roomy enough to hold chessboards are well-read books. Often noticeably absent, however, are plants, as many feel they should be relegated to outdoors.
If you've ever sighed with bliss over images of a French country house or a casually elegant Parisian apartment, you'll absolutely swoon over this book. And for those for whom it's not too early to start thinking about special holiday gifts, this gorgeous book
should be high on your list of unique gifts.
I received a copy of this book for review.
Affiliate links may generate commissions for unefemme.net
Affiliate links in posts may generate commissions for unefemme.net. See my complete disclosure policy here.