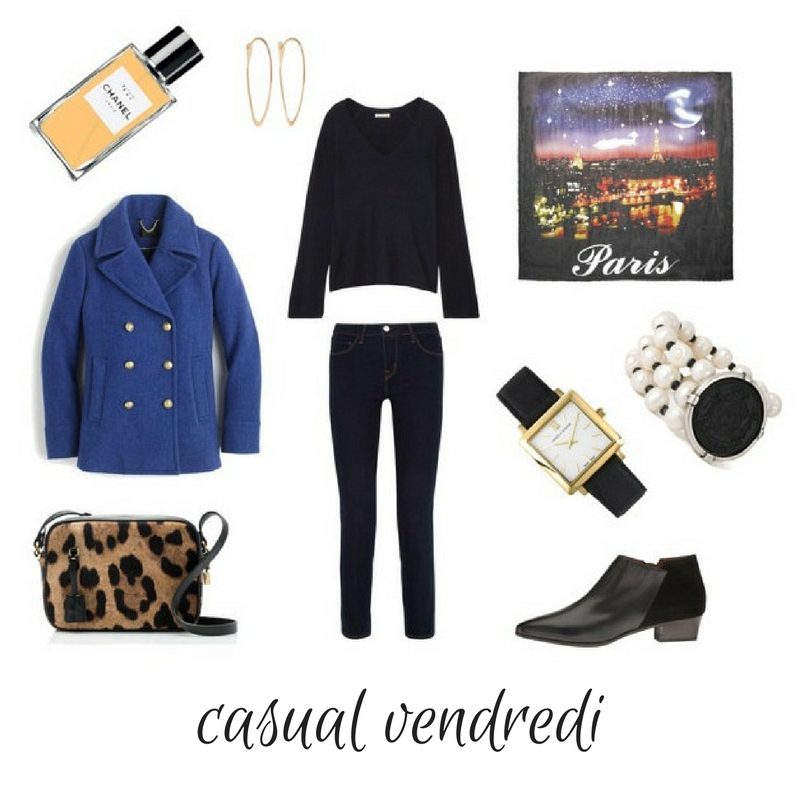 I'd begun working on an outfit post for today, trying something different with the leopard coat, but after reviewing the photos, decided it looked too heavy and contrived. That fine line between trying new things and remaining true to my style? Sometimes I cross it. That's OK, it's a learning experience and reinforces my belief that if you have to work too hard to make an outfit come together, it will never feel quite right. So to wash away the bad taste of a not-so-great outfit, I went into my "virtual closet" to create this one.
Above: fragrance | earrings | sweater | scarf
coat | jeans | watch | bracelet | bag | boots
I've been going through another style shift for the last few months. My style seems to evolve in intermittent lurches, and usually I flounder a bit before I can really quantify where I'm going and hit my stride. I've lost interest in the more Boho, distressed and weathered looking shoes and bags, as well as those that have too much going on. Sleek, modern and simple with an interesting detail or two is what appeals to me, and what feels most authentic. "Polished casual" is the best description I can come up with. I still wear jeans most days, so with accessories I'm leaning more feminine, along the lines of "modern gamine," with a sprinkling of Casual Glamour, and an occasional pinch of whimsy. And a heaping spoonful of Not Overthinking.
I'm focusing more on accessories and "accent pieces" because my basic wardrobe feels mostly complete (there are a few pieces I'll look to replace or refresh this year) and versatile enough to facilitate different looks with a shift of accessories. That's the beauty of good basics, and the reason I'll never stop banging that drum…
And clothes are on the back burner at the moment because my weight's up a few pounds over my preferred range after the holidays. It's not the sweets that do me in, it's the cheese! And maybe the extra few glasses of wine… When I was younger, I'd have beaten myself up over this, tried to struggle into my tightest clothes, starved myself and suffered. I've learned over time to treat my body with kindness, to keep it comfortable, move it, nourish it, and move on. Some of my clothes are too tight for comfort right now, so I'm not trying to squeeze into them. Rather than embarking on a drastic regime, I'm shifting us more toward a Mediterranean diet (not a problem for me…I love veggies and legumes!) and staying away from le fromage for a while as well as bread (another indulgence I allow myself on vacations and around the holidays). I still enjoy a small glass of red wine most evenings, to which my doctor has given the thumbs up. "Aging well" has become a priority for me, and this article in the LA Times from earlier this week provided additional motivation for the dietary shift. I'll let you know how it goes.
Does your taste remain consistent, or do you find that your style preferences shift over time? How do you accommodate these shifts? Do you experience weight fluctuations, and how do you handle those?
More Like These…

Affiliate links in posts may generate commissions for unefemme.net. See my complete disclosure policy here.