I'd hoped to have a recap of some of the highlights of our recent Las Vegas trip posted today, but this week has hit us like…well, as Roseanne Roseannadanna was so fond of saying, "it's always something." Most of it good, but "somethings" that require a lot of our attention and focus nonetheless. I'm planning to get that post finished for next week, but in the meantime a few assorted tidbits…no April Foolin', I promise!
warm weather travel companion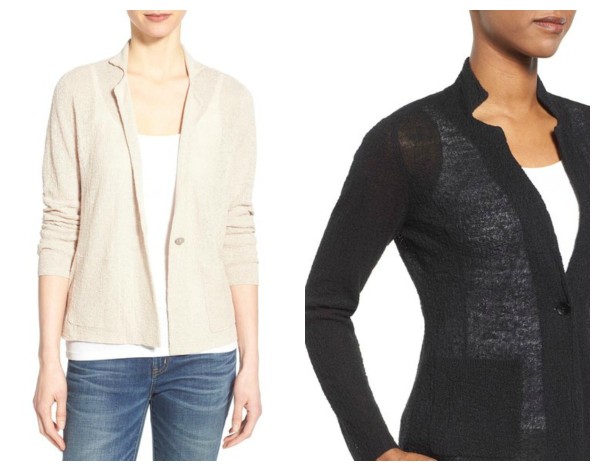 If you have travel planned for late spring through early fall or are looking for some office-worthy summer options, you should definitely check out this organic linen knit jacket from Eileen Fisher. Nice shape, very lightweight, and will take up almost no space in your suitcase. For evenings that cool off a bit, air-conditioned interiors, or situations where a regular jacket would be too heavy, this is a nifty solution. The collar can be worn up or folded down.
kudos to Nike…
While this isn't women's fashion, I wanted to give a shout out again to Nike for developing this "Flyease" line of shoes for those who can't tie regular lace-up shoes on their own. Our son is one of those people due to his cerebral palsy, and he loves these shoes, which look awesome and which he can put on and fasten himself. (If you've ever shopped for adult men's sneakers that fasten with velcro, you know what a dismal selection is out there otherwise.) Nike Flyease are available in Mens and kid's sizes in multiple styles and colors.
travel hack of the week: how to pack a MacBook charger. You're welcome. 😉
his post contains affiliate links which may generate commissions for unefemme.net. See complete disclosure policy here.
Affiliate links in posts may generate commissions for unefemme.net. See my complete disclosure policy here.