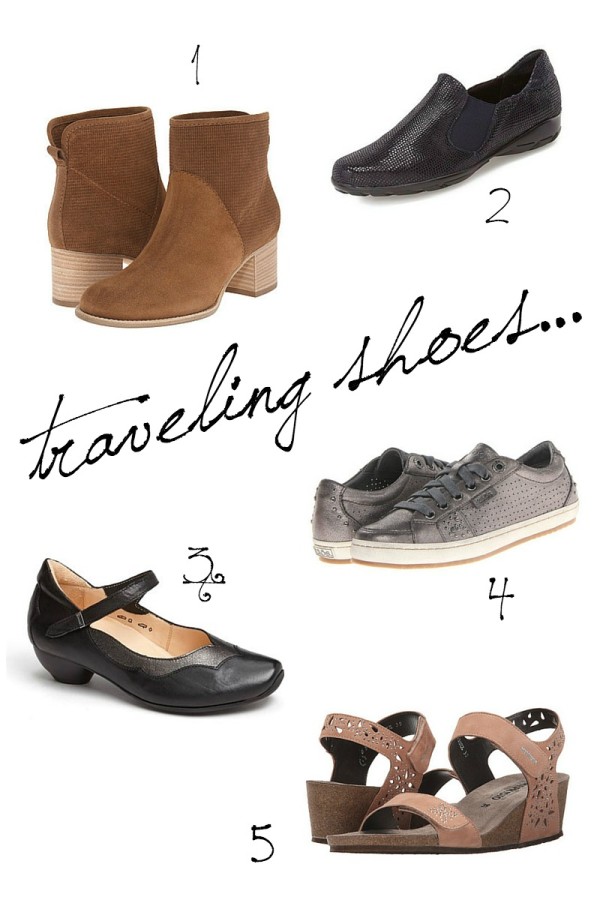 It's a lesson often learned the hard way: footwear is the most important part of your travel wardrobe and can be the most difficult part to get right. If your feet hurt or your footwear doesn't suit the climate or the rest of your wardrobe, you will NOT be a Happy Traveler. That's why I always recommend to start with the shoes when planning a travel wardrobe.
shown above: 1 | 2 | 3 | 4 | 5
If you're trying to pack light, 2-3 pairs (including the one you wear on the plane or in transit) should be all you need. Of course some outdoor activities or special occasions may require more specialized footwear, but otherwise just as with your clothing, choosing "multi-purpose" shoes will help reduce the number needed.
Unless you will have door-to-door chauffeur service everywhere you go, comfort should be your top priority, and that doesn't have to mean settling for ugly shoes. While everyone's feet and fit preferences are unique, there are a few common denominators that I've found apply to comfortable travel footwear.
Cushioning. While I understand that there are people out there who can run around (comfortably) all day in thin-soled ballet flats, I am not one of them. Especially as we age we can lose padding on the soles of the feet, and a bit of cushion in the insole plus a shock-absorbing outer sole is ideal. For leather soled shoes I always recommend having a cobbler add rubber half-soles and heel tips; not only will this help preserve your shoes and improve traction on slick surfaces, but can also add a little bit of shock absorption. If the shoe's fit allows, or if your shoes have removable insoles, adding a cushioning insole may also help.
Support. There are a few components to this, but if your shoes do not have sufficient support, you may find that your feet and legs tire more quickly. I need good arch support, and find that shoes with a low heel or wedge provide a little more support than a completely flat shoe. You may find the opposite; it's really about sticking with what works best for your feet.
Fit and stability. You will want shoes to fit snugly, not tightly. Shoes that are too loose will cause your muscles to work harder for stability and you may tire faster. A wedge or low heel that is narrow may be more difficult to walk in over time or irregular surfaces; a wider heel and sole will be more stable. If your feet swell over the course of a day, lace-up styles or shoes with adjustable buckles might be your best options. When considering loafers or other slip-on shoes, remember that the higher the vamp, the more stable the shoe will be for walking. If you find yourself having to grip with your toes as you walk or the heel slips, look for another pair. And be sure any shoes you travel with are either broken in or have at least been "road tested" for several hours on your feet. There should be no "hot spots" or any areas that pinch or rub.
Those guidelines above apply to footwear no matter what season you're traveling. For Spring and Summer travel, here are the 5 styles of footwear that I've found work best. As with clothing, unless you have a special occasion (e.g. a wedding or a state dinner) on your itinerary, "smart casual" is the most dressed up you'll need to be, and you can leave the dressy heels at home. Most of the styles of shoes below can be selected so that they transition from day to evening. Also as with clothing, a darker neutral shoe will provide the most day-to-evening versatility. But metallics can also be a fun choice especially for summer, and are very much on trend now.
This post is getting quite long 😉 so I'll schedule a follow-up post to share some of my favorite brands for comfortable and stylish travel shoes. In the meantime, here are a few selections to consider…

This post contains affiliate links which may generate commissions for unefemme.net. See complete disclosure policy here.
Affiliate links in posts may generate commissions for unefemme.net. See my complete disclosure policy here.