Have Wardrobe, Will Travel
After some back and forth with current pieces and a couple of purchases to supplement for tropical conditions, I think my travel wardrobe for Hong Kong and Phuket is set.
First, the Hong Kong leg, and yes there's a lot of black. Most of those black pieces are either bottoms or clothing intended for evening wear. The pants and skirt are all pretty lightweight and loose-fitting, and made of breathable viscose rayon or tencel fabric. I did look for some linen skirts, pants or capris but did not have any luck, just the wrong season. The tops are mostly linen, and very loose and lightweight. After consulting with the woman who runs the walking tour company we've engaged for our first full day in Hong Kong, I'm taking the sandals I'd originally planned, plus a dressier pair for evening in place of pumps. She said that she wears nice walking sandals 9 months out of the year there, and she's on her feet for hours daily.
Because I knew we'd be dealing with warm temperatures and lots of humidity, I didn't limit the number of pieces as much as with past trips (otherwise I'd be spending a lot of time doing laundry). But everything still fits comfortably in the carry-on bag.
Shoes: ECCO walking sandals (similar) for day, See by Chloé block heel sandals (similar) for dressier evenings.
Pants: Eileen Fisher stretch ankle pants (similar) (can be rolled up) // Eileen Fisher crepe lantern pants (similar) // Eileen Fisher tencel ankle pants, no longer available, similar.
Skirt: Eileen Fisher asymmetrical hem skirt (similar).
Tops: Eileen Fisher linen shirt, no longer available in white, similar // J.Crew striped tee // Eileen Fisher hemp/cotton 3/4 sleeve top (similar) (also in Plus) // Grey linen elbow tee, similar in 3/4 sleeve // Madewell linen tee. Not pictured: Eileen Fisher linen tank (also in Plus).
Jacket: Eileen Fisher silk/cotton knit jacket, several years old, similar style.
Dresses: Karina, Babette
Fedora: Eric Javits (similar)
For Phuket, I threw in a couple of bathing suits*, casual rubber sandals (good for beach or excursions)  a wide-brimmed hat
that can get wet and this lightweight cotton top provided by Marketplace Handiwork of India, a non-profit organization that supports low-income women in India in developing and sustaining small businesses. I'm planning to pick up a sarong or maybe some drawstring pants in Phuket. 😉
*I hadn't purchased a new bathing suit in years, and I'd like to give props to the Sales Associate at Canyon Beachwear at our local mall, who wouldn't give up until she found a bathing suit style that I loved. I think the last time I loved a bathing suit was when I was 10 years old. It fits brilliantly too.
I'm taking two handbags…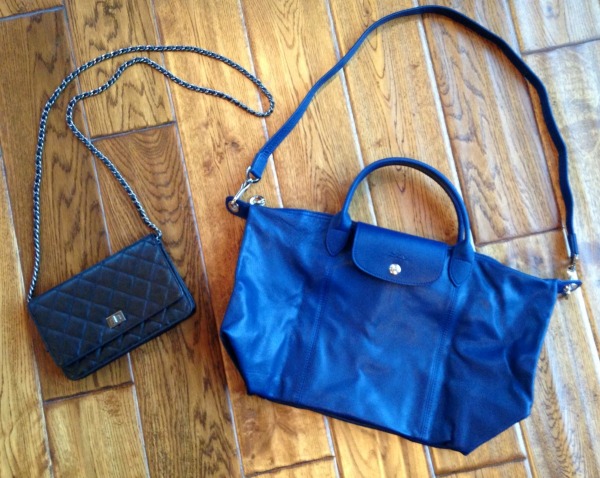 On the right is a Longchamp Le Pliage Cuir (same style, similar color) which is a fabulous day bag. I am SO happy that Longchamp finally added a Le Pliage style with a crossbody strap. This will be big enough for essentials and stash a jacket or wrap for over-cooled interiors, plus accommodate those "can you put this in your bag" requests from le Monsieur. The bag on the left is a Chanel "wallet on a chain" bag which is a perfect size for evenings. Both of these are lightweight and compact.
Whew! I think I'm ready…
I haven't included here what I'm wearing on the plane, which I'll show in a separate post, and which will include some warmer layers as I tend to get very cold on airplanes.
You can check out how well this wardrobe worked in my Travel Wardrobe Recap, here.
What pieces do you pack for more tropical climates? Do you shop once you get there?
Affiliate links may generate commissions for unefemme.net
Stay in touch
Sign up to be notified of new posts and updates from une femme d'un certain âge.