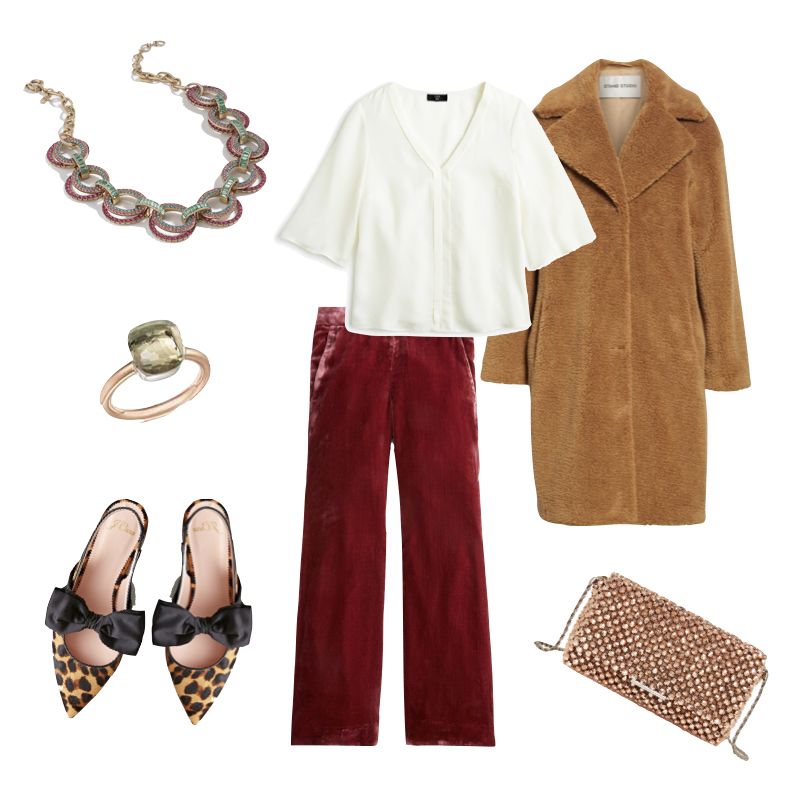 Around this time of year, I get a lot of requests for holiday party outfit ideas. So over the next few weeks, I'll put together and share some options.
Over time, my strategy for the holiday season (or other party situations) has shifted away from the Special Occasion One Hit Wonder. I think we've all made this mistake at one point or another: splurging on something fabulous, unique and memorable that gets worn once and never again. These days, most of us want to get more wear for our money, and be able to get dressed without stress over the holidays.
So my solution? Pieces that are just a notch above "basics," but that can be re-mixed and dressed up or down. One of those categories is what I call "Party Pants." (Or a skirt.) Think print, a sumptuous color, a luxe texture (like velvet or velveteen), or an interesting silhouette like a lantern or palazzo pant. Pair with a simple top, some sparkly jewelry and fun shoes, et voilà!
To dress down your Party Pants, just add a soft sweater, denim jacket and your favorite sneakers. Below, I've looked for styles that aren't too constricting or fussy, and that could be worn as part of a work or casual outfit.
Do you have a go-to formula for putting together holiday party outfits?
Please note, if you subscribe to posts via email, you may be receiving a warning or error message when you click the link. (This seems to mostly be affecting gmail users.) I can assure you the link IS safe. If you add info@unefemme.net to your "safe" or "preferred" senders list, it should eliminate the error message. Thanks!!
More Party Pants (& Skirts)

Affiliate links in posts may generate commissions for unefemme.net. See my complete disclosure policy here.