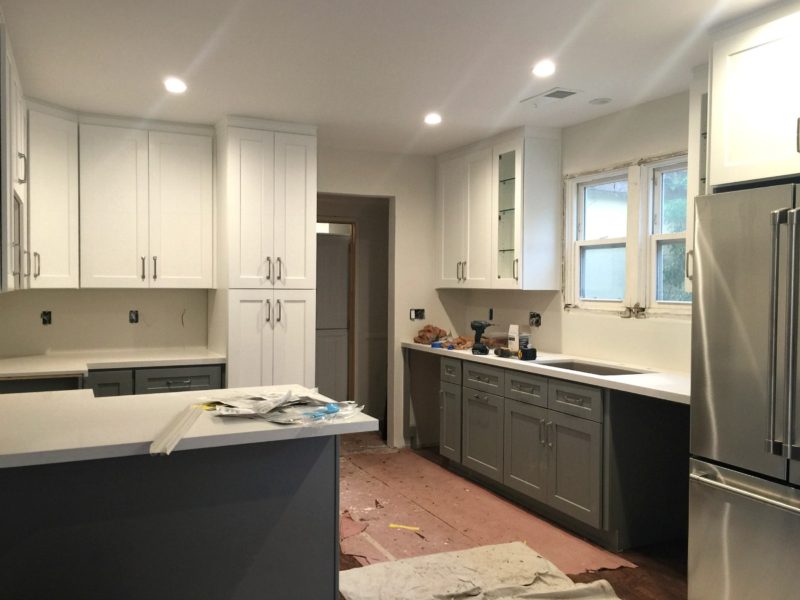 It's Coming Together…
Things are now moving fast with the kitchen and bathroom renovation!  Cabinets and countertops are in and…
so is my washer/dryer! I can finally do laundry at home again!! We had to carve out a niche in the bathroom, as that was the only spot in the house that would accommodate full-sized machines. And as you can see, it was a still a tight squeeze.
The job foreman tells me they want to get much of the rest done by the end of next week, so I'm hoping to have a functioning kitchen by then, yay!
Out And About…
My friend Karen is in town for a few days, so got together yesterday. We had fun exploring some of the shops on Rodeo Drive, and both crushed on this scarf at Burberry. We ogled some of the fun stuff at Gucci (kind of a visual candy store these days), and then dashed over for a quick lunch at Eataly in the Century City mall.
Eataly was still quite mobbed, and we didn't want to stand in a long line for table service so we grabbed a couple of kale salads and split one of those crostini, above. It was all delicious. After lunch we made a quick pass through the sale at Zara, where Karen nabbed a few cute jackets. It was a short visit but a lot of fun!
Staying Healthy…
There's been a nasty flu going around. I had my flu shot a few weeks ago, but am still making sure to wash my hands several times per day. I had a couple of days of sore throat and congestion earlier in the week, but thankfully it didn't turn into anything worse. If you haven't had your flu shot yet, go get one! I find that since I started getting annual flu vaccines I get sick far less often, and even when I do catch something, seem to get over it quicker. I'm also going to make a point to get a shingles vaccine soon, as I did have chicken pox as a kid.
Trying to stick to healthy eating without a kitchen has been challenging, but I've been getting better at it as time goes on. My new favorite breakfast is a poached egg and quinoa over a handful of arugula. (I use the microwave to poach the egg and heat the pre-cooked grains which I find in the rice section at the market.) It's a light and satisfying breakfast that holds me for a few hours.
I've been reading a lot of raves about the Instant Pot, and am thinking about getting one. Have you used one? What did you think?
Bon weekend!
Affiliate links in posts may generate commissions for unefemme.net. See my complete disclosure policy here.