How to wear a scarf this summer…
It's no secret that I'm a fan of scarves. They can add color, pattern, and personality to an outfit, and keep your neck warm in cooler seasons. But you don't need to stash all your scarves away until autumn. Here are a few ways to wear lightweight scarves this summer.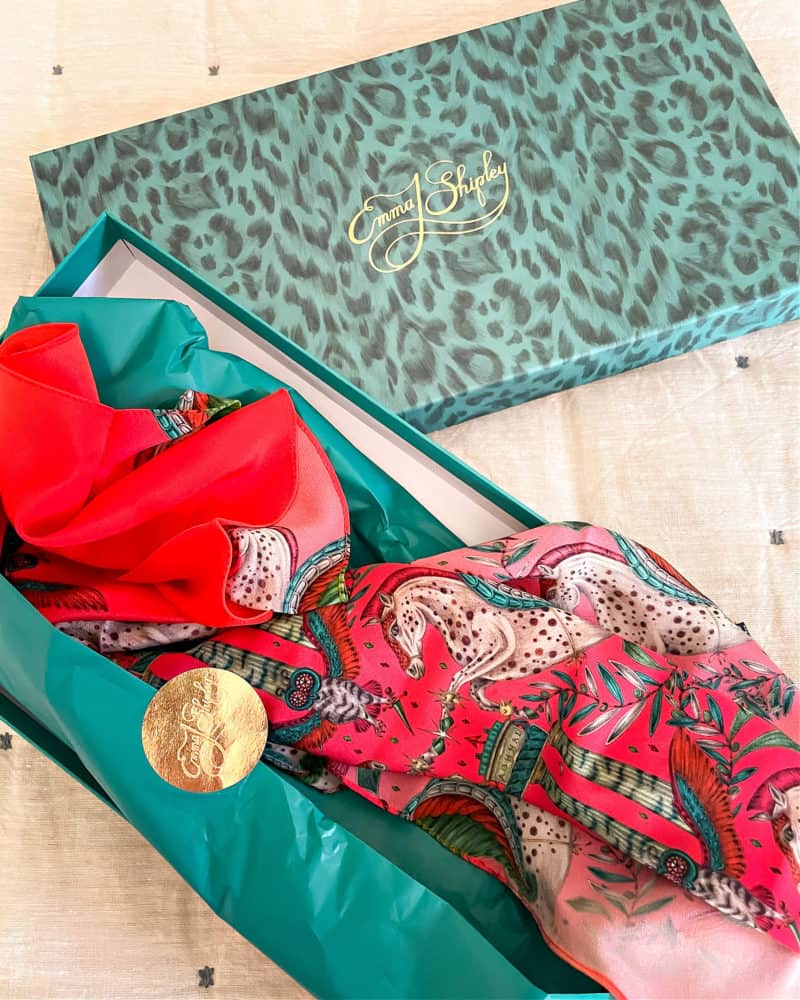 I'm delighted to partner with Emma J. Shipley on this post. All ideas and opinions are my own. The scarf shown was gifted.
Emma J. Shipley recently added another scarf collection in collaboration with my friends at Red Leopard! These gorgeous pieces feature Emma's newest "Odyssey" design, and in colors that harmonize with each seasonal palette. Mine's the Silk Skinny Scarf in the splashy Spring colorway.
3 easy ways to wear the Odyssey scarf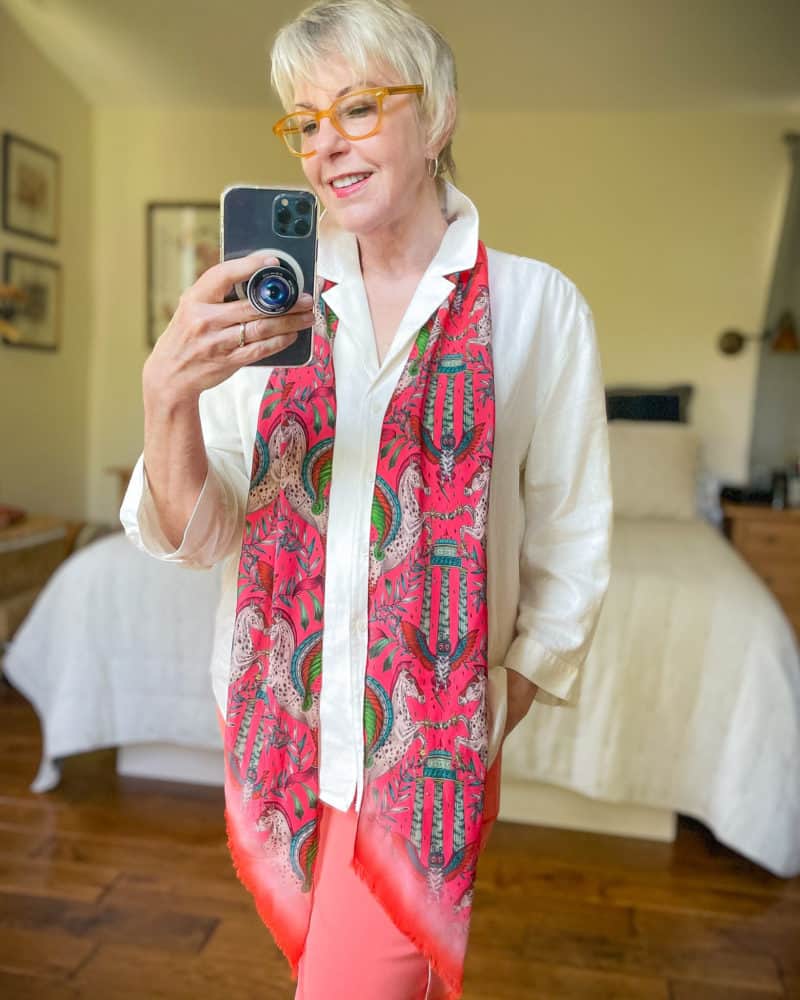 This scarf is so light, and perfect for summer! Draped casually like this over a popped collar, it adds some lively color and pattern without heat. (And if you get seated underneath the air-conditioning vent, as I always seem to do, 🥶 you can wrap around your neck to keep the chill off.)
Emma J. Shipley has kindly extended my readers a 10% discount on all Odyssey scarves with code SUSAN10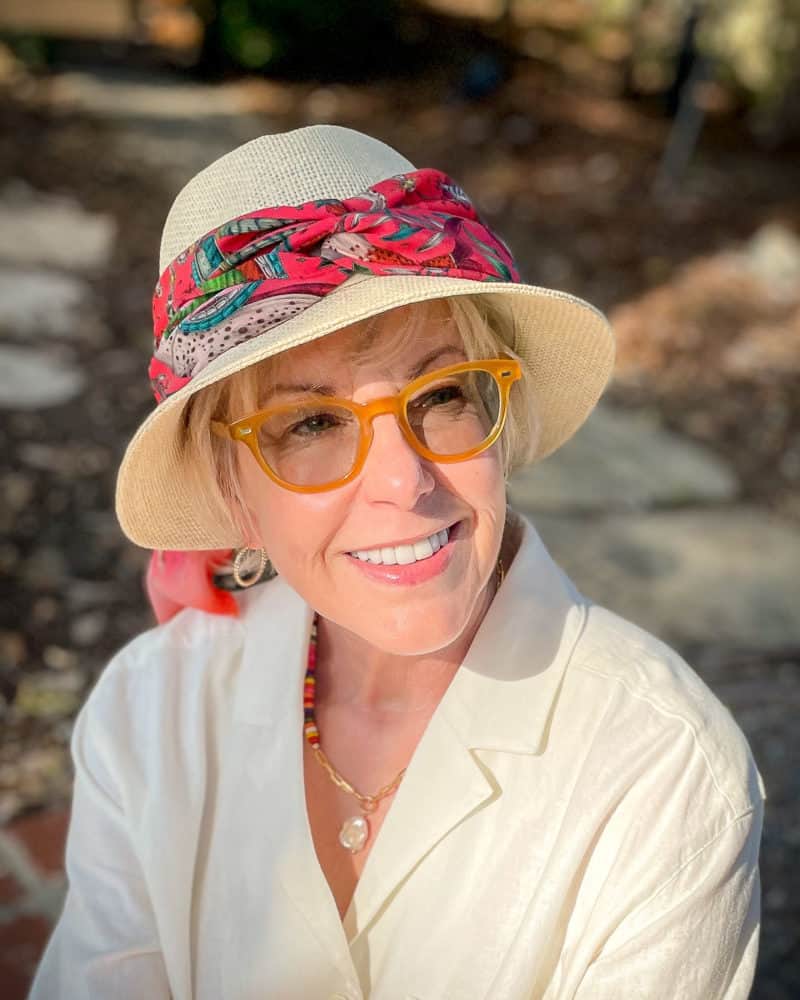 Here's another option that also adds some color near your face, and is fuss-free…wear it as a hatband! (The hat is a couple of years old, here's a similar style.)
And here's a quick tutorial on how I tied it:
Another easy way to wear a scarf in summer is as a belt…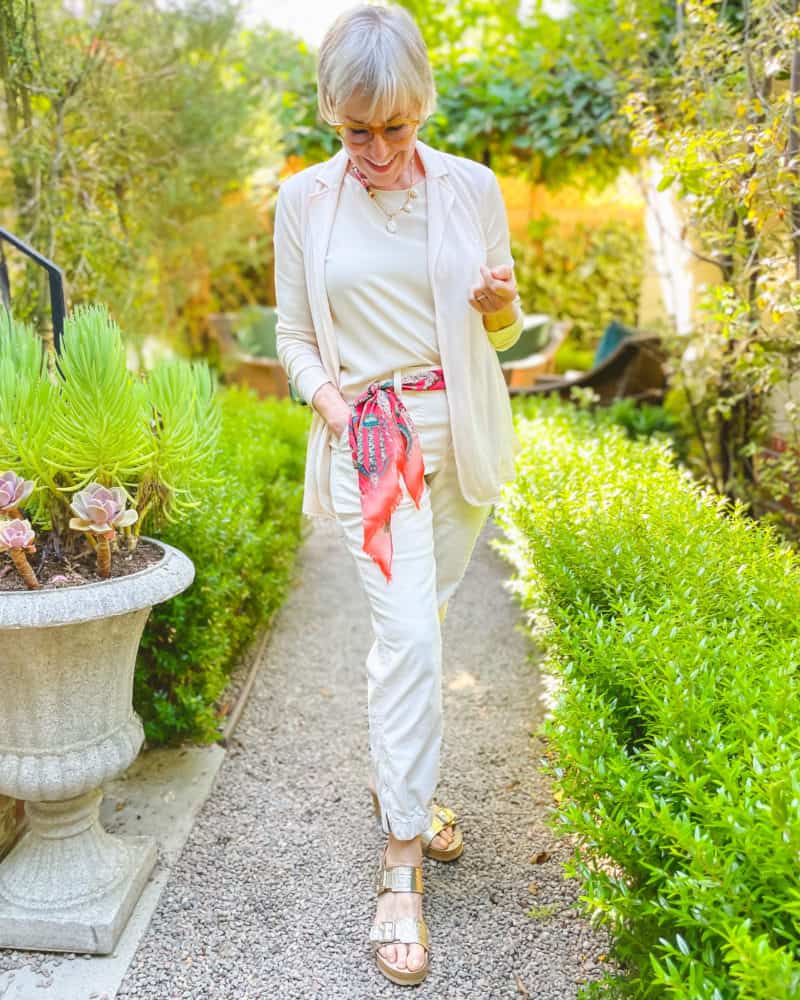 You can leave the ends hanging long, tie in a bow, or run them back along the belt and tuck in.
In addition to this skinny silk scarf, the "Odyssey" collection also includes…
A large silk chiffon style (shown here in Summer's Cornflower Blue), and a Modal-Cashmere scarf (shown here in Winter's Emerald Green). All of the Odyssey scarves are available in seasonal palettes, and were designed in collaboration with Red Leopard. And remember to use code SUSAN10 for 10% on all Odyssey scarves!
Do you have a favorite way to wear your scarves during the summer?
Stay in touch
Sign up to be notified of new posts and updates from une femme d'un certain âge.