How to wear white & ivory in the fall
White or ivory can add a fresh look to your fall outfits. Here's how to wear it through the season without looking too summery.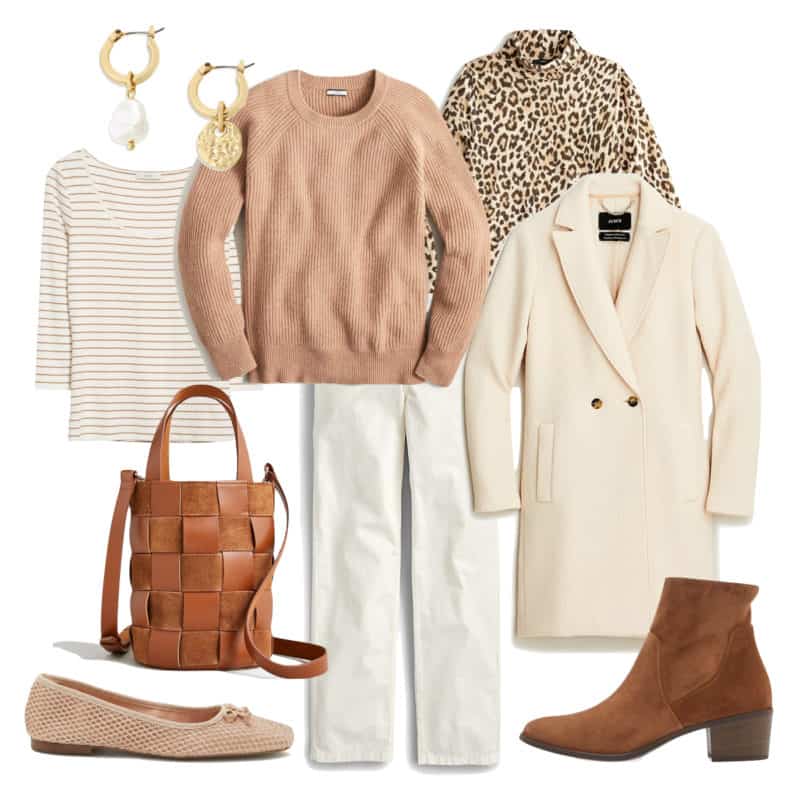 White, cream, or ivory pieces can add freshness and a visual "pop" to a fall outfit, especially a neutral one. Above, I've created a casual mini-capsule with pieces that can be mixed to accommodate a range of temperatures.
Even if we no longer adhere to that old "no white after Labor Day rule," we still may find we set aside our white or ivory pieces once fall arrives. Maybe it's habit, or maybe we can't shake the feeling that lighter colors are for spring and summer only. But if you're wanting to get the most from your wardrobe, here are some ideas for extending their wear into fall.
Tips for wearing white in fall
Fabrics with some structure in a mid-weight will feel more seasonally appropriate than light and floaty ones.
White will look more harmonious with cool neutrals (grey, black, charcoal) and cream/ivory with warm neutrals (camel, brown, cognac, olive).
A white and navy combo can skew summery, so I'd suggest adding a third piece or shoes/accessories in gray or charcoal.
If your fall weather tends to be wet or muddy, you can always add white or ivory with outerwear or boots.


Do you wear white or ivory pieces in fall & winter?
Stay in touch
Sign up to be notified of new posts and updates from une femme d'un certain âge.