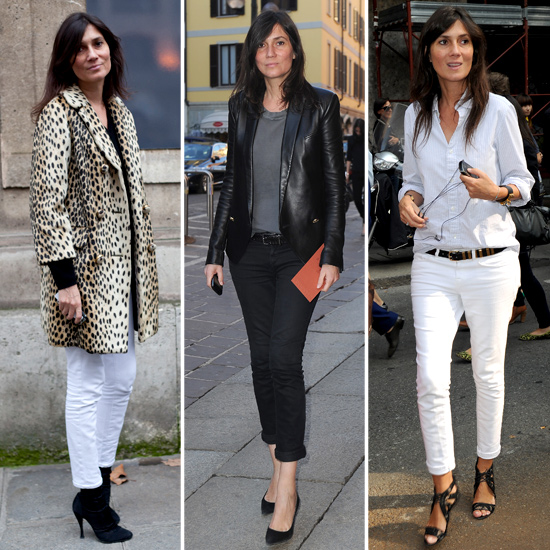 …Don't Fix It.
An upcoming project in conjunction with another blogger (no spoilers, that's all I'm telling for now 😉 ) has me thinking about how we create, define and adhere to style aesthetics. Some women can play with shapes, colors and personas, and rarely look the same way twice. And that experimentation and novelty becomes their own style groove. Others find that simplicity, sticking to a single silhouette or a limited palette (or both) and rarely veering from that path feels good and right.
Even for those who have developed a signature style and are comfortable with it, boredom can set in or perhaps a life change (retirement, a geographical move, marriage or divorce, new career or vocation) requires a shift. But sometimes we can be made to feel we should want change, when really we're quite happy with our style. First, there are advertising, media, retailers of course, all telling us that we Must Have™ the next new thing, that we'll look hopelessly outdated unless we "refresh" our wardrobes seasonally….we've heard this drumbeat forever. The internet has brought to our screens an almost unlimited number of style images, many of which are lovely and inspirational and it can be hard not to feel the pull to want to imitate many of them. I think we humans have innate urges toward both familiarity and novelty, and finding the balance between the two can be challenging.
But sometimes style ruts are real…we keep buying and wearing the same things over and over even though looking at our closet fills us with despair. Fear of change, years of being told "you can't wear abc if you have body xyz," a dislike of shopping, lack of funds, old beliefs about what's appropriate in your family/culture, adherence to fashion rules that no longer have any relevance…any of these can keep us stuck in that well-worn track when we'd love to explore other paths.
How do you know if you're in a style rut? It isn't just a matter of gravitating toward specific clothes or looks. It isn't about what the media or your friends or family say. It really boils down to this: how does what you wear make you feel? If you've stopped existing for yourself below the neck, you may be in a style rut. If you have a closet full of pieces but no cohesion between them, you may be in a style rut. If you only wear certain colors or cuts because someone told you they are "right" for you, you may be in a style rut.
Consistency does not a style rut make. Look at Anna Wintour and her dresses, or Emmanuelle Alt and her jackets-and-jeans. Creating a signature style will help you simplify your wardrobe, reduce costly wardrobe mistakes, make getting dressed in the morning a breeze and a pleasure rather than an ordeal. And it will help you project your best self to the world. That doesn't mean we can't change things up now and then, or evolve our style as our bodies, tastes or life circumstances change. It can be fun to experiment with new looks, and sometimes we add a new dimension to our signature style that way.
Have you ever felt caught in a style rut? How did you get yourself out of it? Or are you comfortable with your own style, but feel pressured to change?
Stay in touch
Sign up to be notified of new posts and updates from une femme d'un certain âge.