Designing women: unique jewelry from Tarra Rosenbaum
This is the first in what I'm hoping will become a recurring feature here: a profile of women creators and their work and inspiration. Today, I'm delighted to introduce you to Tarra Rosenbaum, who creates unique and custom jewelry.
I'd been familiar with Tarra Rosenbaum's lovely jewelry designs for some time, and last year had the pleasure of finally meeting her in person. When I was in London this February, we spent an afternoon touring her Bermondsey neighborhood, with a stop at her studio to see some of her collections and pieces in progress.
Here's an interview about her history and process, and be sure to catch our LIVE today on Instagram at 10am PT / 1pm ET!
When did you start designing and creating jewelry?
I was one of those children that was creating constantly and luckily both of my parents were creatives so there were always materials and support for me to express myself in any medium. As time went on I would make handmade birthday beaded necklaces or embroidered sachets filled with lavender. My mom still has a few pieces I made for her and wears them.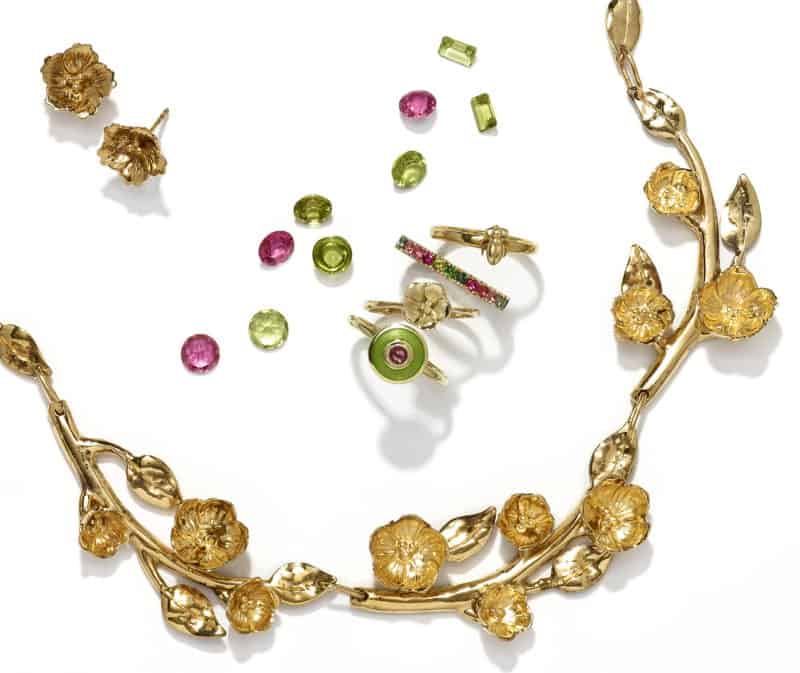 Above: Cherry Blossom collection.
Starting my business though in 2006 I took a sabbatical of 5-6 months to fully create my first three collections, Cherry Blossom, Summer Leaf and the Autumn Leaf focusing on the four seasons with the Snowflake collection to come the following year.
How did it evolve into your business?
In 1998 I wanted to start a jewellery business while I was working at the Rhode Island School of Design Museum as a conservator. At night I was taking classes at RISD and enjoyed exploring many different mediums. Working in Providence where it used to be the costume jewellery capital in the US, I had many warehouses full of treasures, and that is when I started my concept around a business. It took me 'till 2006 to jump into it full time.
But to be honest, a few years into my business I realised after an international trip that I started my business in 1985 when I was 12 after experiencing India with my parents. I purchased my first piece of jewellery that I watched being made before my eyes. I also took a photo of a holy tree which later I realised looked like my logo and that is when I figured out how it all came together subconsciously.
It is amazing how impressionable we are and how our experiences can form our future in so many ways.
Where does your inspiration come from?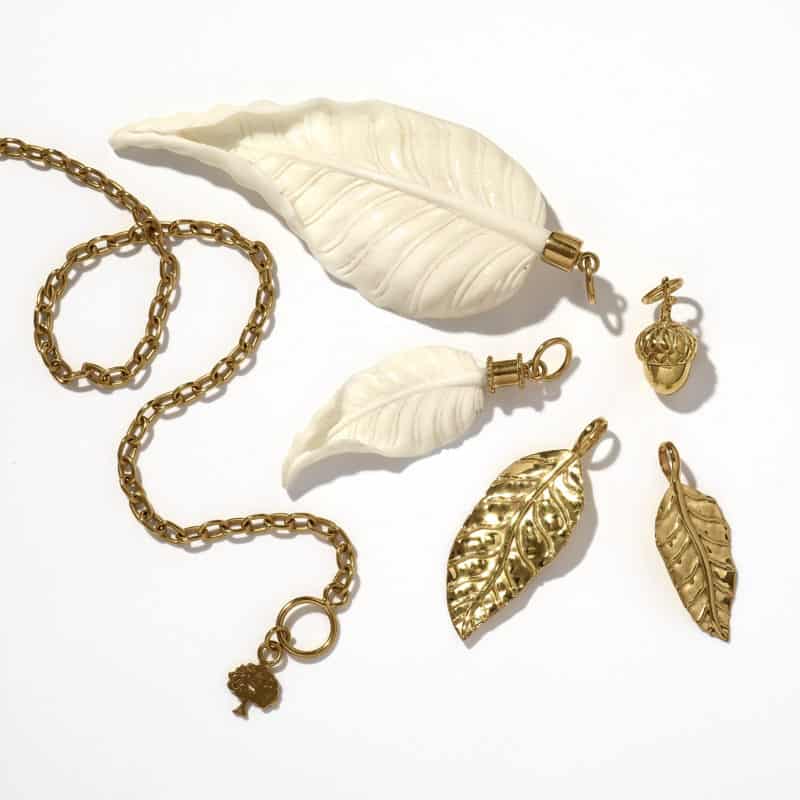 Above: leaf and acorn charms
I think one of the most delightful ways to learn your craft is to be inspired by nature. That is how I started my business and I will always celebrate nature.
But my life experiences have taken me down many paths which adds to a tapestry of inspiration which can be seen in my later collections after the four seasons. In 1998 I was exploring the power of colours and their healing aspects. Their inspiring energies resonate with us to our core. I read many books and still take this into my thoughts when I use stones for my creations. One of my favourite books is "The Book Of Stones" to explore the perfect resonating energy when picking a stone for a client.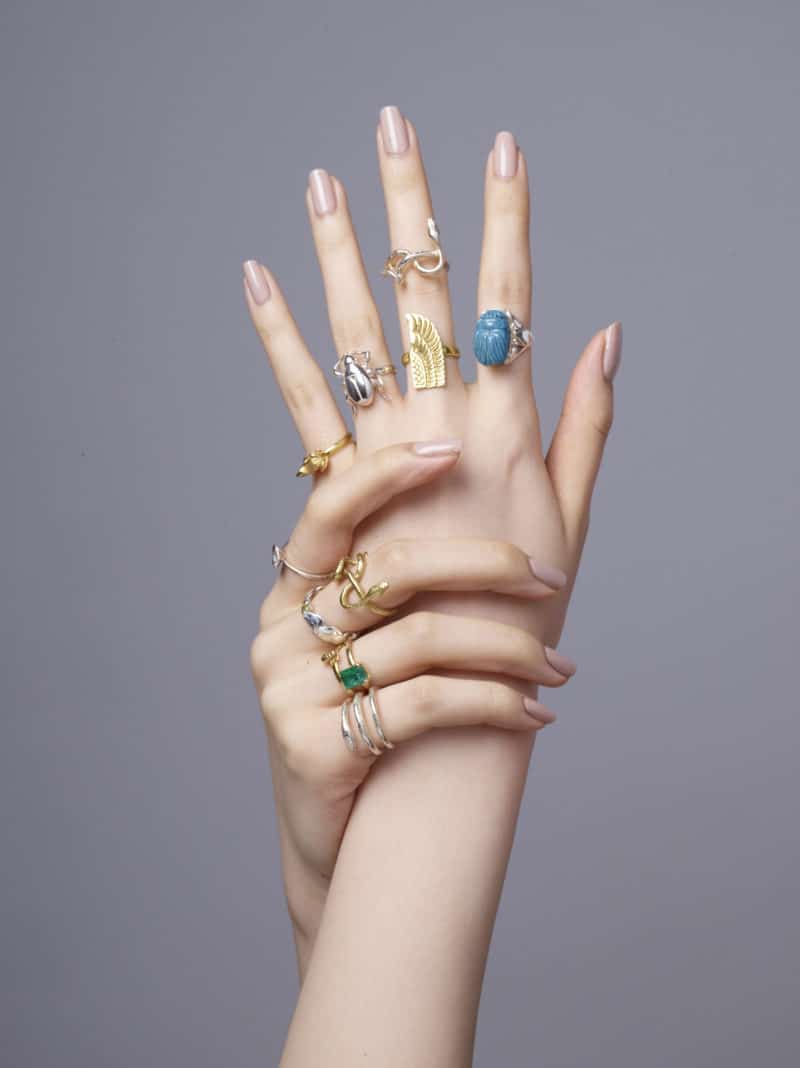 "The Gods" collection is from working on Egyptian artifacts as a conservator for many years. I helped with an exhibition "Gifts of The Nile" and a true love was born for faience. My boss Mimi Leveque aka "The Mummy Dr." was researching how they made Faience and we were really honing in on the perfect formula. I then further explored with my colleague Caroline Riccardelli and through the pure love of these vibrant colours the collection was born.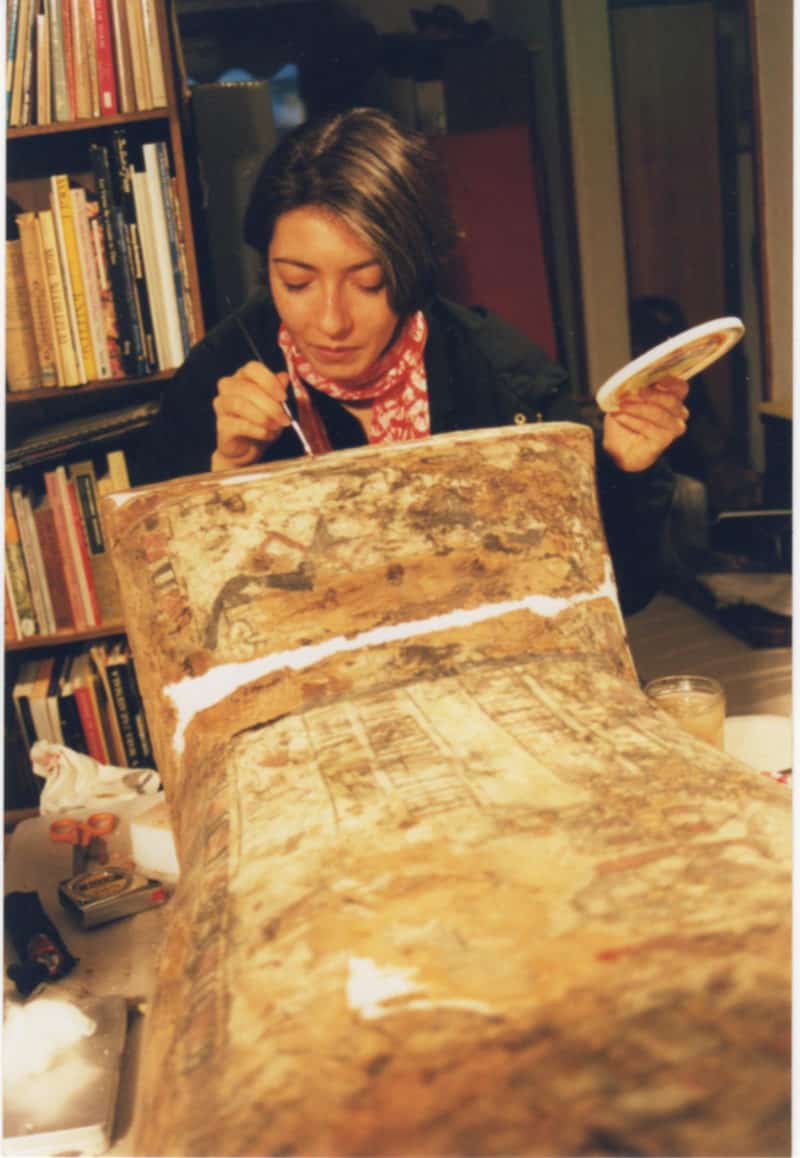 Above: Tarra working on an Egyptian mummy
There is a strong sense of knowing something after you have done conservation on it. You must truly become one with it and it would be impossible for these experiences not to inspire me. I worked on many objects and even paintings and textiles so their influence might even be subconscious at this point.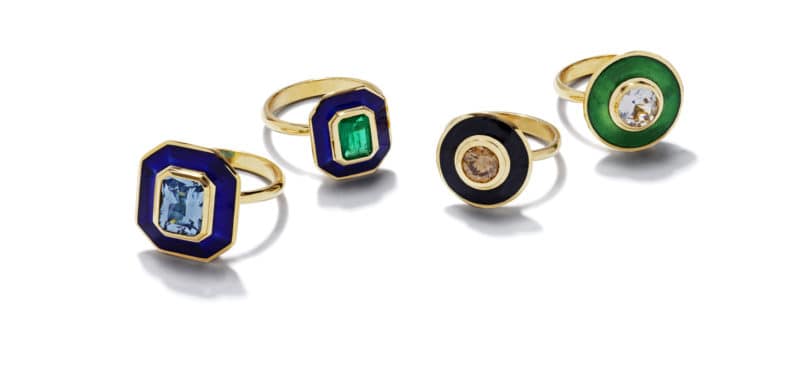 The Aurora collection is complete adoration for Art Deco and Art Nouveau. Who doesn't like the ingenuity of Rene Lalique and his use of vitreous enamel while dancing with the fairies of my childhood books. I decided though for myself, a clean line for an everyday piece was more my style and that is how the collection was born while living in NYC and enjoying the Chrysler building, and residing in the shadow of the Empire state building on 5th Ave. These two buildings bring me pure joys amidst the skyline of New York City.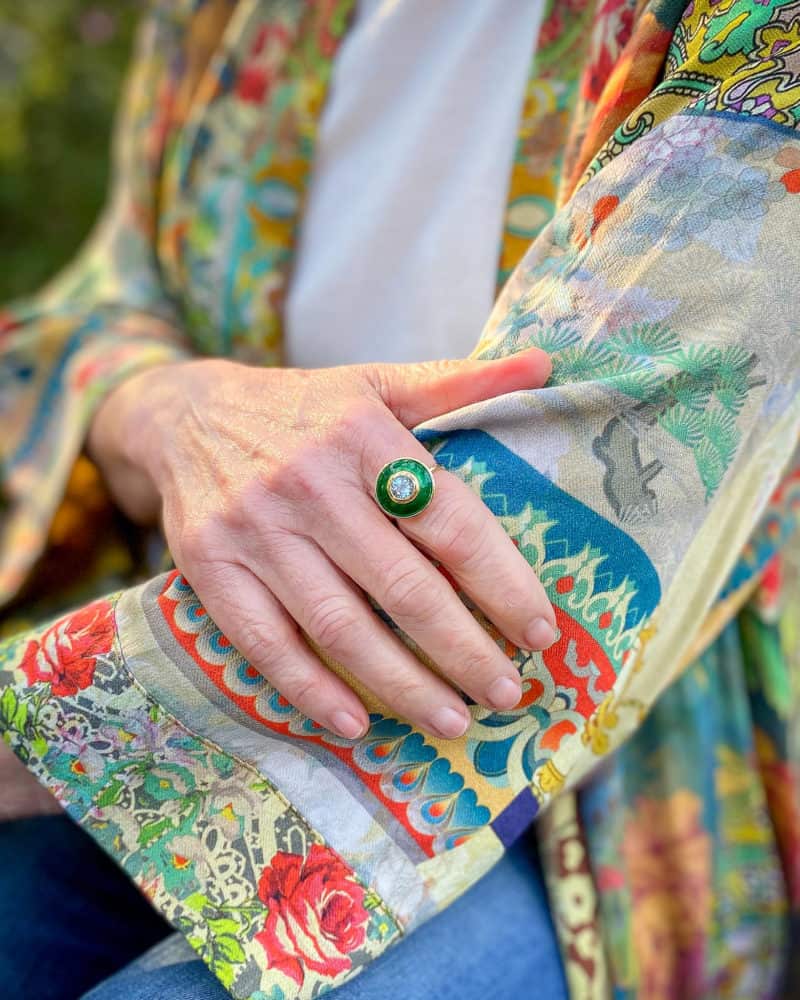 Above: my custom Aurora ring with Aquamarine (my birthstone).
Do you have favorite materials or gemstones to work with?
When I started in 2006 I was constantly drawn to tourmalines and their vibrant rainbow of colourful options. The energy of the different colours really resonates with me. This passion has followed me to this day and I most recently purchased the very unusual paraiba tourmaline which I have been wearing non-stop.
I started my business working with silver but in present days gold has been the prominent material and it all started with the Aurora ring when I made my first one in 2013. With my grandmas diamond I made a piece I wear every day and can't live without. I took that diamond for granted but after taking a week long class with De Beers I truly fell in love. I learned and worked with every process of diamonds and my understanding and love grew immensely. Now I see them as individual finger prints from the galaxy.
When we met for dinner, you mentioned a course on diamonds you'd recently completed and it sounded fascinating.
By the end of the week long class my whole world was turned on it's head and a love was born. The imperfections that make the inclusions are now something I marvel at as they might be the beginning of a spec of ruby, truly becoming a fingerprint of each individual diamond. One thing that I loved was after the course I was able to look at a rough diamond and see by it's outside markings where in the world through the DeBeer mines it came from. This amount of information and detailed understanding was something I never thought I would know. And the fact that they are formed 0.9 -3.5 billion years ago and are 200km within the Earth's surface at 900-1200 degrees C blows my mind. They then took this incredible journey to our surface through volcanic eruptions for us to find them. I could go on and on so I don't want to bore you.
Are you working on any new designs?
I am truly stepping into a new area of my creating a collection. Not only am I making little bejewelled sculptures but I am also looking at making larger scale sculptures that can be incorporated in ones living environment. I think it has taken me a very long time to realise that I am an artist at my core and as long as I am creating I am happy but also grounded. I am exploring the heart and the healing aspects of loving one's self and in turn everybody in the world as a healing process for our planet as a whole. It is a very deep topic but I have been truly wondering how can we all move in a positive space and love seems to be the only way forward. We all need to push through our fears to be able to send that unconditional love to ourselves and out into the world.
Thanks so much, Tarra!
Be sure to catch my LIVE conversation with Tarra on Instagram today at 10a PT/1pm ET! We might get a peek at her studio and some of the new designs she's working on!
Stay in touch
Sign up to be notified of new posts and updates from une femme d'un certain âge.