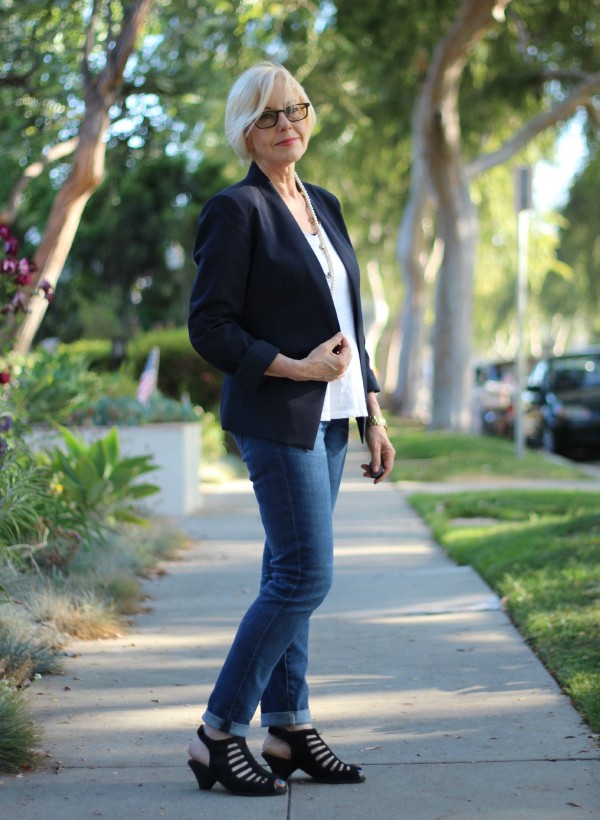 When it comes to jacket sleeves, I'm a roller, not a pusher. Yes, they look cooler pushed up, but they never stay that way more than 30 seconds. And I hate having to fuss with my clothes.
I've decided this pinstripe Theory jacket works best with jeans. It's a very nice, lightweight wool jacket, and I grabbed it last winter on very deep discount/final sale. I'm thinking about just getting the sleeves altered to bracelet length, as I've worn the jacket much more during warmer months.
Jacket: Theory, no longer available. Similar here and here // Tee: Eileen Fisher // Tank: Eileen Fisher // Necklaces: French Kande and ?? (can't remember but a few years old), similar // Watch: Michael Kors // Jeans: AG // Shoes: Arche
Are there items of clothing you usually adjust to make them more comfortable or fit better? When it comes to sleeves, are you a roller or a pusher?
Linked up with Visible Monday at Not Dead Yet Style
MORE LIKE THIS:


Post contains affiliate links which may generate commissions for unefemme.net.
Stay in touch
Sign up to be notified of new posts and updates from une femme d'un certain âge.