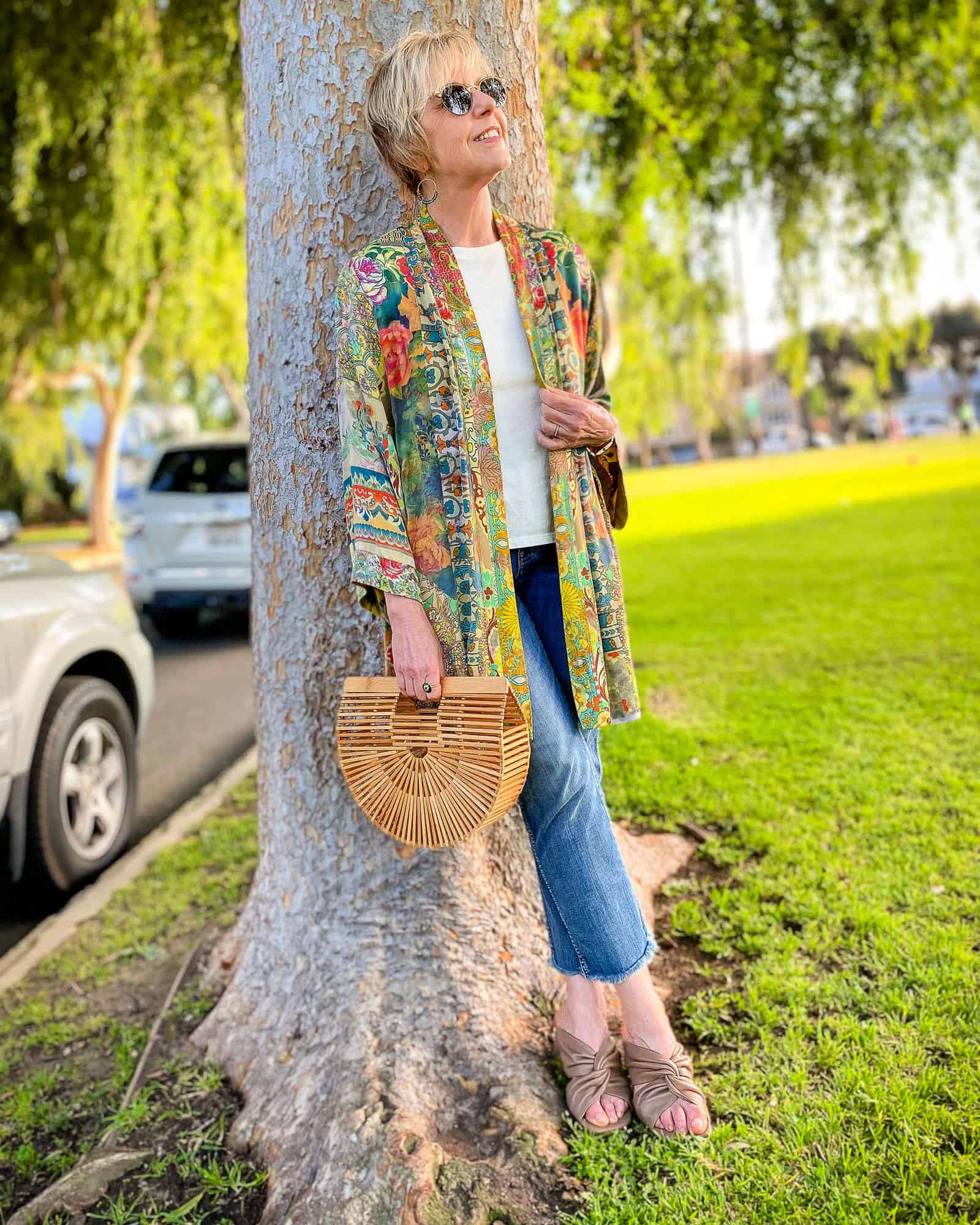 Even though my style isn't full-on Bohemian, I've always had a soft spot for kimonos* and haoris. They're easy to throw on over just about anything to create a little laid-back glamour.
I'm wearing size XS in the kimono and the tee. Size 28 Petite in the jeans, 7 in the sandals. Lip color is "Sunrise."
More kimono options:

I've intentionally kept the rest of the outfit simple and pared back to let the kimono have the spotlight. I picked up the greens/blues in the print with the jewelry. I've had these earrings for a few years…the ring is a custom piece from Tarra Rosenbaum Jewelry. It's my birthstone, Aquamarine, framed with green enamel.
I love the look of these slide sandals, and they're comfortable too!
Once we start going out and gathering with friends and family again, I'll be wearing this kimono often. And it's reversible, which doubles my options!
Here's a little video I put together to show the styling (or click HERE to watch with music):

*Yes, I know this isn't a true "kimono," but that's how it's described by the retailer, so I'm going with that.
In case you're interested…
There's a new round of Faster Way to Fat Loss starting up on May 3, and my friend Karen will be leading a group. I've incorporated this program into my lifestyle, and have continued to get stronger and build muscle! In spite of the name, this is NOT a "quick weight loss" program. It's about whole food nutrition and targeted workouts to build lean body mass and improve health. I love this program and am so glad I took the plunge last year.
You can get more information HERE, and if you have questions, shoot Karen a DM on Instagram. She's a fantastic coach, and is incredibly knowledgable about the program.
Affiliate links in posts may generate commissions for unefemme.net. See my complete disclosure policy here.