Some days I enjoy playing in my closet and experimenting with different combinations. But more often, I just want to be able to throw something together and have it work, and get on with things. This leopard print cardigan just seems to go with everything, and creates a nice focal point in a simple outfit.
A relaxed look with a shot of leopard print
We've been slogging through a major heatwave the last few days, but prior to that it was mild enough that I was able to wear this leopard cardigan out a few times. I've worn it with jeans (both blue and off-white), and here with these ponte knit lantern pants. What I love about this leopard print is that it's a warm tone, and there's no black, so it's great for Springs and Autumns. (There's also a cashmere crewneck in the same print.)
I'm wearing a Small in the cardigan, and Petite Small in the pants.
I've owned a few iterations of these lantern pants, and love the shape. These are washable ponte knit, available in Petite PP-PL and regular length XXS-3X. The color of the pants looks more purplish in the photo than IRL; they actually are a dark chocolate brown, should work for most Springs and Autumns. This lantern pant style is also available in several other colors and fabrics, HERE. (Autumns, this "Deep Adriatic" is your Marine Navy…)
Lately, I've really hit the wall with anything that feels too fussy or overdone. I still want to look put-together, but not like I've tried too hard. Nothing too precious or prissy, which is why the metallic Birkenstocks felt just right here. They balance out the ladylike/classic shape of the cardigan. (I've unbuttoned the cardigan at both the top and bottom. On the top I folded the ends under to create a v-neck.)
I'd wear this out for a casual dinner or meetup with friends. To dress it up a bit, I could swap out the shoes & jewelry, maybe add a colorful bag.
That leopard cardigan is currently marked down; here are a few more picks from J.Crew, currently 40% off with code LONGWKND. (Click image for details.)

Monday miscellany: this, that & the other thing…
While bad people behaving badly (or mostly good people making bad choices) can make for some interesting drama, sometimes we need a break from that. Two series we've been enjoying recently are Trying on Apple+ and Extraordinary Attorney Woo (Korean, subtitled) on Netflix. Both are sweet without being over-the-top treacly, and feature good but imperfect characters who are trying to do the right thing.
But if you can stomach some of the "good people/bad choices" genre, Bad Sisters on Apple+ has been a really fun ride so far.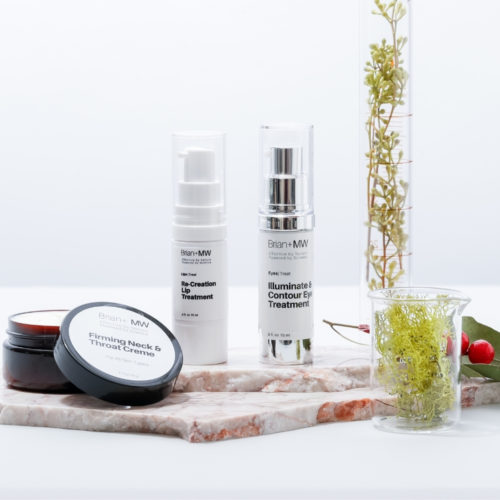 Brian + MW has a Labor Day weekend sale on, through today. You can save 25% on some of my favorite products, like the Re-Creation Lip Treatment (⭐️⭐️⭐️⭐️⭐️), Illuminate & Contour Eye Treatment, and Firming Neck & Chest Creme. (Save even more by purchasing as a set of 3.)
And Nordstrom is having a big end-of-summer sale, including lots of Eileen Fisher items.
Thanks for reading! If you enjoy une femme d'un certain âge, please support me by sharing on Facebook, Pinterest, or other social media, and subscribe to receive email notifications of new posts, and exclusive content. Thank you!
Affiliate links in posts may generate commissions for unefemme.net. See my complete disclosure policy here.