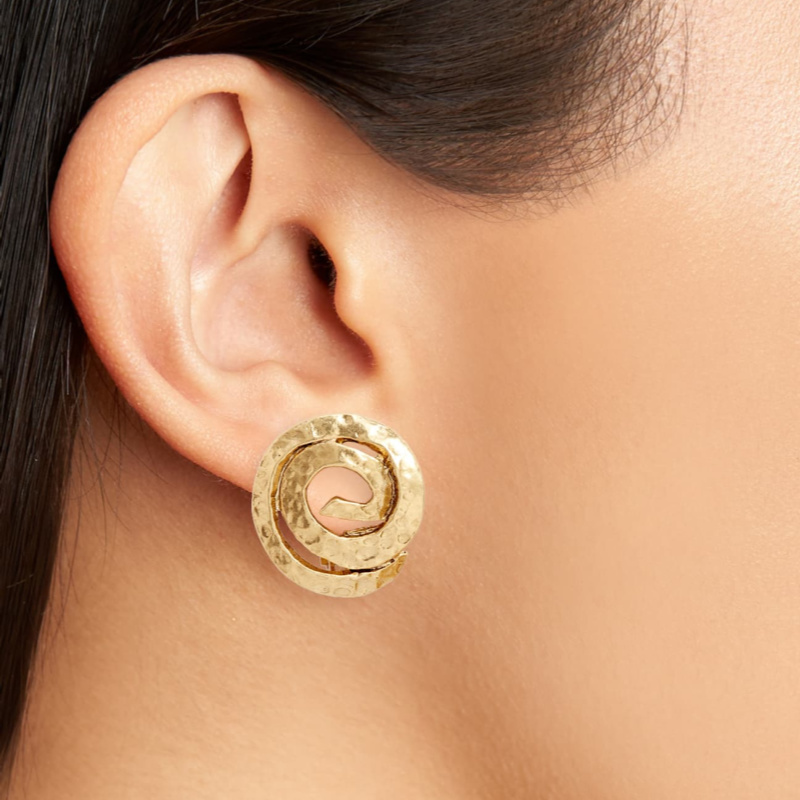 Aside from my wedding ring, the one type of jewelry I almost never leave home without is a pair of earrings. I feel naked without them.
Above: I like the insouciance of those hammered gold spirals. (Also available in a silver tone.)
I had my first earlobe piercings at 16. It took months to overcome my mother's objections, and she insisted I have it done at a doctor's office. (They used the same piercing gun as the jewelry store.) From the moment the piercings healed, I've preferred hoops, wires and dangles to diminutive studs.
Now, I find I can no longer tolerate big, heavy earrings. Or even smaller and moderately weighted ones. All but the lightest styles drag my lobes down, and are uncomfortable both physically and aesthetically. I've been wearing the same few light pairs over and over, and am ready for some variety. I don't find posts comfortable either. So I'm reconsidering clip-on styles.
Clip-On Earrings for Everyday Wear
When searching current clip-on earring styles, it's easy to find lots of Humongous. Statement. Earrings. But I'm looking for something that's a fun option for every day. Bigger than a stud, smaller than a breadbasket. Simple, but less formal than those 80's doorknockers and buttons. Here are a few more that have caught my eye…
I have a Thing for irregular pearls. These one-of-a-kind white Mabé pearl clips are big enough to be noticed, but small enough for daily wear.
Casual Glamour: these are a fun (and budget-friendly) take on a hoop earring.
Vintage appeal: ooh, I just love the shape and mid-century vibe of these 14K gold earrings. (Also one-of-a-kind…)
These whimsical doves from French brand Cecile Jeanne are available in both gold and silver, and in a smaller size too. I've ordered these to try, stay tuned… (h/t to Annie at Red Leopard who pointed these out to me)
Not Your Mother's Doorknockers

And keep an eye out in vintage, thrift and consignment stores for unique clip-on earrings.
What style of earrings do you wear most often?
Affiliate links in posts may generate commissions for unefemme.net. See my complete disclosure policy here.