Basics Beyond Black…
While I am really excited about adding more color to my wardrobe, my basic style philosophy hasn't changed. I believe in starting with a neutral base, and using colors as an accent.
Why neutrals? They're versatile, easier to dress up or down, and help create wardrobe cohesion. With a good capsule of neutral basics, you'll never have one of those "nothing to wear" days.
In the past, most of my neutral capsule has been black. But now I think black will be too harsh with the brighter, warmer colors in my Spring palette, so I'm on the lookout for more compatible neutrals, namely (bright) navy, warm brown, tan, caramel, and taupe/warm grey.
Perhaps you're also looking to shift away from black toward "softer" neutrals. If so, here are a few ideas:
Navy
Navy is an easy first step to take when transitioning from an all-black or mostly-black wardrobe. Like black, it travels well and looks polished. But it's a bit gentler with most complexions than black, and often easier to mix with other colors. And like black, you can wear mis-matched navies; just be sure the pieces are different fabrics and/or textures to keep the mix looking intentional. Think: dark wash jeans with a wool navy blazer, or a cable-knit sweater with a skirt or trousers in twill or refined knits.
For a nice, medium navy that's easy for most of us to wear, look for pieces in "Midnight" from Eileen Fisher. Above, a simple v-neck sweater in a lightweight fabric is a great layering piece, and a good option for travel.
But if just thinking about sweaters right now makes you swelter, here's a lightweight tee in a silky fabric. (Similar in Plus.)
J.Crew always has some good basics in Navy. I find their navy tends to be a bit darker. Here's a fun pleated skirt.
I like the shawl collar on this lightweight wool blazer. Offered up to size 24 (also in Black and "Caramel.")
Brown
When selecting neutral wardrobe basics, brown can be a little more challenging. Brown tends to come across as more casual than navy, though in beautiful fabrics it can be very elegant. If your palette or other wardrobe colors tend to be cool, look for Eileen Fisher pieces in "Clove." Above, this scoop-neck tee is currently marked down in the Anniversary Sale (Misses here.)
And here's a pair of the stretch crepe pants (Plus here) in the same color.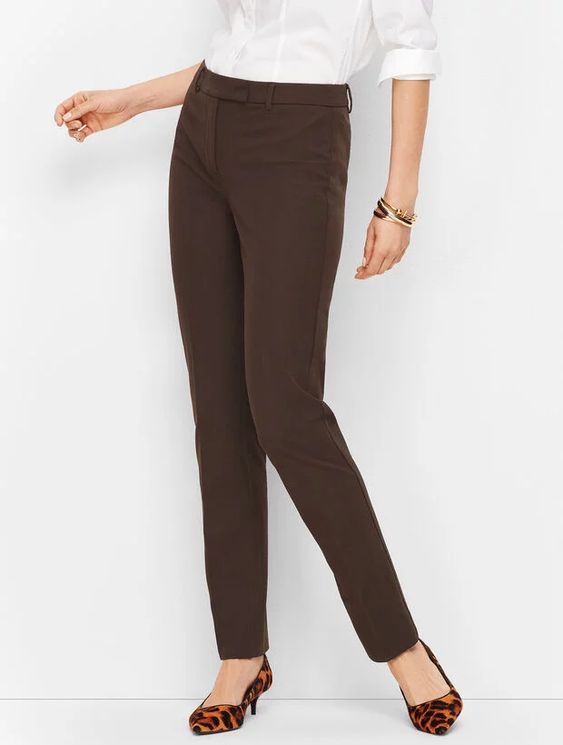 If you like something more structured, here's a simple straight leg pant in Misses, Petites, Plus and Petites Plus sizes.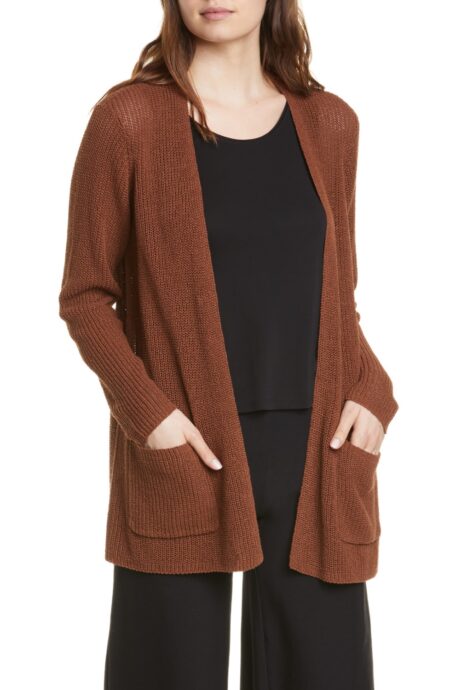 For warmer, lighter browns, check out some of the pieces from Eileen Fisher in Nutmeg. Here's a lightweight linen/cotton cardigan that can transition into Fall.
I've been eager to find some lightweight trousers in a warm, rich brown. I have this style in a lighter tan color, which survived my recent closet purge. This "Cognac" color is spot on with the deeper browns in my Spring palette. (This style is available in several other colors too.) Cognac is also available in a 5-pocket, cigarette-leg style.
Grey
Grey is another non-black neutral that can be easier to wear (especially for those with grey or silver hair). 👩‍🦳 As with brown, grey can tend to appear more casual in softer, looser pieces. (The "sweatshirt" effect.) But it can also come across as formal/corporate in tailored pieces. (The "Man In The Grey Flannel Suit" effect.)
For those reasons, I tend to avoid a head-to-toe grey look. But a jacket like this one adds polish to a pair of jeans (and could also balance the softness of a floral dress without overpowering it).
You may find that some shades of grey are easier to wear than others. (Charcoal or "lead pipe" grey makes me look dead, but I'm just fine in a lighter, softer grey.)
For a more relaxed look that's still a step above sweats, here's an easy, breezy summer pant in a tencel linen blend. (Available in Misses and Plus.)
What neutrals do you wear most often? Any colors you'd like to add but have trouble finding?
More neutral wardrobe basics (that aren't black)…

Stay in touch
Sign up to be notified of new posts and updates from une femme d'un certain âge.