Wardrobe Re-Mix: Camel, Plaid & Mustard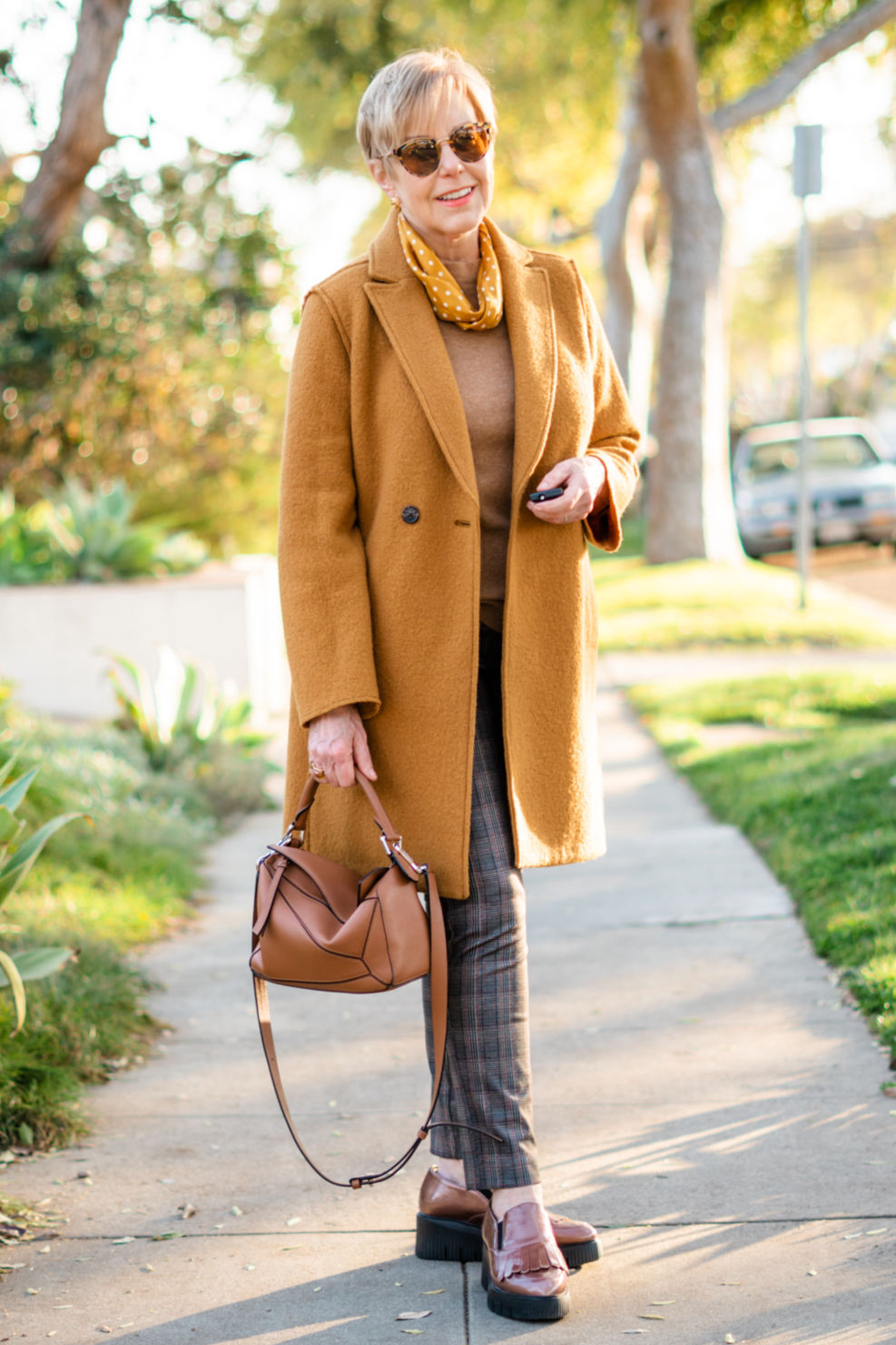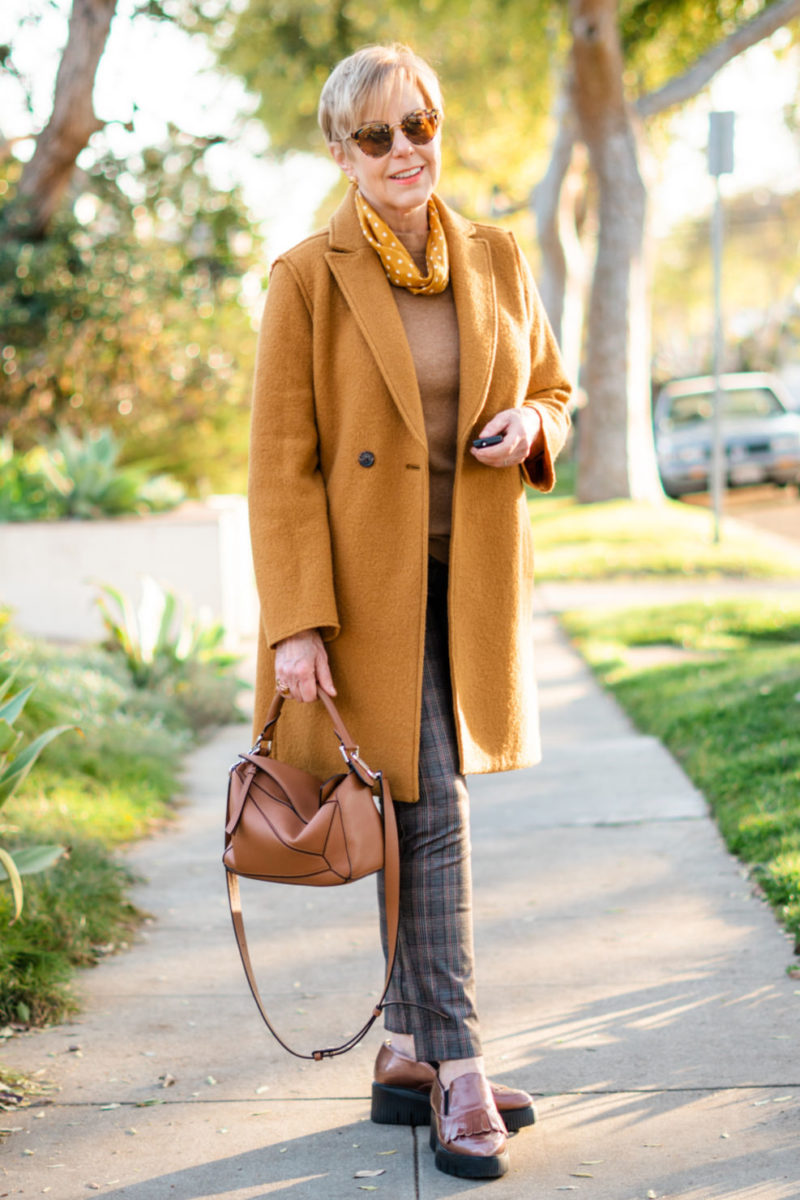 While perusing some of the New York Fashion Week street style snaps, I noticed several looks that included camel, plaid, and/or mustard elements. I figured there's still some uncharted territory in my current wardrobe, so had a little try-on session. Of all the "inspired by" combos I came up with, this was my favorite.
Polished Casual Outfit With Camel and Plaid, and a Dollop of Mustard
As I mentioned in my Shopping Smarter post, one of the best things about sticking to my color palette is that it's easier to mix and match pieces in my wardrobe. Everything coordinates!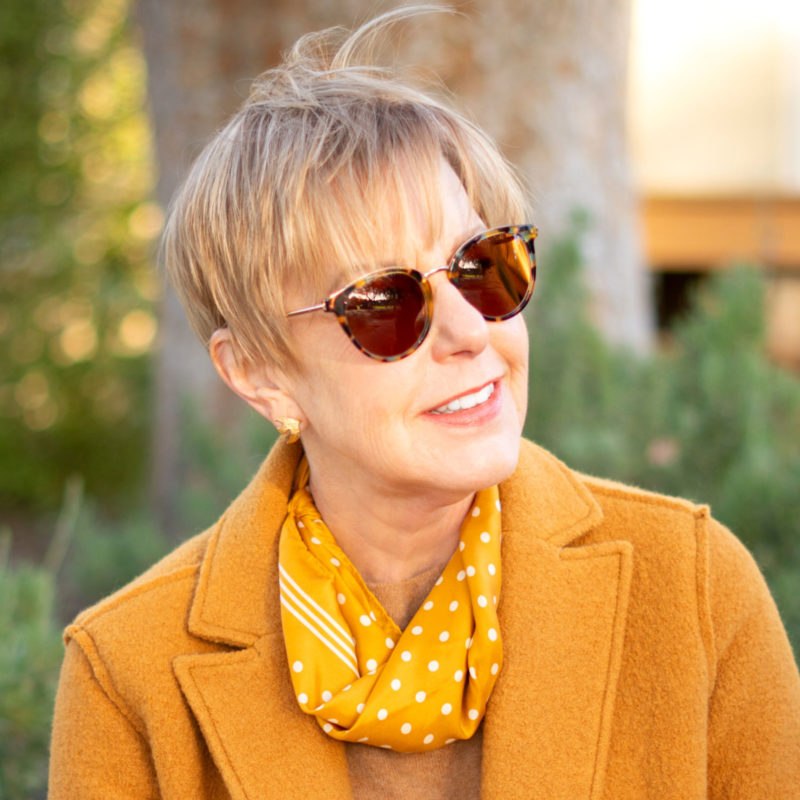 The scarf is vintage, inherited from my Grandmother. I almost gave this one away several years ago, having been told "no one looks good in mustard yellow." I'm glad I hung onto it, as it turns out to be one of the best colors in my Spring palette!
It was a little bit breezy when I took these photos. 💨
Yes, my hair color is a little different. To add some depth and dimension, Brian went with a darker base color. Then he added some lowlights over the crown. The color will lighten up just a little bit after the first couple of shampoos, but I'm quite pleased with how it turned out! I also really like the cut. It works well with my hair texture and growth patterns.
I went with these platform loafers because the visual volume balances out the longer coat.
I still like to look at street style looks from Fashion Weeks. Even if most of the outfits are more extreme than what most of us wear day-to-day. The trick is to distill what elements of a look appeal to you (colors? textures? silhouettes?) and translate to your own wardrobe and style.
Where do you find inspiration to create new looks from your wardrobe?
Stay in touch
Sign up to be notified of new posts and updates from une femme d'un certain âge.