Travel Diaries: Hair Care Tips From 4 Travel-Savvy Bloggers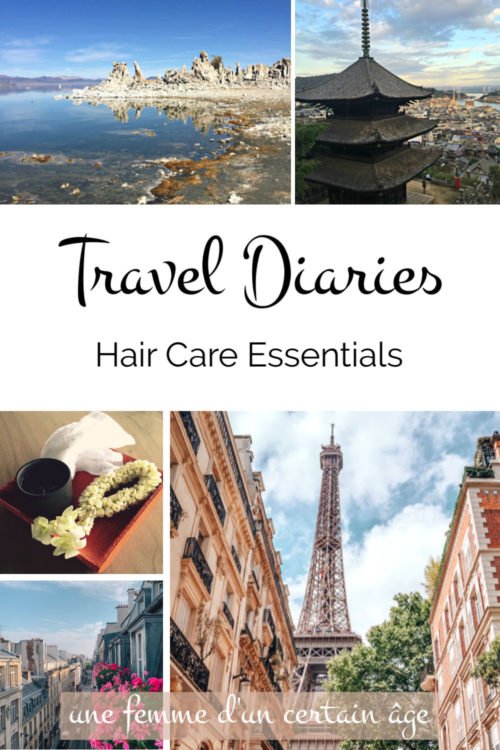 Welcome to the first installment of Travel Diaries, where I share a round-up of tips and recommendations from bloggers and other frequent travelers. I'm hoping to make this a monthly feature, so if there are topics you'd like to see covered, please let me know. To kick things off, we're talking…
Travel Hair Care! 💁‍♀️
Many of you have asked which hair care products and tools are best to travel with, and how to pack them. I've been at a bit of a loss to answer, because my hair care routine is pretty minimal. Shampoo, conditioner (maybe), quick blow-dry. Maybe a little texturizing spray. C'est tout.
So for this Travel Diaries, I asked four of my blogger friends, each a seasoned traveler, and each with a different hair type, to share their favorite hair products, tools, and tips for travel.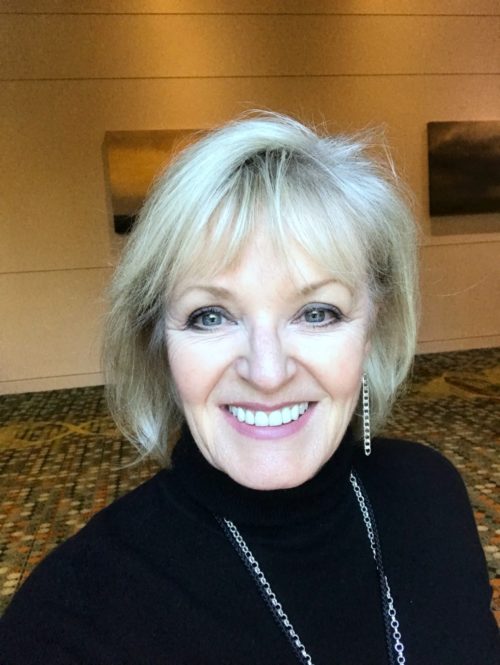 Hair type & challenges:
I have poker straight, fine, limp hair that is thinning. It's just below chin-length (due for a cut) with a few layers. I struggle with a lack of volume and body.
Jennifer's tips:
I never check a bag so I take sample sizes of my products. If they're not available, I'll decant into a container that is TSA size approved.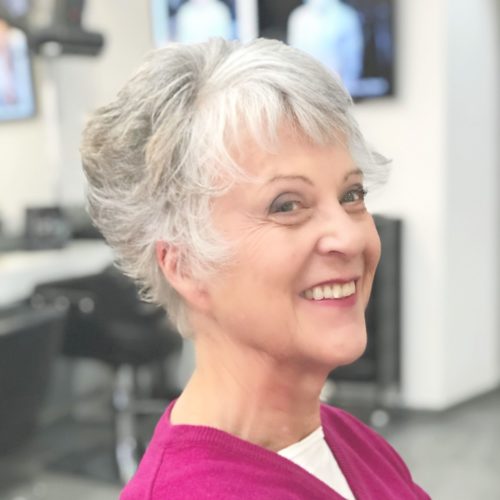 Hair type & challenges:
Length is short at the back and chin length at the sides with a side fringe. I have always had thick slightly wavy hair but have noticed that it has got a bit thiner with age. I no longer colour my hair so it is grey at the front and sides and darker at the back. Sort of salt and pepper. I find it fairly easy to style. I lift the roots with my fingers to start. Then use a 5 inch roller brush to control the waves. Now my hair is a bit thiner it can go flat at the top and sides. A bit of dry shampoo or hair spray can zizz it up.
Josephine's travel hair care products:
I have not been long haul for a while so I take everything in my carry on bag. I decant small amounts of each product except the dry shampoo into plastic containers and only take essentials as you can buy products in Europe if you run out.
Hair type:
Thick, naturally grey, can be frizzy
Beth's Tips:
Sometimes when it's time to travel the last thing we think about is our hair. What with packing lists to complete, skincare products to purchase and deciding on the perfect pair of shoes to walk those cobblestone streets. If carry-on space is tight the last things we want to pack are oversized hair care products or heaven forbid a bulky blow dryer. Especially if we're traveling overseas and the currents are different.
But have you ever attended a special event while on vacation and your hair was all wrong because the hotel shampoo left it limp and lifeless? We've all been there which is why i love to travel with products that not only keep my gray hair silky and smooth but will make it through the security line in a breeze.
My favorite products from Kerastase keeps my frizzy hair in check and comes in travel sizes. You can purchase the shampoo and conditioner separately. Or buy the travel-sized trio that includes a blow-dry primer
that protects my hair from the heat.
And i also love to throw in a travel-sized hair dryer that tames my thick hair in minutes. It's called the mini blast ionic blow dryer that comes with dual voltage capacity that's perfect for travel. It's compact, lightweight and the perfect size to slip into my carry-on.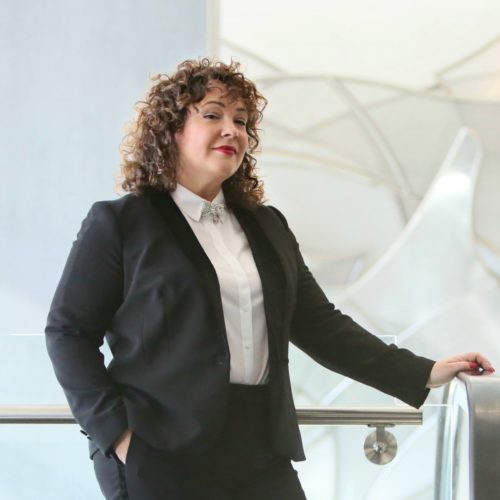 Hair type:
I have brown shoulder-length fine curly hair. I get my roots touched up every 2 months and let the ends fade out creating a bit of a balayage. For years I thought my hair was wavy and difficult and once I turned 40 it started thinning making it even harder to manage. Last spring my stylist suggested I embrace the natural curl he recognized from his training. He gave me a DevaCut and I started researching products and methods to embrace and encourage curls. I now have truly curly hair which I didn't think was possible! It has not only made styling simpler, it also makes my hair look much thicker. I find my curls look best when I let them airdry which is the biggest challenge I find with my hair.
Alison's hair care tips for travel:
I use Ouidad products for curly hair and have travel-sized bottles of my must-have anti-humidity shampoo and conditioner. With curly hair, I only wash my hair twice a week, though I do sometimes co-wash (wash with conditioner) between shampoos if my hair gets dirty or really sweaty.
To achieve great curls, I use a lot of a lightweight gel (the anti-humidity gel also from Ouidad), so much that the TSA-friendly bottle is empty after a weekend getaway. Depending on the length of the trip and whether I am checking luggage, I either take one travel bottle for every two days (I keep refilling the ones I own from my big bottle) or I pack a larger bottle in my checked luggage.
I also pack an empty spray bottle; I fill it with tap water to revive curls in the morning between washings and then apply more gel.
The hardest thing with my hair that my curls are best when air-dried. I try to schedule washings with the rest of my itinerary so I don't run around town with a sopping wet head. I dry my hair with an old t-shirt instead of a towel which is easy to pack and I've been known to rock a t-shirt turban until we literally walk out the door for the day. I pack a small-barrel curling iron in case my hair doesn't like the local water (my curls take a few days to get used to soft water or well water). I also pack a silk turban (I have one from SILKE) to protect my curls while I sleep so I have less work to do in the morning to have good hair. I've also learned to pack a beret or small hat for the times when my hair completely revolts against the local water so I can look stylish while hiding a mess!
Many thanks to these generous bloggers for sharing their travel hair care tips and products! Please do go visit their blogs. Do you have any tips or challenges when it comes to travel and your hair?
Stay in touch
Sign up to be notified of new posts and updates from une femme d'un certain âge.