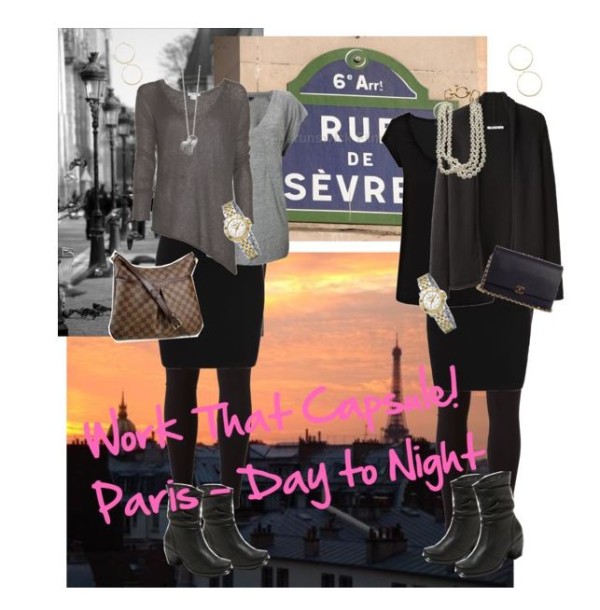 Below is a repost from last year's travel planning which included a week in Provence and a few days in Paris. Though our trip was in April rather than October, I'd still go with a very similar selection, including lots of lightweight layers, in knits and neutral colors. You'll want a lightweight raincoat, and a travel umbrella for sure. I now travel carry-on only; if you're checking a bag you can bring more, but I urge you to keep your luggage manageable, as spaces in Paris are small and even if you aren't navigating mass transit, stairways, elevators and hotel rooms are far less spacious that we're accustomed to here.
Jeans always divide the masses. I find that when traveling I wear them almost daily, but I also pick dark wash styles in a lighter weight fabric. Some people never travel with them. As a rule, I don't recommend packing clothes that are "out of character" for you. For Paris, at any time of year, here are some general thoughts on what to pack (or not):
Do bring really good walking shoes. See last week's post. Don't bother with heels unless you are attending a very dressy event and planning to take a cab or limo. 
Do bring a couple of scarves, but leave room in your bag to purchase some once you're there. Fabulous scarves are available in all price ranges. Don't bring a lot of jewelry. 
Do bring a relatively lightweight bag that can be worn cross-body. Best option: a convertible satchel with a cross-body strap goes from day to evening. Not only is this a more secure option, but it's great to have hands free for holding with your sweetie or taking pictures. Don't: fanny pack.
When traveling with only a carry-on bag, making smart clothing choices is crucial. I try to get smarter about my packing each trip, so went back and reviewed my notes after last year's Italy/Paris vacation, just to refresh my memory. Weather is always the catch; had temperatures not been unseasonably warm hot, my batting average with the clothes I'd packed last May might have been even higher. Taking into consideration the probable weather conditions for late April in Paris and Provence, I've begun narrowing down the pieces I'll take, with the intention of keeping the total number to 12, not including sleepwear, underwear, hosiery, accessories, or outerwear. (Shoes we covered last week.)
Bottoms
First Round Draft Picks:
1 pair jeans
1 knit pencil skirt
1 pair ponte knit pants
Alternates:
Babette palazzo pants (if weather forecasts skew warm/sunny, replaces ponte knit)
Tops
First Round Draft Picks:
Alternates:
Silk/cotton 3/4 sleeve jacket (if weather forecasts skew warm/sunny, replaces black cardigan)
Linen 3/4 sleeve tunic (if weather forecasts skew warm/sunny, replaces either black or teal cardigan)
Wild Cards
1 or 2 Karina dresses (one with some color)
1 additional silk jersey tee or tunic, grey
cashmere hoodie (if weather forecast looks unseasonably cool)
2nd pair jeans
Two or three days before we leave, I'll make final selections, and do the Polyvore on the Floor.
I can't rave enough about the Eileen Fisher silk jersey pieces, especially for travel. They layer beautifully, can be hand washed and hung to dry overnight, and are comfortable and flattering. And I'm looking forward to giving my Karina dresses a true "road test," as I can already vouch for their comfort, versatility and washability.  In fact, everything I'm planning to take can be washed and nothing requires pressing. (Yay, knits!) The pencil skirt and black cardigan (or jacket) or a dress will be as formal as I'll need, so I'm not taking anything specifically "dressy" this time as those garments were the most under-utilized on our last trip.
What are your favorite items of clothing for travel?  Do you have a formula when planning a capsule wardrobe?
Let's pack a bag for Paris!
Disclosure: actions taken from links may generate commissions for unefemme.net.
Affiliate links in posts may generate commissions for unefemme.net. See my complete disclosure policy here.