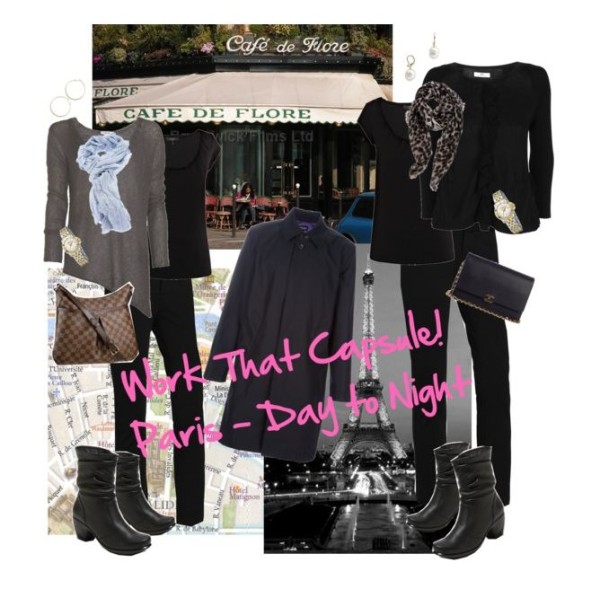 A couple of commenters mentioned last week that they're preparing to visit Paris in October, and asked about travel wardrobes and packing. I'm going to repost a couple of earlier posts on this topic and update with some current options/suggestions. Both times we visited Paris in October, the weather was warm and pleasant for most of our trip (low-to-mid-70's F) and then turned cool and wet the last couple of days. So you'll want to be prepared for a range of conditions. Today we begin, as you should when planning a travel wardrobe, with shoes. 
Originally posted March 29, 2012:
The topic of footwear in last week's posts about packing for Paris, here and here, generated a lot of great discussion and suggestions. I'll say again that shoes are the most important part of a travel wardrobe to get right, and sometimes the most difficult.
Before I wade further into this topic, allow me to stipulate to the following: whether at home or traveling, health always comes first. If you have foot or structural/medical conditions that require specific types of shoes or orthotics, follow your doctor's/therapist's orders and style be damned. Next across the finish line is comfort. No one looks chic if they're hobbling or if their face is contorted in pain from blisters or aching feet. That doesn't mean that one has to abandon all hope of style (ye who enter here), but in my own view, there's a sliding scale with absolute comfort at one end, and OMG CUTE! at the other, and each of us has to find out own balance point along that continuum. Perhaps this is easier if your style aesthetic skews less in the direction of Choo's with 5″ heels, but I do think one can find shoes that are both very comfortable and reasonably stylish. I'll admit that my own taste in footwear can lean toward what I call "EuroFunky" which does make the "comfortable" part of the equation a bit more accessible. And when I say "comfortable," that means walking-or-standing-for-several-hours-a-day comfort, not walking-three-blocks-to-the-bus-stop comfort.
I've found the best shoes or sandals for travel generally have these attributes:
fit snugly, not too loose or tight. Too loose and your feet slide around inside the shoe; not only is this more unstable on uneven surfaces, but your feet and legs have to work harder and will tire more quickly. Too tight, and you risk hot spots and blisters. If your feet swell during the day, straps, laces, buckles that allow easy adjustments are optimum.
a reasonably thick and cushioned sole with good traction, again for coping with a variety of surfaces
some arch support.
simple enough in style to dress up or down, and wear with most (if not all) ensembles you'll be packing.
Because I'm a committed Carry-On Only traveler (which le monsieur considers a sure sign that I should BE committed), I limit myself to two or three pairs of shoes, one of which is worn on the plane. On our upcoming trip to Paris and Provence which spans most of the second half of April, I'm anticipating that the weather could be quite changeable and so am planning on three pairs. Right now it's looking like…
1. Short Boots. I've been wearing these Naot's (above) regularly for the last few weeks, and have given them the "all day on my feet" road test which they passed with flying colors. They look great with skirts and tights, over leggings and slim pants, and fit nicely under my bootcut jeans. These would be my "on the plane" shoes. (If weather forecasts as we get close to departure look more solidly warm and sunny, I'll consider leaving these at home.)
2. My now-older-than-dirt ECCO Mary Janes. This is an old picture too, and they've actually been refurbished with new soles and a good conditioning and polish, so look better than the picture would indicate. I've worn these all over Paris on prior trips, so this choice was a no brainer. Plus, they work well with skirts and dresses, more so than loafers which would have been my other option.
A note on socks/hosiery: some people are perfectly comfortable slipping their bare feet into closed-toe shoes and running around all day. Une femme is not one of those people. Thus, if the weather turns too warm for tights or socks, I will be glad to have….
3. Sandals. Dansko's tend to divide the masses, but I'm in the "Love 'Em" camp. These are wear-all-day supportive and comfortable, and work with both skirts and pants. (They look better on than in the picture too.)
You may have noticed that all of these have a slight heel. I find a 1-2″ heel actually more comfortable and supportive than flats, possibly because of my high arch.
2013 Addendum: for October, I wouldn't bother with sandals. Here are some choices currently available that combine comfort and style for a Paris vacation. Most of these will go from day to evening.
Brands Aerosoles, Arche, Beautifeel, Clarks, ECCO, Gentle Souls, Mephisto, Naot, Think! all offer shoes that combine style and comfort; it's just a matter of finding what works for you.
And under the heading of Great Minds Think Alike, Duchesse offers up some unique and stylish suggestions!
What are your favorite shoes for travel? Do you tend to stick to a single color, or mix it up a bit?
Disclosure: actions taken from links may generate commissions for unefemme.net.
Stay in touch
Sign up to be notified of new posts and updates from une femme d'un certain âge.