Travel Tuesdays
I keep promising to write about hotels, restaurants, sightseeing and other travel-related topics, and then those posts seem to get lost in the shuffle. So to try to make good on my promise while not boring those of you who are here to read mainly about style, each Tuesday's post will be focused on travel. Where we've been, where we're going, and my recommendations. (However, when I'm actually traveling, I like to share some of my experiences in real-time, so frequency may increase.) I'll kick this off with a review of the Paris hotel where I stayed during my December visit.
K&K Hotel Cayré Paris – Location, Location, Location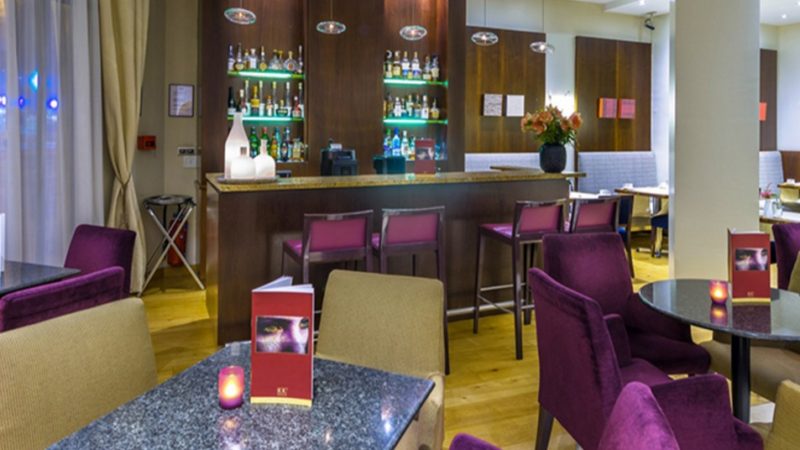 Late last summer, le Monsieur came across a discounted travel package for Paris in early December. I've warned him never to dangle Paris in front of me, because I'll always bite. 🙂 The package included flights and hotel accommodations, and from the choices available I liked the location of the K&K Hotel Cayré the best. And, wow, what a location! It's in the 7th, very close to the 6th. Steps away from a Metro stop, next door to a decent Monoprix, and in a great neighborhood (intersection of Blvd. St. Germain, Blvd. Raspail and rue de Bac) with lots of shops and cafés nearby. While most of my exploring this trip was on foot in the surrounding arrondissements, it was also an easy Metro ride to destinations further out.
Photos – top: view from my room on 4th floor (5th to those of us in the US) and above: the lobby bar (image source).
The hotel decor is clean and modern, if a bit generic. If you're looking for distinctly French ambiance, that stops at the door. (But just step outside for ambiance up to your eyeballs.) Everything seemed to be well maintained.
Room Details
The room that was included with the package was listed as an "Executive" room. It was a pretty decent size for a European room. The queen-sized bed was comfortable, and once I figured out how to work the thermostat, was able to adjust the temperature to my preference. My window opened out onto Boulevard Raspail. There were a couple early mornings where it was a little bit noisy with trucks and horns, but most of the time I didn't notice traffic noise. The street was quiet at night.
One thing I liked was that the electric tea kettle was nicely set up in a pull-out drawer of the credenza, and didn't take up any space on top. I like having a cup of coffee when I first get up, so always travel with some packets of instant.
The closet was plenty big for me, and had a small 3-drawer cabinet inside. There was the usual combination safe.
The bathroom was smallish, but ergonomically very comfortable. There was a tub-shower combo. Two things I really appreciated were the heated floor, and that shelf unit you see on the far wall where I could spread out my toiletries. The towels were standard-issue hotel towels, and the toiletries provided were nothing to write home about. There was a hair dryer, but no makeup mirror. Because of the configuration of the bathroom, I was able to get close enough to the backsplash mirror to put my makeup on. The lighting was very good.
Facilities
I didn't get pictures, but there's a large breakfast area where a substantial buffet breakfast (including several hot dishes) is offered each morning. The food selection was impressive. Lots of good pastries too. The coffee, like most hotel coffee, is meh. They also have a DIY espresso/cappuccino machine, also meh. However the service is friendly and accommodating. Greetje and I enjoyed a nightcap after dinner one night in the lobby bar, and it was quite pleasant.
I did not check out the fitness facilities.
The front desk gets busy during check-in/check-out times, but they were very helpful and made some dinner reservations for us, as well as arranging for a cab for me to the airport when I left. You leave your room key with the desk when you leave the building and then pick it up again when you return.
I'd definitely recommend the Cayré Paris for location, comfort, and convenience, and for the helpful staff. If charming decor and traditionally French ambiance is a must-have for you, I'll have more recommendations in future posts.
I did not receive any compensation or consideration in exchange for this review. All opinions are my own.
Affiliate links in posts may generate commissions for unefemme.net. See my complete disclosure policy here.