Paris Style Report – Spring 2014*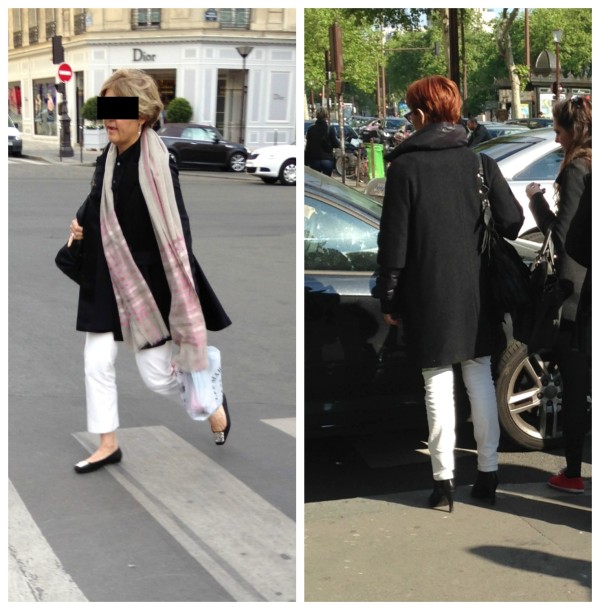 *Or, at least the few days of printemps we experienced…
First, I just want to stipulate that the trends/styles described below are based on my own observations over the course of a few days in several arrondisements. This isn't meant to be a scientific or comprehensive account, just what I noticed most. I'm sure once the weather warms up a bit some layers will be lighter or shed altogether. And though I tried to filter out anyone who seemed obviously a visitor, Paris is a multicultural city, inhabited by people from all over the world and the women I photographed may or may not be born-and-raised Parisiennes.
Polka dot scarves
This was actually the first prevalent trend I noticed even before we arrived in Paris. In French, polka dots are called petit pois (little peas) which I find charming. Where did "polka" come from anyway? But petits pois scarves are everywhere, in colors and neutrals, high and low contrast, large and small dots.
Trench Coats
Long or short, mostly neutrals but occasionally in color, trenches seem to remain the preferred form of lightweight outerwear. I saw very few utility or military-style jackets.
Coral or Red
When I did see Parisiennes wearing bright color, most of the time it was in the coral or red family. I noticed both men and women wearing light coral pants like the woman in the lower left corner. I also spotted a few women in softer colors, usually worn in a monochromatic way head-to-toe.
Feminine Jackets
I think this is one of the reasons Parisiennes have a rep for looking pulled together. Jackets really complete an outfit, giving it structure and definition. Cardigans were rarely seen but if so were either more structured like a soft jacket or buttoned and worn as a middle layer. You don't see droopy or voluminous sweaters or cardigans. But you don't see a lot of voluminous, boxy or "boyfriend" jackets either…everything is well-fitted and tends to nip in at the waist a bit. I also noticed that when moto-style jackets are worn, they are cut for women, and don't have a lot of extraneous hardware.
Other style notes
I did not see many femmes d'un certain âge in skirts; most were in trousers or jeans. This may have been a function of weather…it had been cool up until the last three days of our visit. Pants were almost always narrow and straight, often cut quite slim but not "painted-on" skinny. Jeans never distressed or whiskered that I could tell, and though women of all ages are wearing white jeans, I did not see many light washes except on younger women. I most often observed pants or jeans worn at ankle length or longer and over ankle boots or with loafers or sneakers. Once the weather warmed up I noticed a few pant legs rolled up to just above the ankle (and did the same myself the last day to keep cool). Flares or bootcuts were rarely seen, and if so almost always on younger women.
I did not see any women in skirts who were bare-legged. Most wore tights in a color coordinating with the rest of their outfit; a few I saw were wearing very sheer nude hose. I also noticed women weren't hung up about visible hosiery…I spotted printed socks under cut-away booties and visible lace shoe liners with ballet flats. The idea seems to be that it's fine if your hosiery is visible, as long as it's pretty.
Bags have been downscaled a bit, though I did notice that many women who seem to be on their way to or from work carrying multiple bags: a smaller day bag and a larger tote. I did not notice many structured or boxy bags, except for Chanel flap bags (mostly in the 1er and 7eme). Crossbody bags, totes and hobos seemed to be the most popular choices, and as with previous visits, I did not see many women carrying bags with imprinted designer logos (the subtle Goyard print being the exception) or a lot of bling or embellishment.
The most noticeable change from our last visit two years ago was the prevalence of sneakers and even "trainers." Chuck Taylors have always been popular, but now one sees actual athletic shoes as street wear.
What hasn't changed: notice that most of the women I photographed are wearing low heels or even flats. Paris is a walking city, and you don't often see women out in the daytime in heels much over 2.5 inches. Ankle boots, various styles of loafers and kitten heel pumps are the footwear of choice for those women not wearing sneakers. Makeup is still usually minimal and subdued, and jewelry is minimal (though it may be hidden under scarves and coats). You will not see locals in baggy, oversized, shapeless clothing, sweats or workout wear (though I did spot a very few fashion-y sweatshirts on younger women). No flip-flops or Crocs.
Do these trends/looks differ a great deal from where you live?
Linked up with Share In Style at MIS PAPELICOS.
SHOP THE LOOKS
Trenches


Jackets


Coral and Red


Petit Pois


Affiliate links may generate commissions for unefemme.net.
Stay in touch
Sign up to be notified of new posts and updates from une femme d'un certain âge.