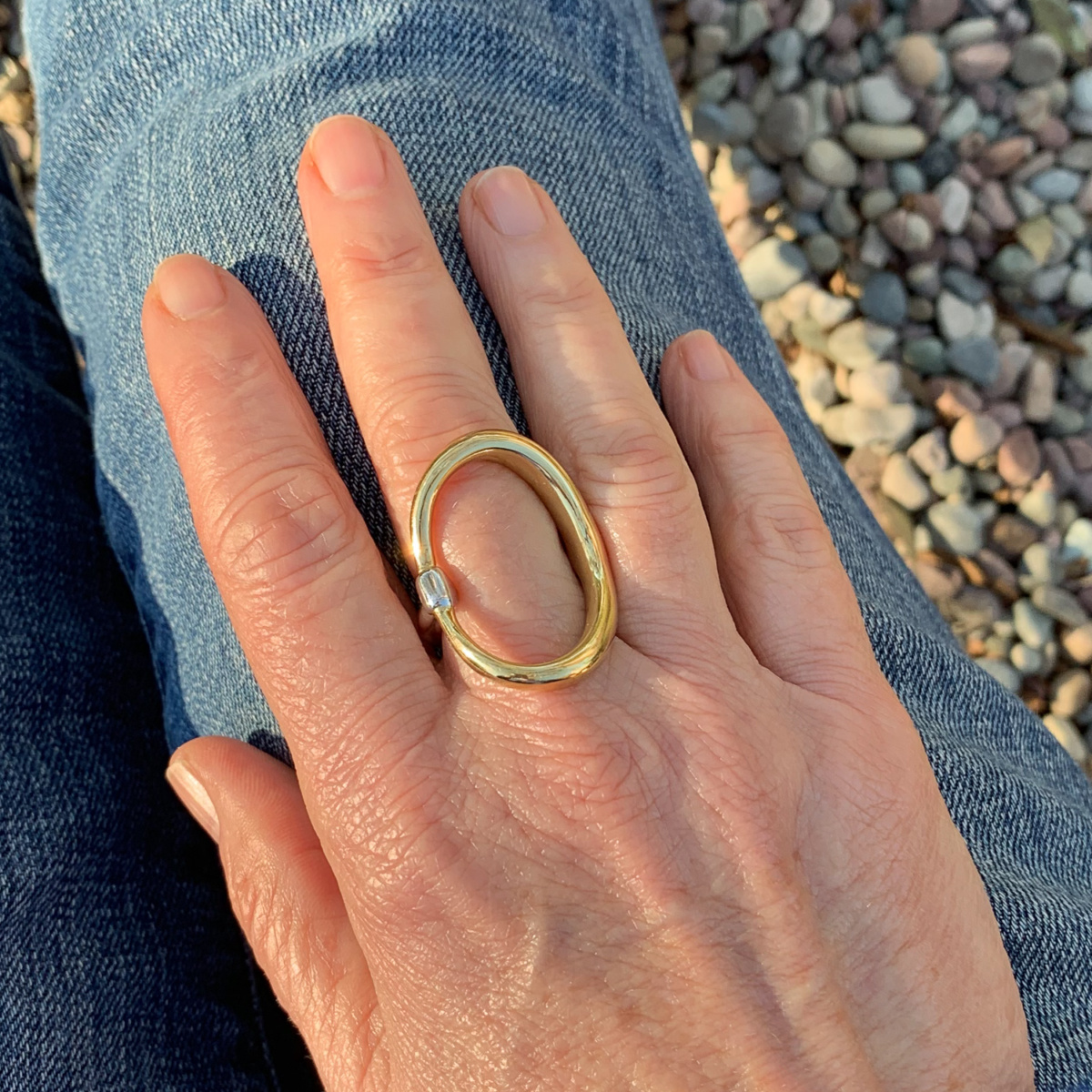 During my visit to Paris, I was treated to another Paris Shopping Tour excursion with the lovely Diane. She always has the best addresses for uniquely French brands and designers!
A Lovely Parisian Jewelry Boutique…
One of the shops she introduced me to this time was WHITE biRD, a small but exquisitely stocked jewelry boutique. Stéphanie Roger, the proprietor, has an extensive background in jewelry design and has worked with many major houses. But she wanted to create a more small, personal space featuring pieces from independent designers, and her shop is an intimate boutique with unique items.
I was swooning over just about everything in the shop. Much of it was over my budget, but then this unique ring caught my eye. It's from Charlotte Chesnais, a French designer who worked with Nicholas Ghesqueière at Balenciaga for nine years before launching her own line. Her pieces are modern, sculptural, and abstract, yet quite comfortable to wear. (I tried on a few in the shop 😉 though this ring was the only one that came home with me.) The designs often have an element that seems to be defying gravity, which I find intriguing.
More from Charlotte Chesnais…

My Stylish French Box: La Parisienne
The February My Stylish French Box is inspired by La Parisienne. I've had a sneak peek at some of what will be included in this box, and it's going to be a very special collection. You don't want to miss it!
And a Giveaway!
Sharon has very generously offered one of these lovely My Stylish French Box February editions to give away to one lucky reader. You'll need to use the widget below to enter, just follow the simple instructions! Entries will close at midnight on January 17, 2019.
Bonne chance!
First just leave a comment here as you normally would. Tell us what you find most inspiring about Paris. Then you can register your entry with the widget below.
To use the widget, you can either login through Facebook, or by submitting your name and a valid email address. This is so you can be contacted if you are the winner.
After each entry, click on the ✅ box in the bottom right corner to register the entry. To confirm that your entry has been registered, just tap on the "horizontal bars" icon at the top right hand side of the widget. It will display the number of entries you've submitted.
a Rafflecopter giveaway
Affiliate links in posts may generate commissions for unefemme.net. See my complete disclosure policy here.