A Few Suggestions For The Red-Curious…
Tell me you'd be able to resist that print. I couldn't. This cotton-silk blend popover shirt is very lightweight, and a little bit sheer. Depending on your comfort level you may want a camisole underneath (or you can wear it underneath a sweater or jacket). But that print! Whimsical without crossing too far over into Twee. Also available in a sweater.
A lot of people tend to shy away from red in their wardrobe, and until recently I've been one of them. But I've been dipping a toe in here and there, and am always amazed at the impact that red adds to a look. Red works well with just about any other neutral, and plays nicely off other colors too. I often find a strict red/black combo too harsh, but just by adding in some white/ivory or another tone (the print above cleverly does both) the look is softened. Even if you don't want to wear red near your face or in large chunks, an accessory or accent in red really makes an outfit pop. We'll count burgundy and russet tones as "reds" for the sake of this exercise.
Pendleton plaids always make me a bit nostalgic and there's lots to like in the Gap + Pendleton collaboration. Plaid is a big trend for fall but if you're wary of the Lumberjack Effect, this plaid tote is a nice alternative for more casual days. Love those colors!
Here's a long cardigan you can wear while the weather's still mild. This russet red is gorgeous, and would look great paired with denim, camel, brown, grey or even pink or aubergine. (Check out the colors in the tote above to see what I mean.)
If you prefer red in limited doses, here's a small-but-mighty leather camera bag. Holds a wallet, phone, lipstick, keys and compact with room to spare. Perfect for those dashing-around-running-errands days.
A red or burgundy shoe can be a surprisingly versatile option. This d'Orsay style in suede has a comfortable block heel.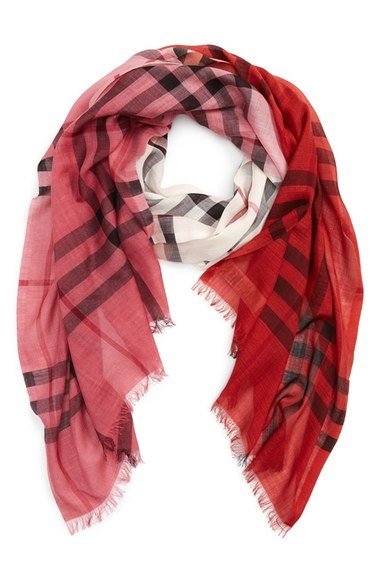 Scarves are always a nice way to incorporate some red into the mix. Burberry does such good ones. This ombré effect scarf isn't inexpensive, but is currently marked down.
And here's a stunning chunky Carnelian and silver strand necklace. It's also marked down.
I've been narrowing down my travel wardrobe for Japan, and it's looking as though red will be my primary accent color. I'll post the wardrobe next week once I've finalized my choices.
Is red a player in your wardrobe?
Stay in touch
Sign up to be notified of new posts and updates from une femme d'un certain âge.