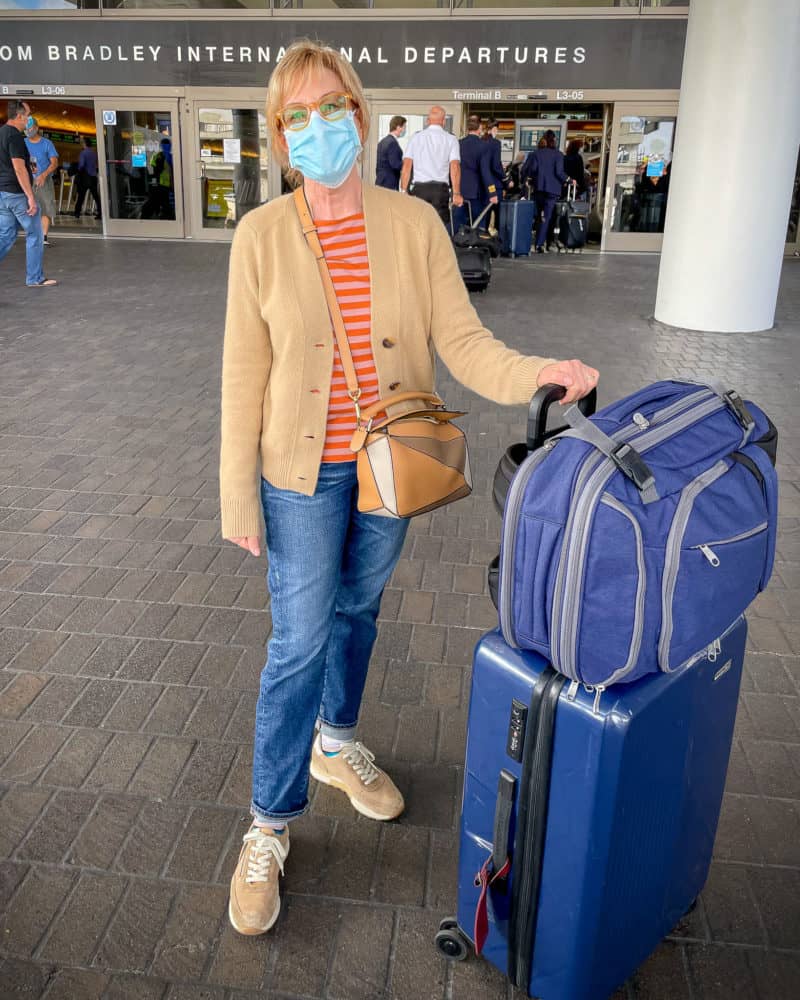 After I posted my "departure" pic on Instagram, so many people asked about my cabin (carry-on) bag, I thought I'd share the details here.
First, I knew I was going to want a larger, hard-sided checked bag, in case we pick up some wines, vinegar, etc. along the way. And I brought just a little more clothing, as we'll be changing destination every 2-3 days and probably won't have time for laundry. The larger spinner bag is an older Briggs & Riley Sympatico medium size (current version HERE). Mine is not expandable, and I used about half the available space.
(Last minute wardrobe changes: after checking the forecast one last time before we left, I decided to take a lighter down jacket rather than the down coat, and a pair of walking loafers rather than the rain boots. I also ditched one pair of jeans, one of the sweaters, and added a short-sleeve tee.)
My new cabin bag, the Mother Lode, Jr.
I've been wanting to try a backpack as cabin bag, and this one was well-reviewed. I'd originally ordered one for le Monsieur to replace an older and very heavy hand-held cabin bag. I liked his so much I ordered one for myself as well.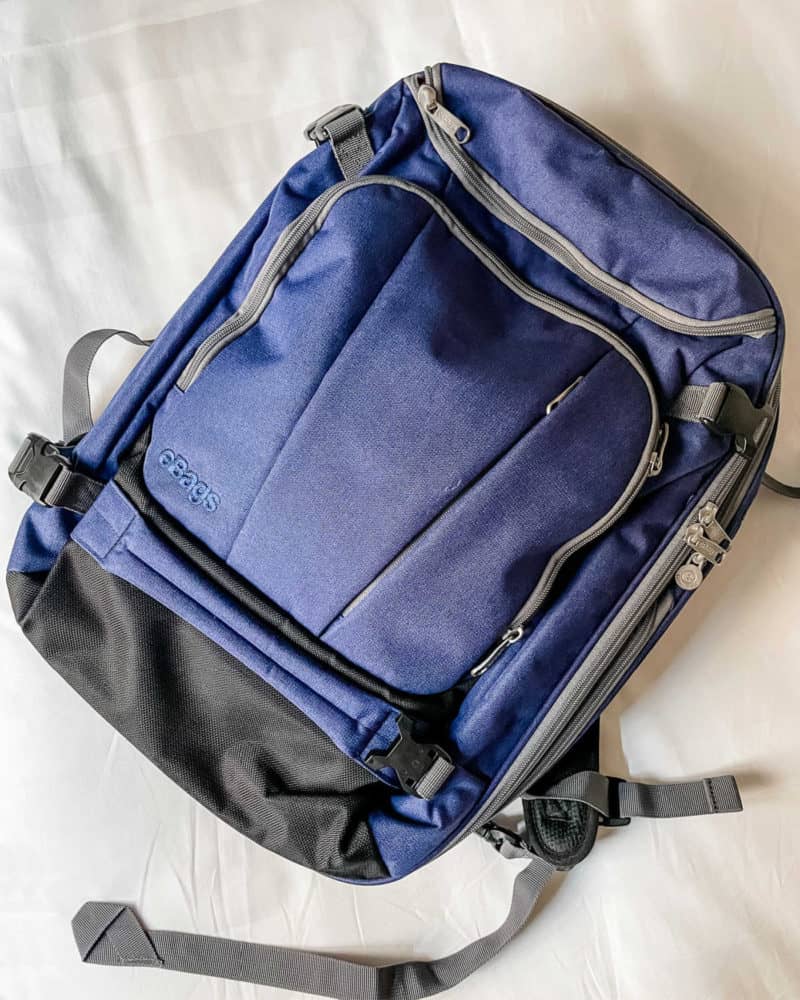 After two flights, and lots of shlepping in airports, I'm quite pleased with this bag!
First, it's very well designed for organization.
The main compartment is quite large, with two compression straps.
There are three outside pockets, and a padded laptop compartment.
The largest outside pocket has additional zippered compartments inside.
The main compartment opens like a regular suitcase, so it's easy to pack and find things inside.
The Mother Lode Jr. backpack holds quite a bit! I didn't even pack mine anywhere near capacity*, as I wanted to keep the weight down. It goes easily into overhead bins, and le Monsieur was able to fit his under the seat in front for one of our flights. There are the shoulder straps, of course, and two padded handles to carry vertically or horizontally.
What I did pack in the carry-on:
a change of clothes
toiletries kit
travel documents
laptop
charging cords
TSA liquids bag
my en cas snacks (a couple of protein bars)
extra masks
The size in the top photo is deceiving; the bag was closer to the camera and so looks larger than it actually is. 😉 📸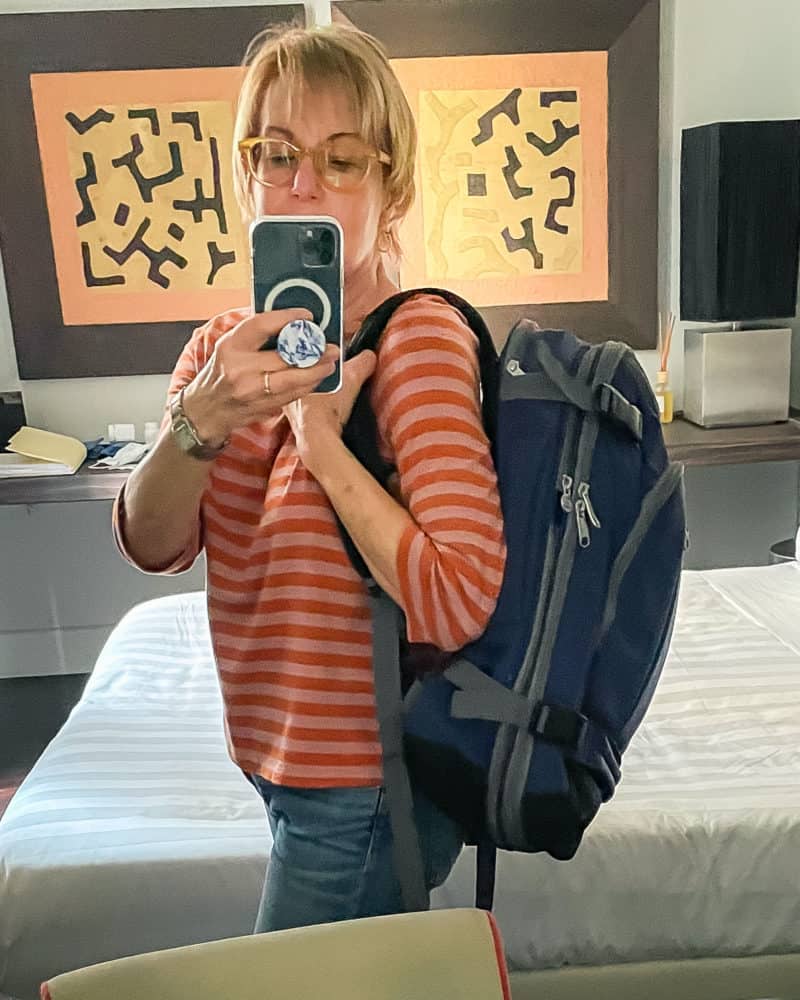 Here's a better photo to show the actual size. For reference, I'm 5'1″. It was comfortable to wear as a backpack, and easy to get in and out of.
There's also a larger size HERE, and a wheeled version HERE.
What it's like to travel now: our experience so far
I have to say, apart from having to deal with filling out, presenting, and managing extra forms (passenger locator forms for both UK and Italy, negative covid test documentation), our transit here was a lot smoother than we anticipated! Airports were far less crowded. Lines to get through security and immigration were short.
One new procedure I really liked and hope airlines make standard is requiring passengers to remain seated until they are called by rows to disembark. It's much more orderly than the usual mad scramble for the door, and honestly I think it's actually quicker.
Masks are required in airports, on planes, and in taxis, and indoors here in Italy, unless one is eating or drinking. Outdoors, masks are optional, though we've been keeping ours on in lines/crowds. Our proof of vaccination is checked for entrance to any indoor public space like churches or museums, and a couple of places had some high-tech, no-touch temperature checks in place.
Most businesses here seem to be open and operating normally. Staff are masked.
Style and travel updates
It's been my experience that some of you love both style and travel posts, while others are primarily here for the style. I'm trying a new process for my subscribers to filter which email updates you receive, based on your preferences.
If you'd like to opt in or out of travel updates, you can click on the "update subscription preferences" link at the bottom of my emails. Click to be sent a form to select your preferences, then select either Yes or No for travel content. (If no selection is made, you'll receive all updates.)

This is a new setup, so I appreciate your patience while we refine the process!
Affiliate links in posts may generate commissions for unefemme.net. See my complete disclosure policy here.