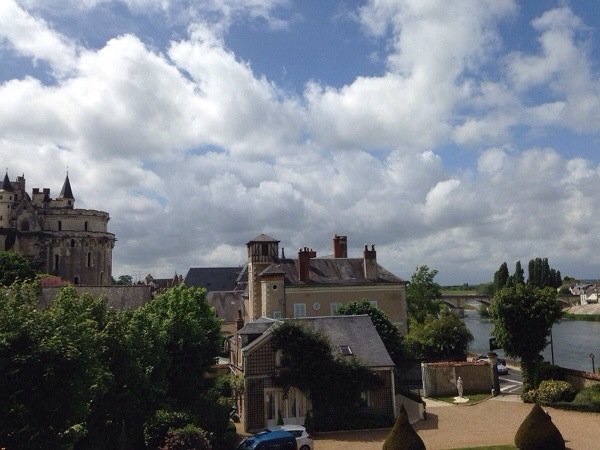 We arrived in Amboise on Saturday afternoon, and after getting settled in our hotel, set out to explore the town and get our bearings.
It's definitely on the touristy side here, but still very pretty and we've enjoyed some fabulous meals. We've already enjoyed a wine tasting at one of the local "troglodyte" wineries. (More on this later.)
Sunday morning in spite of the steady rain, we took a stroll though the marché, reputed to be one of the best in the area. Had the weather been better we definitely would have picked up some of that paella to nibble on for lunch!
We waited a bit to see if the rain would let up, but that didn't look likely, so grabbed our raincoats and umbrellas and set off for our first chateau, Chenonceaux.
The interiors are stunning, and you must be sure to read the history of the place in the Medici Gallery, as it focuses on the influential women who shaped its architecture and history.
By the time we finished touring the interior, the rain had let up a bit, though it was still quite blustery.
I've received a few questions about how my travel wardrobe is working out, and the answer so far is quite well. The lightweight layers (silk tops and linen sweaters especially) have been perfect for the weather when topped with the raincoat. I'm glad I trusted my instincts and brought the ankle boots (both pairs) as they've been appropriate for the cool, wet conditions. As you can see from the picture above, yes I'm repeating outfits quite a bit, but when traveling you're not seeing the same people (other than le Monsieur from day to day anyway. I've already done one small load of sink laundry, and probably will only have to do one more in a few days.
Today after breakfast we'll be off to see more chateaux, and perhaps the town of Blois.
À bientot!
Affiliate links in posts may generate commissions for unefemme.net. See my complete disclosure policy here.