Shop Like A Parisienne (Part 2)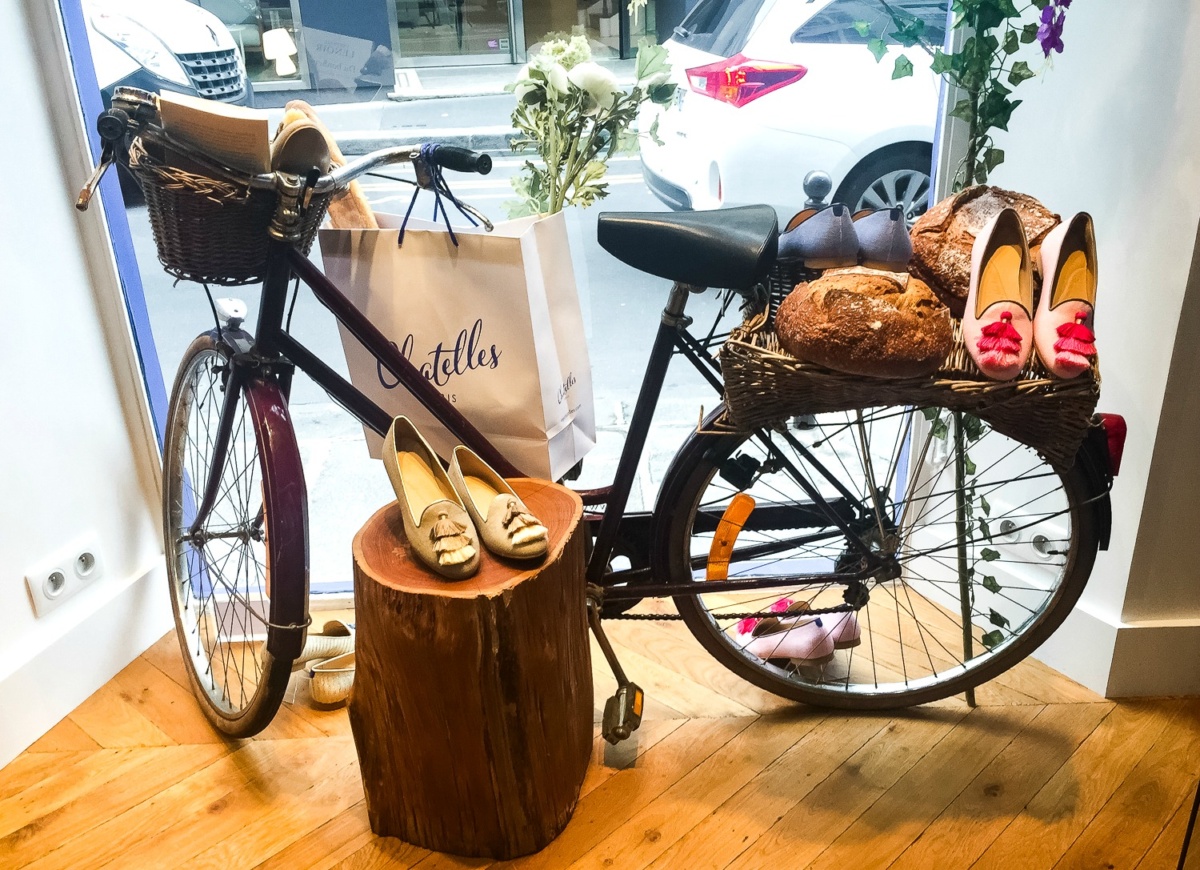 On my visits to Paris over the years, I've spent a lot of time shopping. But I sensed that I was barely scratching the surface, and probably missing out on some real finds. So on this visit, we signed up for a guided shopping excursion with Paris Shopping Tour. You can read Part 1 here, which covers the clothing boutiques we visited.
Bright Baubles And Shoe Shopping In Paris
Before we get to the shoes though, let's look at some fun Parisian-made baubles…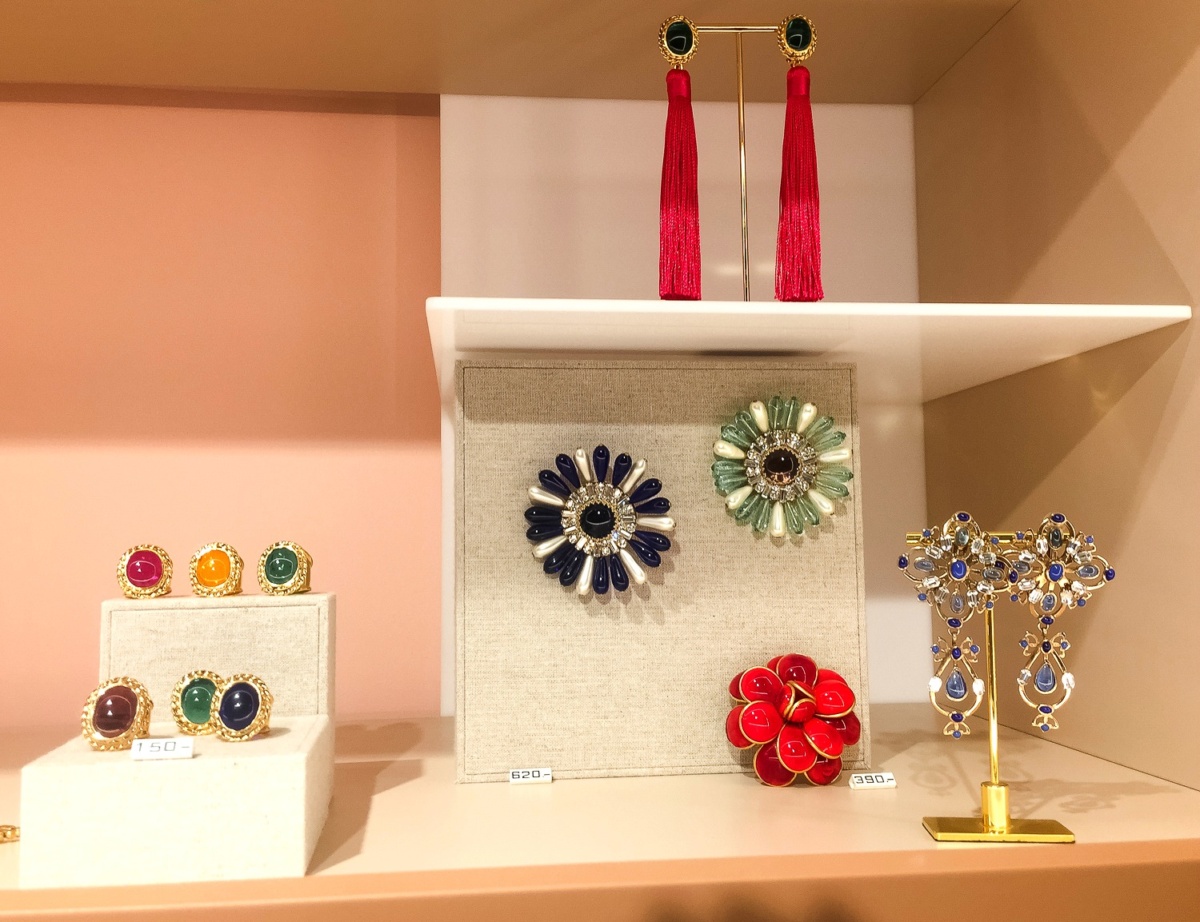 Just off rue Etienne Marcel we were buzzed into the boutique of Gripoix Paris.
These costume jewelry pieces featuring colored glass are handmade right in the atelier. We were allowed to go upstairs and see one of the artisans in action, though were not allowed to photograph. Gripoix Paris has done custom work for many of the big designers including Gucci, Chanel, and Saint Laurent.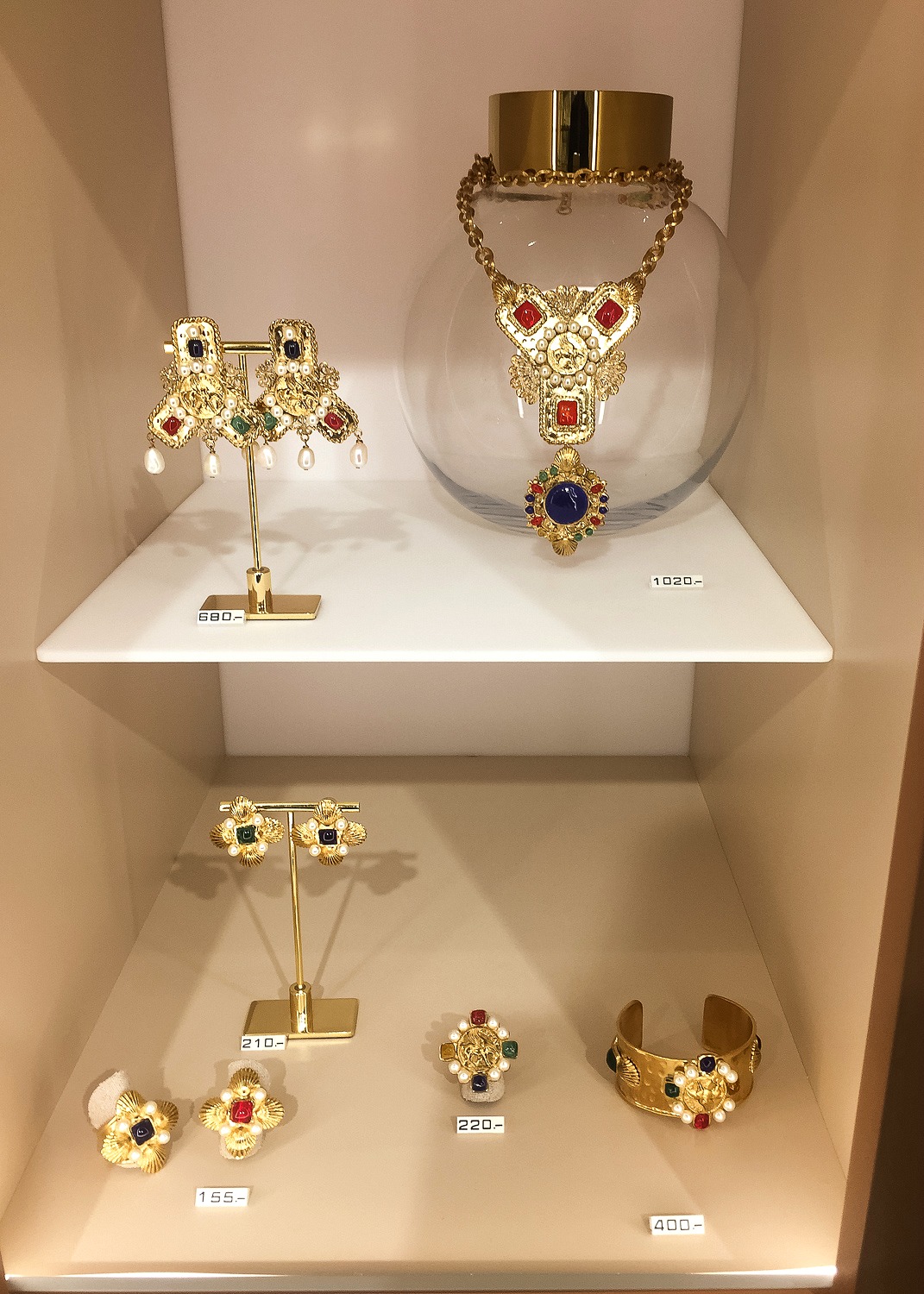 While these aren't inexpensive pieces, the workmanship is beautiful.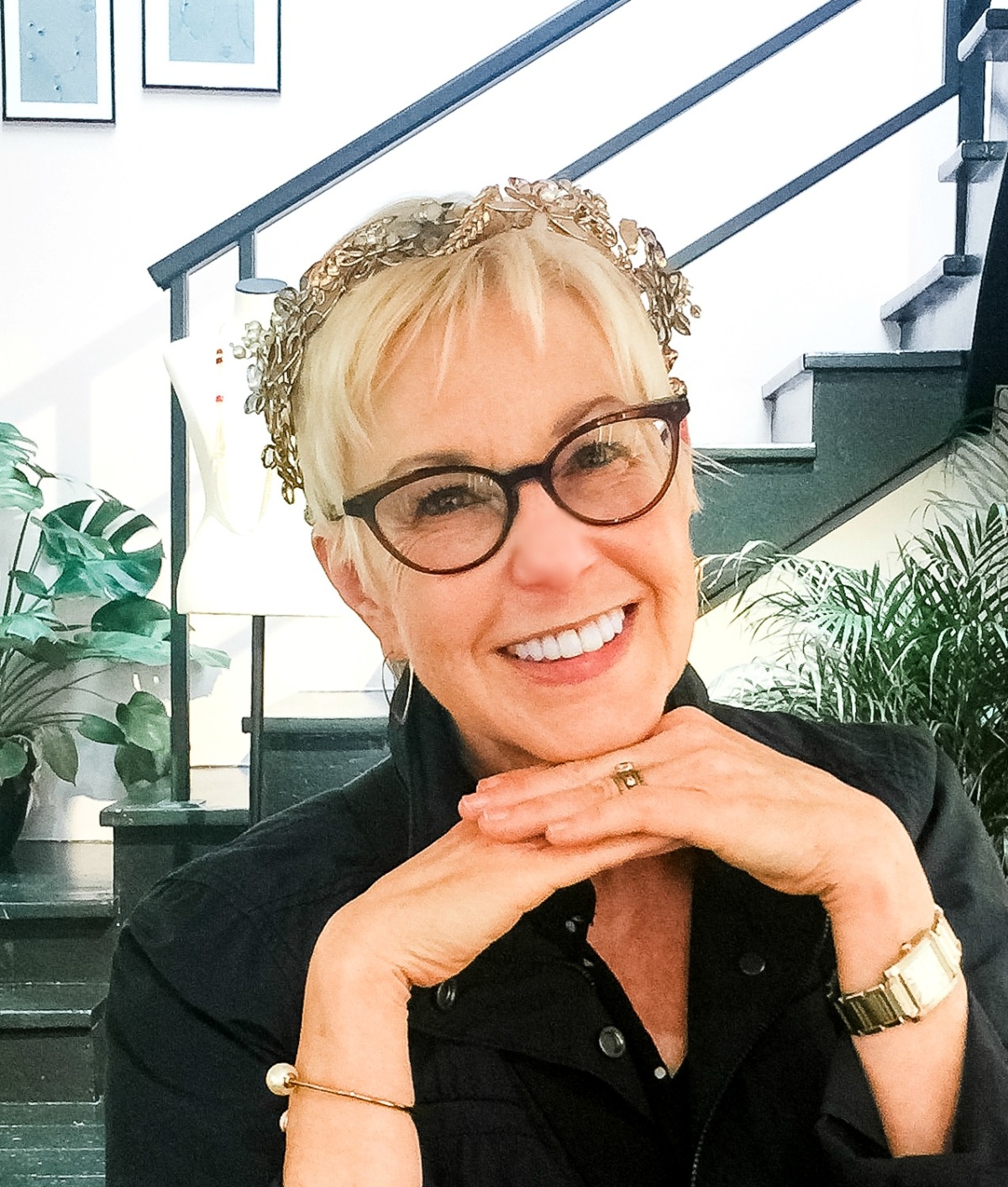 They let me try on a tiara, which I left at the store, but I did come home with that faux pearl bracelet…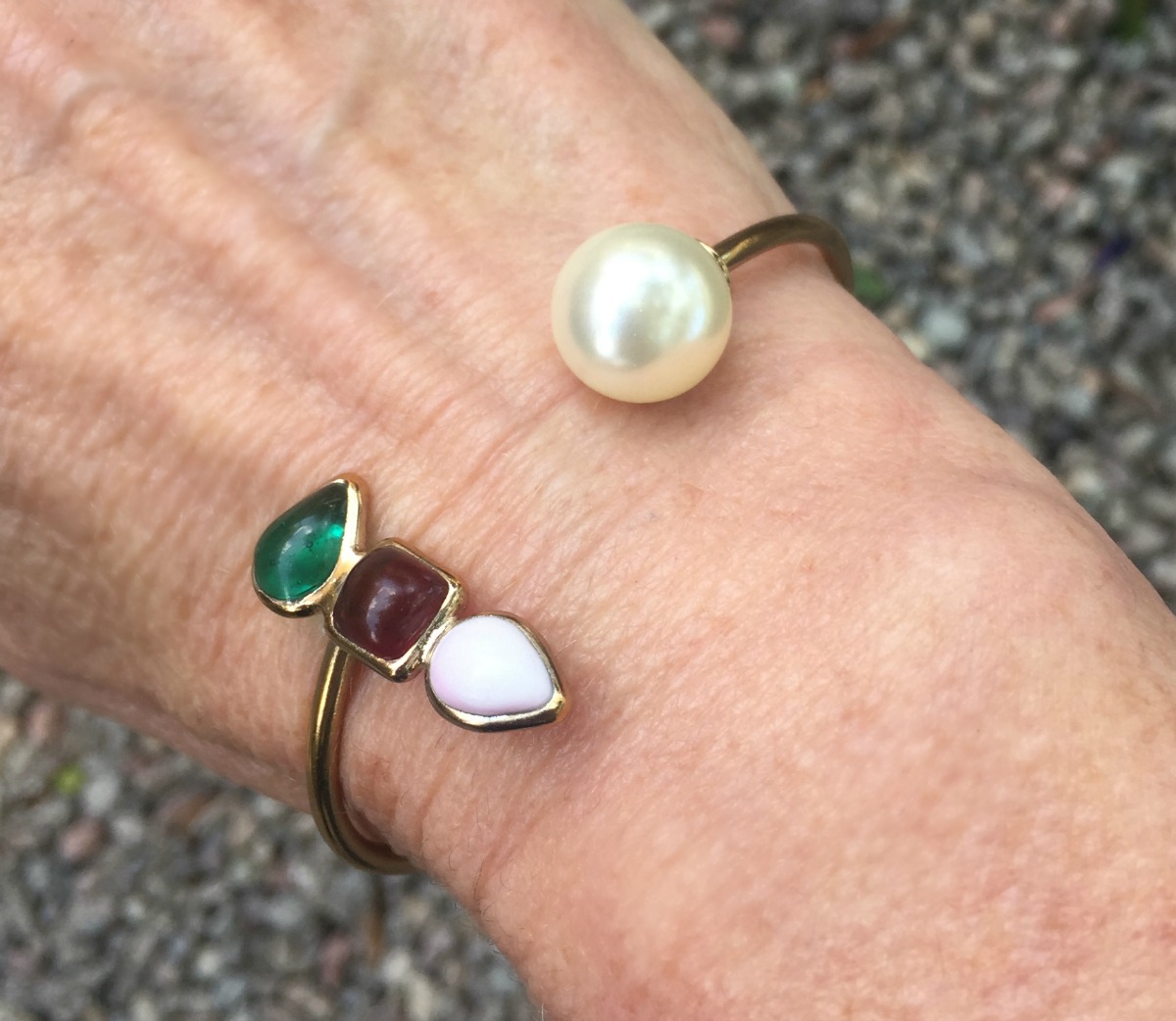 Each piece is unique, and there are over 100 colors of glass used in their creations.
But I know you're wondering about the shoes…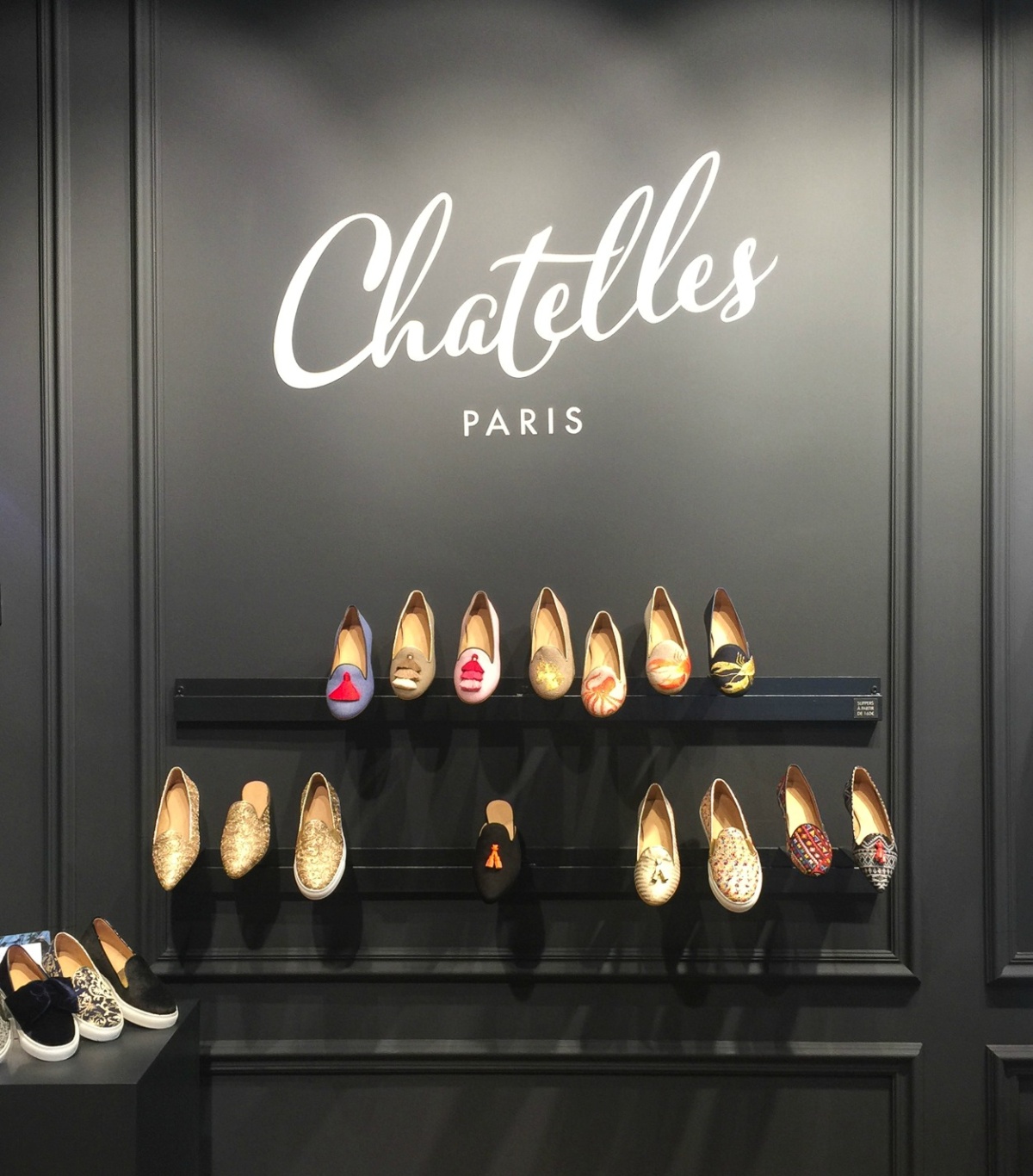 Chatelles Paris designs and manufactures customizable "slippers" (flats) in lots of fun styles and colors. With the goal of marrying elegance and comfort, they only carry flats. And yes, the shoes are comfortable! There's padding in the insole and a bit of arch support. The designs are delightful too.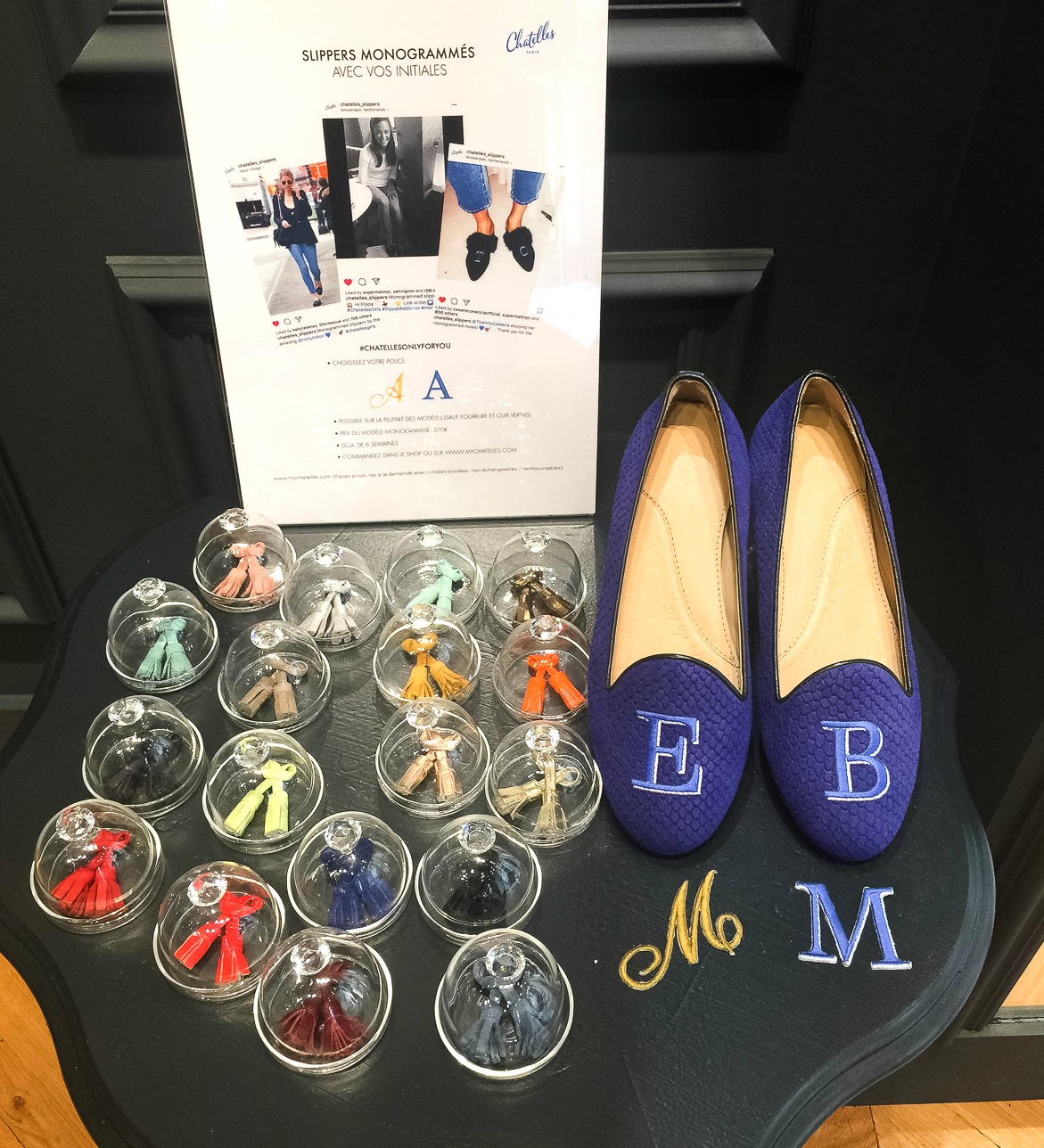 Many of the styles can be customized with tassels or initials.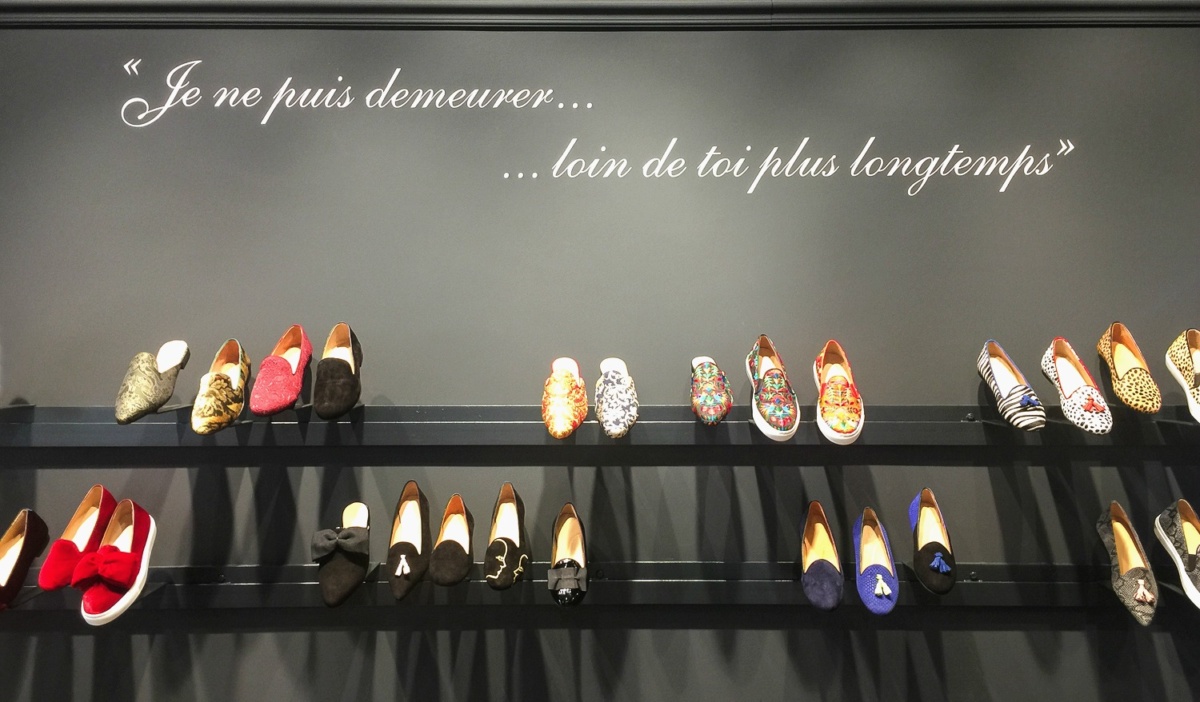 The designer François du Chastel came up with the concept when he designed a pair of shoes for a lady-love, with the verse from Victor Hugo shown above (which translates as "I cannot remain… far away from you any longer" engraved inside. (We actually met the designer briefly when he stopped into the boutique while we were there. Very handsome!)
You KNOW I didn't walk out of there empty-handed….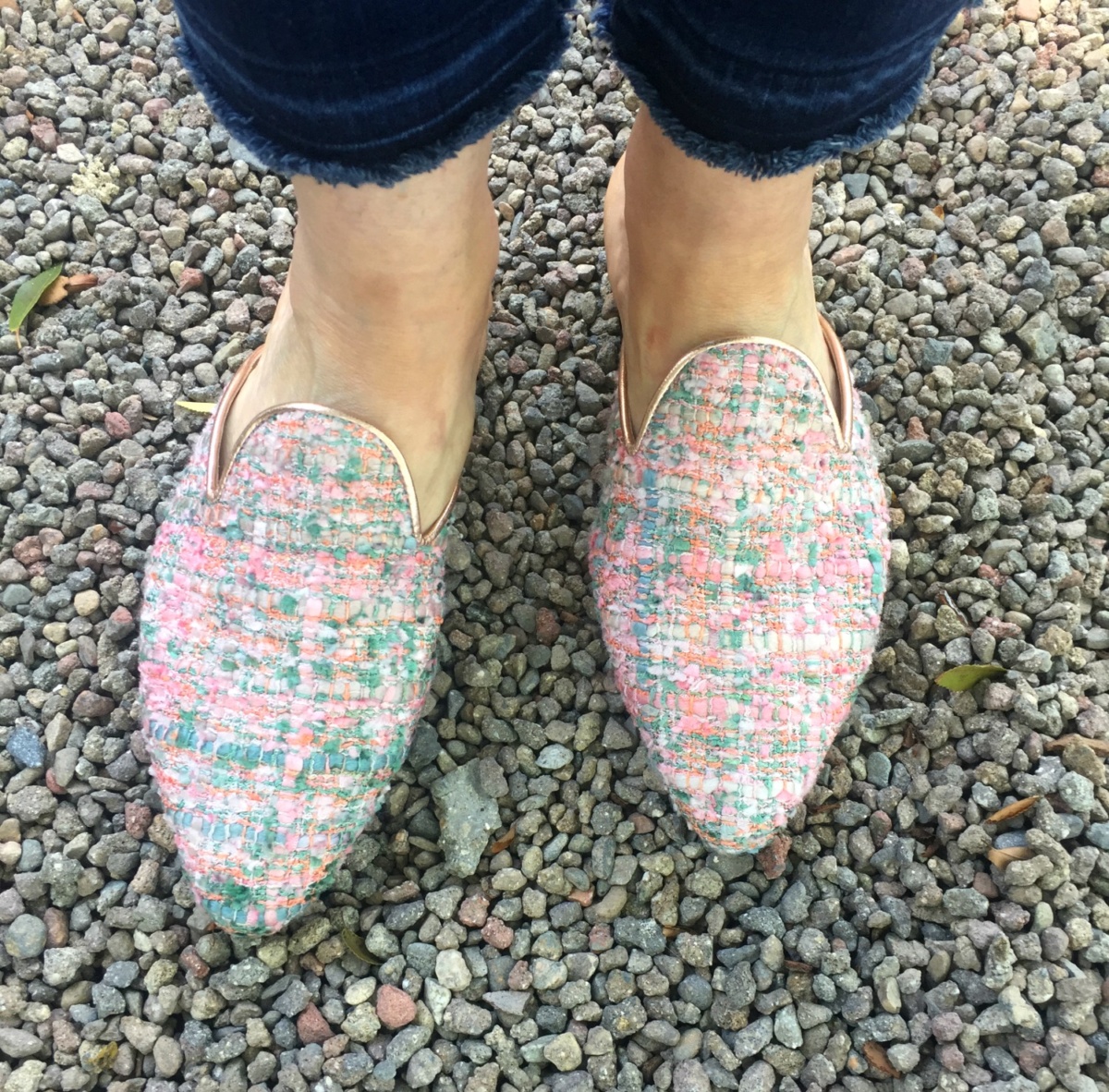 These tweed mules had my name all over them…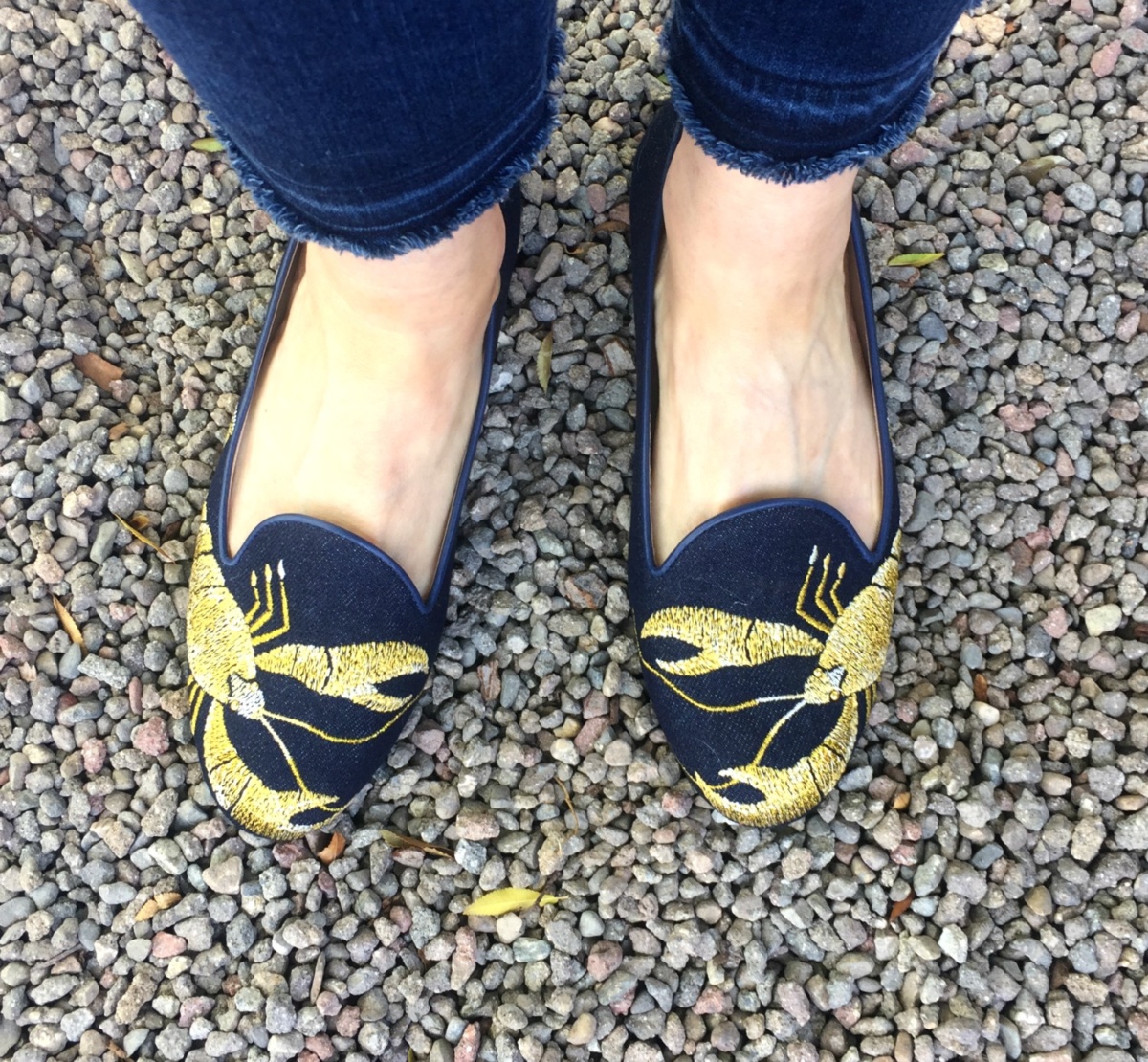 I kind of surprised myself with these. I thought they were fun and funky, but fell in love the moment I tried them on.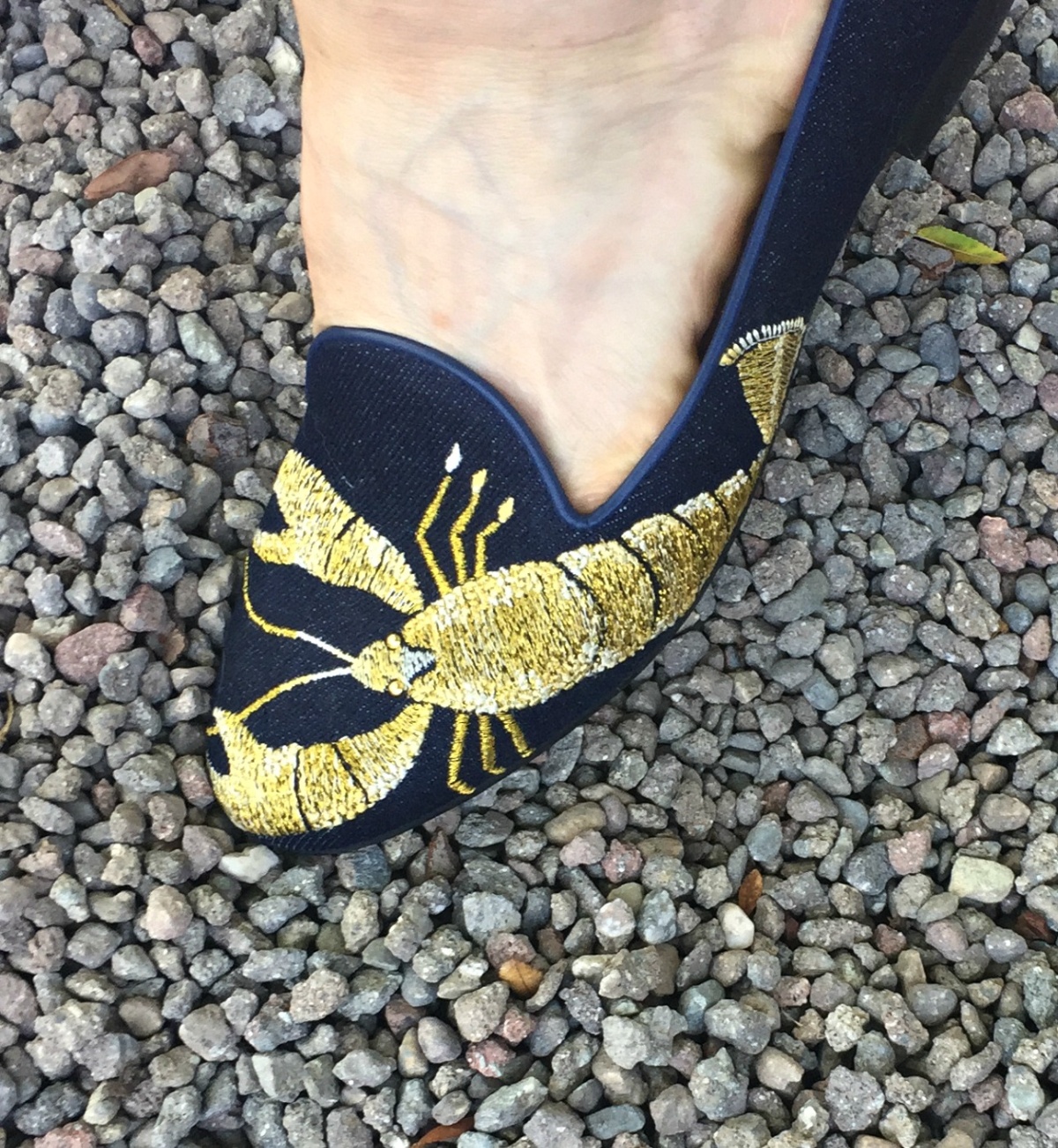 Who could resist those charming little lobsters? They're a great way to add a bit of panache to my casual jeans looks.
Please note: my content is being re-published by other websites without my permission. If you're not reading this post at https://unefemmenet.wpengine.com, please click link to read where originally posted.
Old School And A Modern Concept…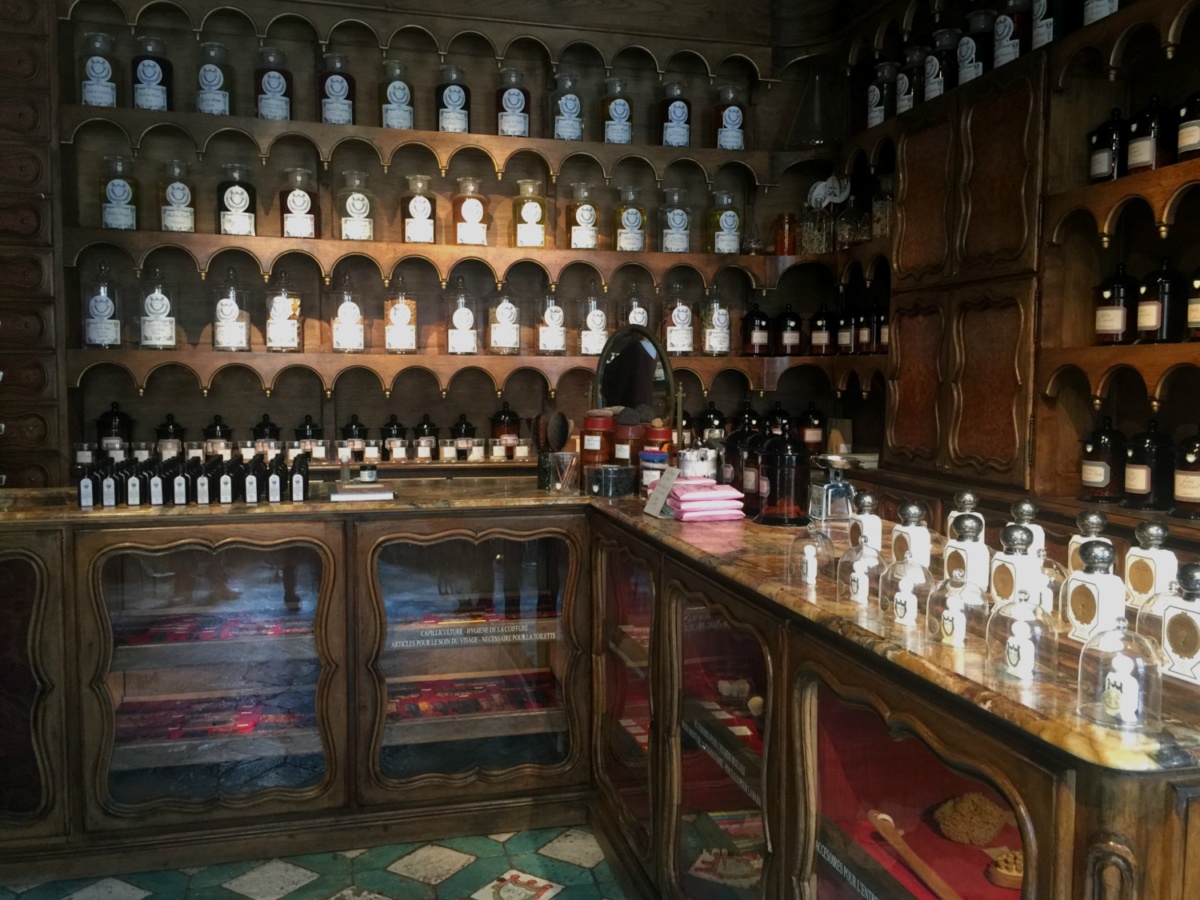 Founded in 1803, L'Officine Universelle Buly in the 6th offers natural, high-quality, French-made fragrances and products for body and home. They now have a few locations worldwide, but this is the original shop. We stopped here toward the end of the day, and it was a short, if intriguing visit. I'd really like to go back and explore this shop more, and try a few of their products. If you're looking for some unique gifts, this would be a great stop. Some of their packaging looked familiar, and I realized I'd also seen some of their products online.
I brought home their catalog, which is really a treat to peruse as well.
And last but not least, not your usual "souvenir" shop…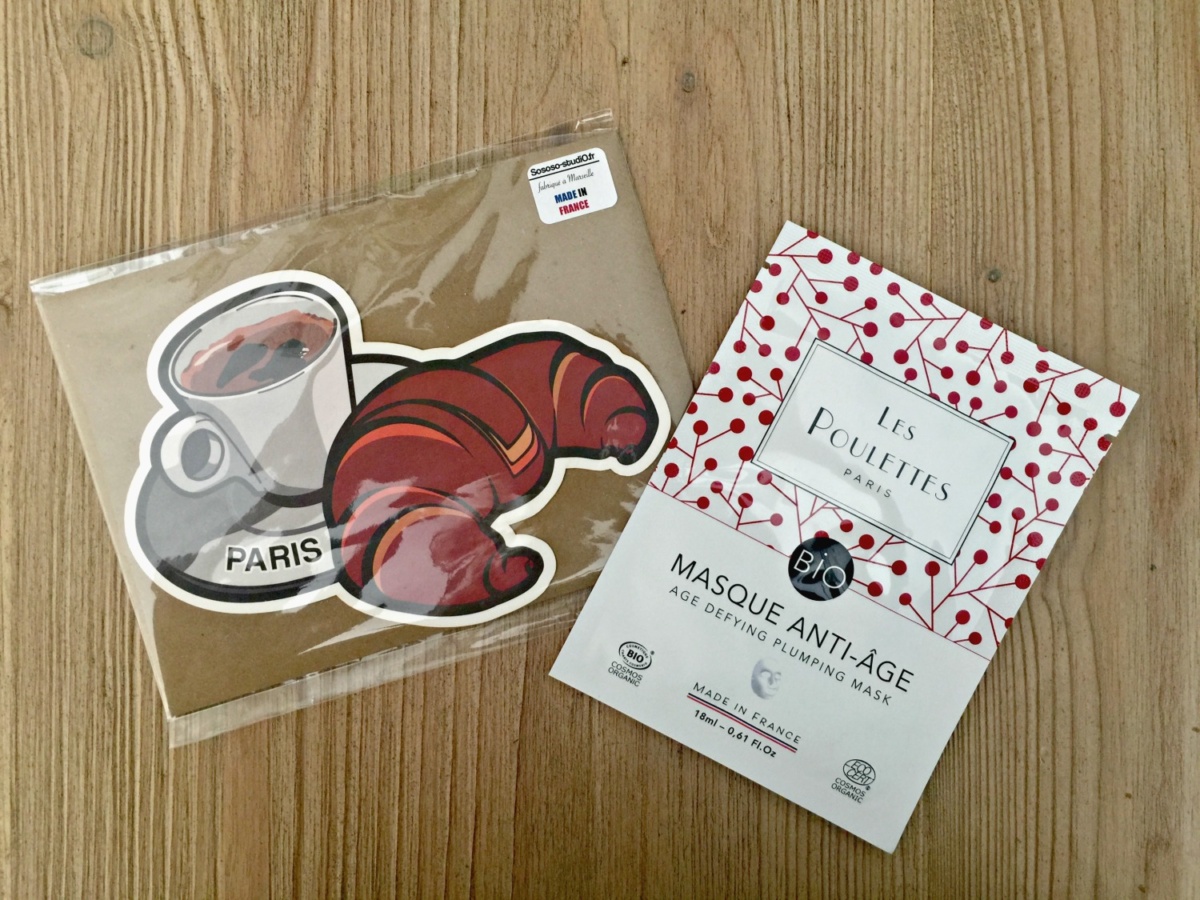 Gab & Jo  is the kind of shop you could spend all day in. Everything here is made in France, and it's a great place to stop in for little gifts. Clothing, accessories, items for the home, cards, goofy tchotchkes, it's all there. But not the same plastic junk you find everywhere else. I picked up this cute card and a face mask that I'll probably try out over the weekend.
If you're planning a visit to Paris and shopping is on your agenda, I highly recommend Paris Shopping Tour. It was such a great introduction to some uniquely French boutiques and brands!
Read Part 1 of my adventure with Diane of Paris Shopping Tour.
More Fun Flats
Disclosure: This post is not sponsored nor did I receive any compensation or consideration from Paris Shopping Tour, or any other entity.
Please note: my content is being re-published by other websites without my permission. If you're not reading this post at https://unefemmenet.wpengine.com, please click link to read where originally posted.
Stay in touch
Sign up to be notified of new posts and updates from une femme d'un certain âge.