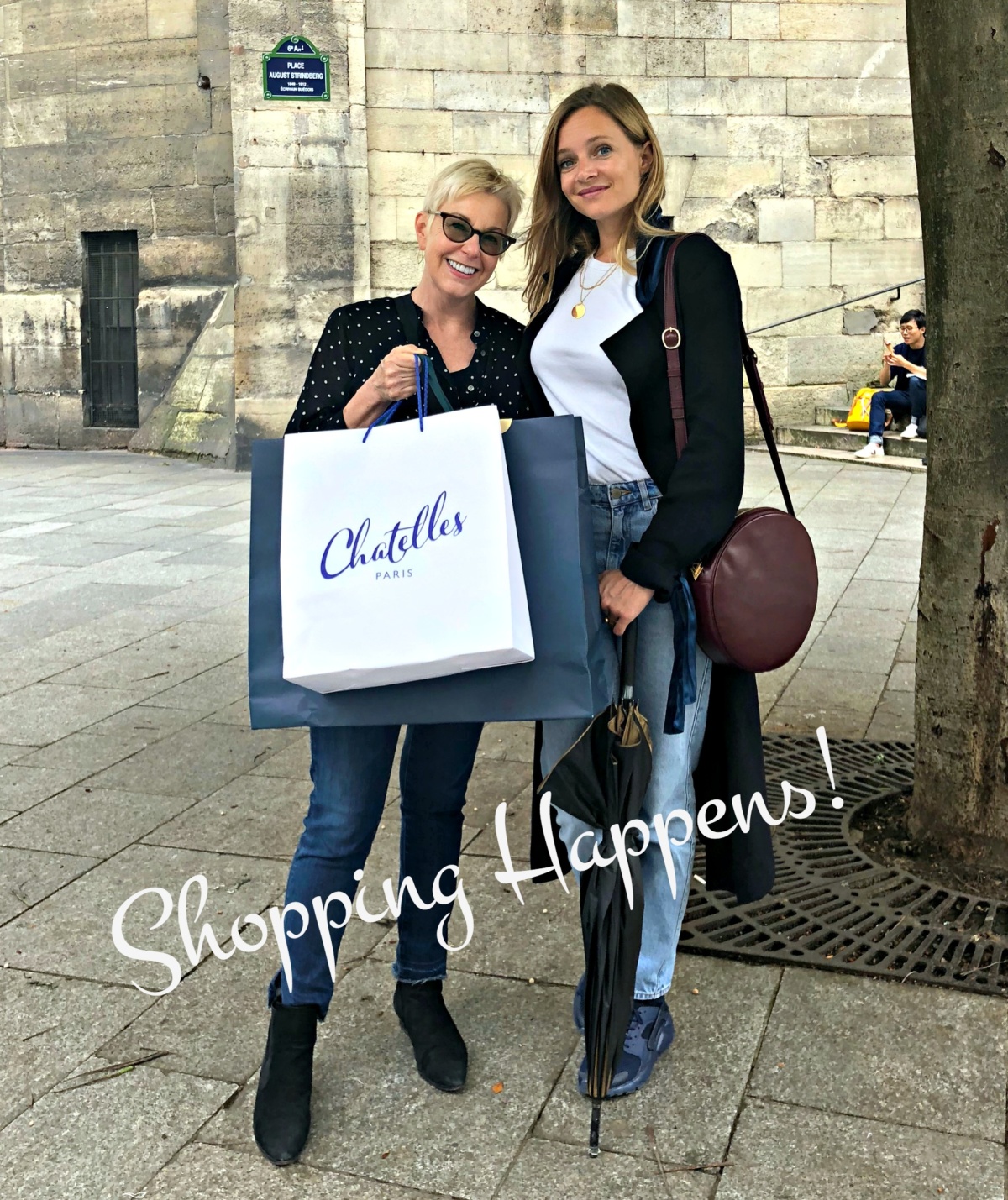 No surprise, I'm sure, but I always look forward to doing a little shopping in Paris. Sometimes I do more than "a little." 😉 It's fun to make new discoveries, and come home with pieces that I can't find here. But it can also be overwhelming and intimidating. With so many brands now available globally, trying to suss out those truly unique items is becoming more challenging.
Add to that my shopping temperament: I tend to get overwhelmed with too many choices, or trying to sift through racks of unfamiliar items. After a while my eyes start to glaze over, and my brain stops processing.
For this trip we'd been working with a travel professional* to get some "value added" on our hotel stays. Just for grins they gave us a list of recommended excursions in Paris. Among those were the photography lesson, and Paris Shopping Tour.
Shopping Avec Une Parisienne
I jumped at the chance not only to perhaps glean some good information for the blog, but to also shop with a fresh (and French) set of eyes. A few weeks before our trip, I filled out a questionnaire about my sizes, and the kind of items and shopping experience I was looking for. Paris Shopping Tour tailors the experience to the client based on taste and budget. Our shopping concierge Diane was not only very knowledgable about fashion in general, but also about what's on the racks currently in the shops, the prices and quality.
She had planned out our 6-hour excursion very efficiently, and we really made the most of the time. On the questionnaire, I'd indicated I wanted to discover some uniquely French brands and/or favorites of stylish Parisiennes. We started off along rue Etienne Marcel in the 2nd arrondissement, one of her favorite areas to shop.
(Because we covered so much ground, I'm going to break this up into two posts: clothing today and accessories/jewelry next week.)
Carolina Ritzler
Our first stop was the atelier/shop of designer Carolina Ritzler, who is known for her jumpsuits. I was a bit skeptical due to my short stature, but in the interest of research tried on a few jumpsuits. They really were gorgeous and beautifully made, but as I feared, just too long for me in the waist, rise and legs. I really liked this oversized houndstooth coat (yes, it's a LEWK). And it was on sale. But I couldn't justify buying another coat that I'd only have the opportunity to wear a few weeks out of the year back home.
(Diane confirmed my observation that French women have warmed up to the oversized look.)
All of the pieces are made in France, and the prices reflect that. But the quality of the fabrics and workmanship is superb.
On to the next stop…
Momoni
Momoni is actually an Italian brand, but according to Diane has been very popular with Parisians. Their current collection features the kind of fluid, silky pieces I love (and that work for our LA climate).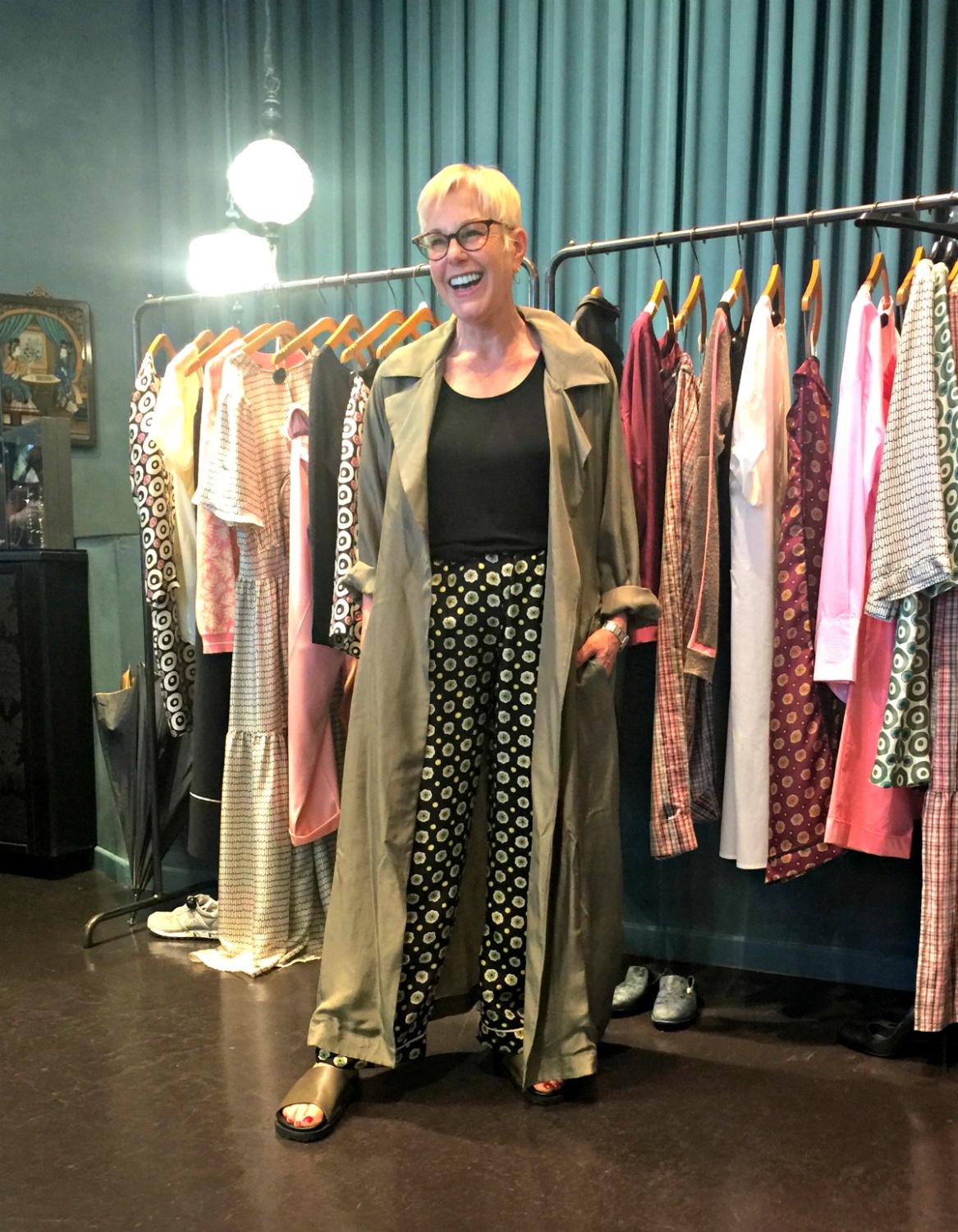 I tried on a bunch of things, and did purchase a few, including a dress (😱 !!!) which I'll show you in an outfit post soon. Those "pool shoes" I'm wearing above were everywhere on retailers' shelves (see this post for the Monoprix versions). Diane assures me they're considered very fashionable and chic for summer. No, I didn't buy them, but they were very comfortable. They also had a pair of wooden soled sandals (similar to Swedish Hasbeens) that I might have purchased if they'd had my size in stock. They would have been perfect with the dress.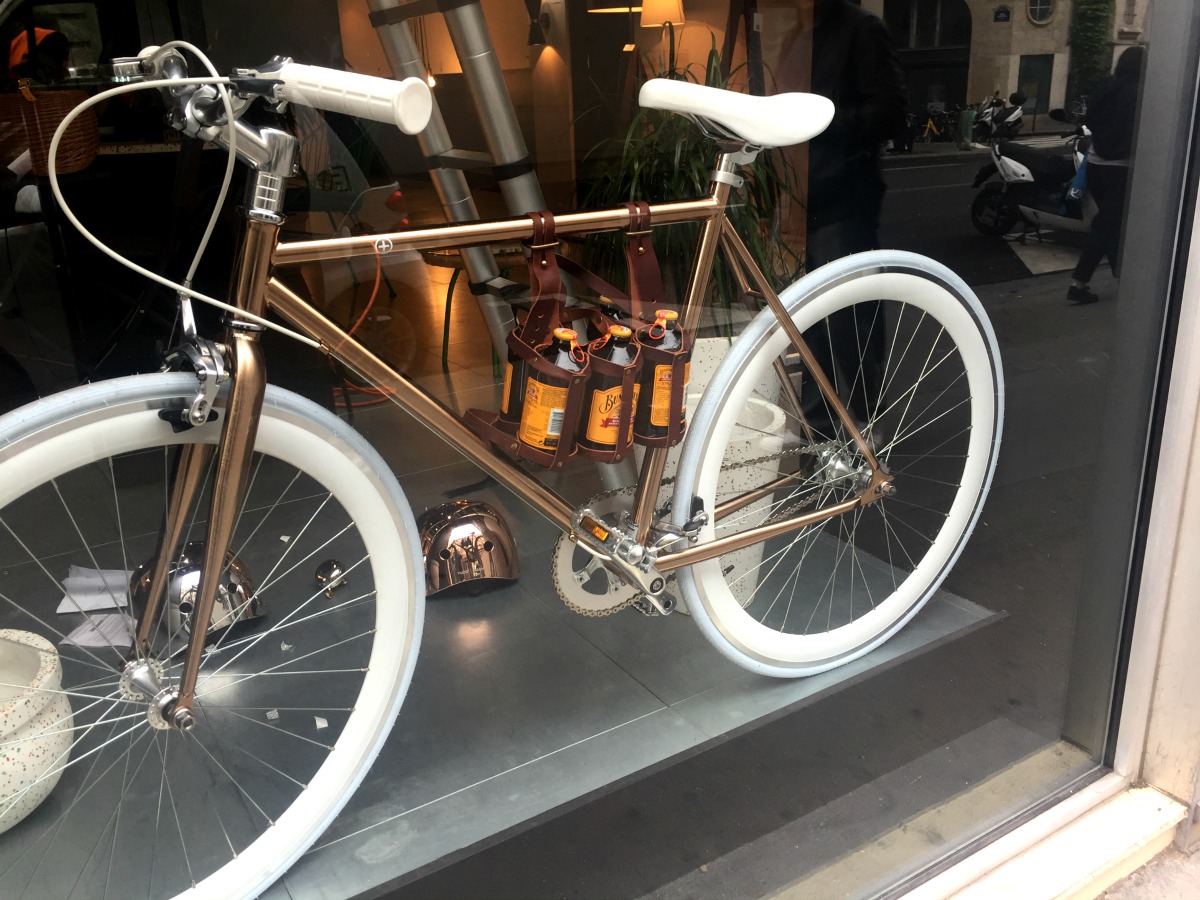 I didn't catch the name of this shop we walked past, but was amused by the 6-pack holder for a bicycle. It was on rue Etienne Marcel in case you're interested.
By Marie
By Marie is a small boutique that offers both an in-house line as well as selected pieces from other brands. They originated in the south of France, and there's definitely a relaxed feel to their collections. I was beginning to feel a bit peckish by the time we stopped here and didn't take any photos in the store, but did leave with one nice silk top in an Asian-inspired print. (I may be getting over my print-phobia…)
We stopped for a quick bite (takeaway sandwiches from a traiteur) and had one more clothing store in the area to check out…
Sézane
While Sézane is available in the US, I thought it would be fun to stop by "l'appartement" and see some of their things in person. The store is charming and by this hour was buzzing. I tried on a couple of tops that were "close but no cigar" so we moved on.
Couldn't resist a snap of some of the decor though…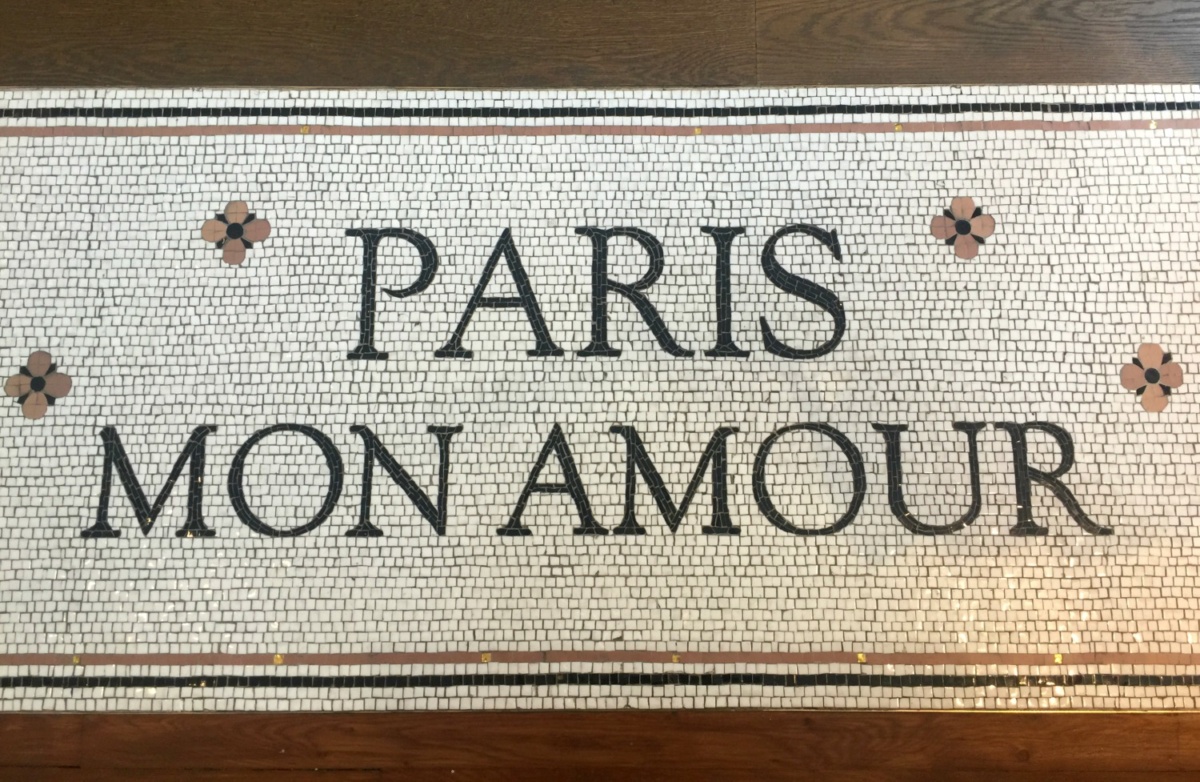 I was tempted by one of their cute bags, but having just purchased the other one, decided to pass.
Please note: my content is being re-published by other websites without my permission. If you're not reading this post at https://unefemmenet.wpengine.com, please click link to read where originally posted.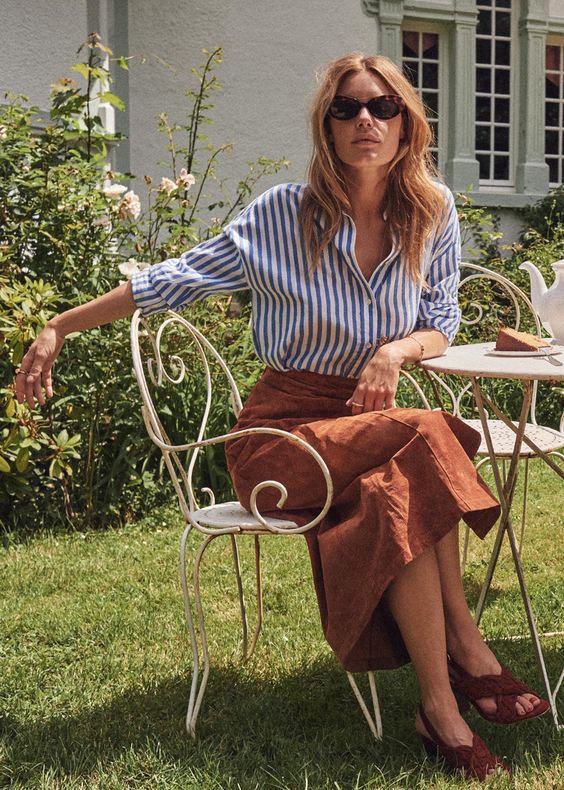 BTW, here's another nice Blue-and-White-Stripe option. This whole look fits right in with the Paris style trends I observed.
Added Value
I have to say that so much of the value of my Paris Shopping Tour wasn't just the brands I was introduced to, but Diane's input as well. She…
went through the racks and made suggestions, and quickly picked up on what I liked or didn't. This helped save me a lot of "sensory overload" and made the experience more pleasant and productive.
offered some great styling advice.
had relationships with many of the shop personnel so we received friendly and very attentive service. (And in the case of one jewelry designer, access to their atelier to see how the pieces were produced.)
And finally, I have to give serious props to le Monsieur, who was such a good sport. He went along for the whole day, offered suggestions, took pictures and provided input. He's a keeper!!
In the next installment: jewelry and accessories…
*Ourisman Travel, part of the Virtuoso travel network.
Disclosure: This post is not sponsored nor did I receive any compensation or consideration from Paris Shopping Tour, or any other entity.
Please note: my content is being re-published by other websites without my permission. If you're not reading this post at https://unefemmenet.wpengine.com, please click link to read where originally posted.
Affiliate links in posts may generate commissions for unefemme.net. See my complete disclosure policy here.