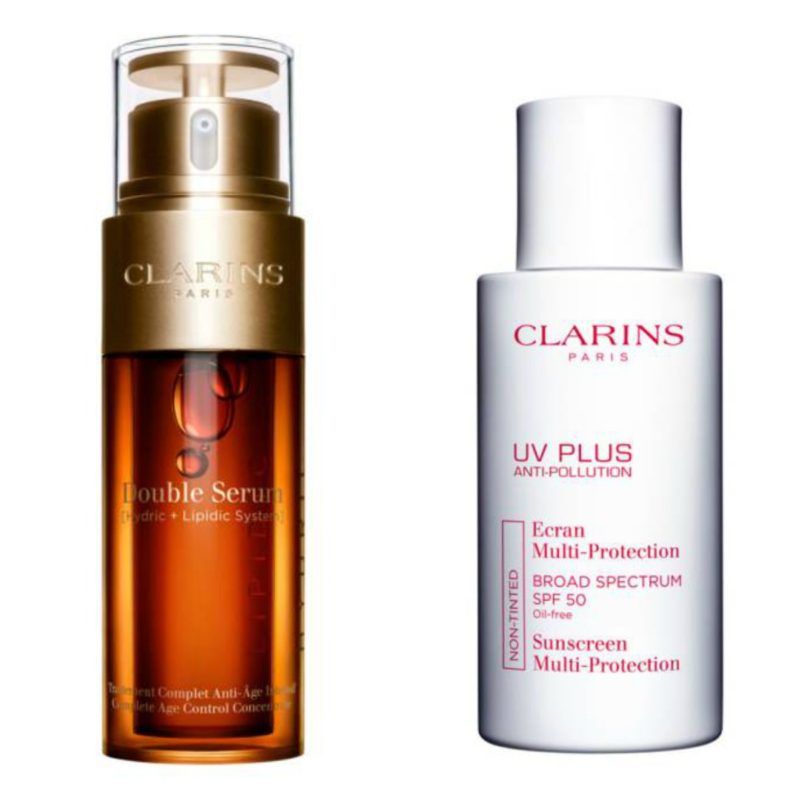 Favorite Skincare Products
I've been meaning to write about my skincare routine for some months now, but will admit it's been a moving target. I tend to try new products rather often (local department stores are generous with the samples) so I'm probably an esthetician's worst nightmare. And I also tend to change up my routine with the seasons. Our climate is arid, so I never skip the moisturizer.
Here are the products in my current rotation:
Cleansing
Evenings only. I never go to bed with makeup on. In the mornings I just splash a bit of water and then apply skincare.
I use a cotton pad soaked with Micellar water to remove any makeup. I don't wear a lot of makeup most days, so this is usually enough. If I've applied a waterproof eyeliner, I'll use a bit of eye makeup remover 
I'll follow up with a cleanser. I received some gifted products from Colleen Rothschild, and my favorite so far is the Radiant Cleansing Balm. It's a bit on the pricey side, yes, but a lovely product. For a gentle and budget-friendly cleanser, I like this one.
Still a big fan of the Clarisonic. I use with my own cleanser, and the Sensitive brush heads.
Toner 
I'll admit, I'm not convinced that these products actually do anything. I received a travel-size version of this one from Tata Harper as a gift-with-purchase a while back and do enjoy misting with it when the air feels particularly dry.
Serum 
Serums are designed to penetrate the skin, and are where the active ingredients matter most.
I've tried a lot of serums but keep coming back to my Clarins Double Serum. I do think it improves the texture of my skin. I use morning and night on my face, neck and décolleté.
I've been using prescription Retin-A as part of my evening routine for some years now. But it's expensive, so I've cut back to using just a couple of nights per week. On a friend's recommendation, I'm going to give this more budget-friendly line of exfoliants a try.
Moisturizer
Here's where I'm all over the map. But I look for products that include Hyaluronic Acid (holds moisture in the skin).
Sunscreen
I never skip this step!
If I'm going to wear any CC Creme or makeup, I'll usually go with the Clarins UV Plus. The texture is very light and it doesn't "pill" on my skin. (And I use on my neck rather than a tinted product to keep from staining clothes.) It has the barrier sunscreens my dermatologist likes. I know there's a lot of concern lately about nano-particles, but I've asked and her take is that they don't absorb enough to be a concern.
When I want a one-step sunscreen/tint, I'll use this one. (My dermatologist's favorite.)
Mask
Every couple of weeks I use this heavenly stuff, and leave on overnight. I also apply and leave on during longer flights. It's a splurge for sure, but an amazing product, and recommended by Lisa Eldridge. Ask for sample packs, which are perfect for travel.
Cosmetic Procedures
Though I've been religious about sunscreen use since my early 30's, prior to that I rarely used it. Even though I wasn't a sunbather I was outdoors a lot and have some cumulative sun damage. And I'd started to develop "pigmented lesions" (what my Grandmother used to call "liver spots") on my cheeks and jaw line. No topical treatments, even those prescribed by a dermatologist, had any effect.
I tried a chemical peel at a dermatology clinic once a few years ago, and it didn't do anything. I don't know if the product I was given was expired or mixed incorrectly, but my skin didn't even peel, just got dry and irritated and looked horrible for a few days. So I've never tried another.
I've had much better results with IPL laser treatments, and now go once a year for maintenance. My first initial round was 2 sessions about 6 weeks apart, if I remember correctly. The IPL treats my dark spots and sun damage very well, and according to my doctor, actually stimulates collagen and cell renewal. I found an added benefit is that my skin looks firmer, plumper and more radiant for several months afterward.
For The IPL-Curious…
I had my annual treatment yesterday. Here's the process, in case it's something you're considering:
a numbing cream is applied to the areas that will be treated for about 20-30 minutes.
the doctor or technician will cover your eyes securely, apply a gel to the area being treated, and then apply a brief pulses of light over the entire face (and any other areas being treated).
the pulses themselves each last less than a second. Even with the goggles, you'll still see flashes of light.
does it hurt? Depending on the area being treated, my answer would be "not at all" to "a little bit." Each pulse can feel like a prick, sting or burn, but as I said they last less than a second, and there's no pain afterward. I had my face, neck and décolleté treated, and the entire lasering process took less than 20 minutes.
there is no down time. The spots and sun damage will turn darker for a few days, and eventually flake off within 2 weeks. They aren't crusty and are easily covered with makeup. During this time, avoid any abrasives or exfoliants.
Are there any cosmetic treatments that you've found particularly effective?
Affiliate links in posts may generate commissions for unefemme.net. See my complete disclosure policy here.