For most of my life, I've had a "thing" for handbags/purses. And I've collected quite a few of them over the years. I think a distinctive and good-looking bag can add so much to an outfit, and will sometimes even style a look around a particular bag.
Until the last few months that is. Since last March, when we stopped going anywhere except the grocery store and occasional doctor/dentist appointment, my primary consideration has been hands-free functionality. But the anticipation of easing back into the world has me thinking about re-integrating stylish bags back into my wardrobe formula.
Spring handbags to complete your look
When shopping for a leather bag, pay attention to details like hardware, stitching and quality of the leather, which will make the difference between a cheap-looking bag and and an elegant one. The more structure and organizational features a bag has, the heavier it will tend to be. Not every bag has to be an investment, but think about where and how you'll use it. A handbag that isn't functional will just collect dust in your closet.
Leather and faux leather bags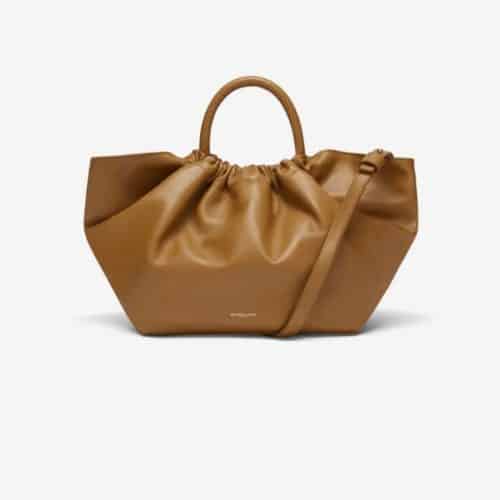 I purchased this bag last year, and only recently put it into rotation. Mine's the cream color (no longer available) and you can see in action HERE. I LOVE the shape! It's a perfect size for day-to-evening use. It's lightweight and has an optional cross-body strap. There's a secure magnetic closure, with 3 closure points across the top of the bag. I find a tan color like this one quite versatile, but there are several other color options.
DeMellier London has a permanent charity initiative, A Bag, A Life which funds vaccines and medical treatments for children in need.
Here's another simple but good-looking tote style bag with a crossbody strap. This one's large enough to carry a tablet or small laptop, plus anything else you'd need during the day. It's included in Madewell's current promotion, and is 20% off with code SPRINGITON.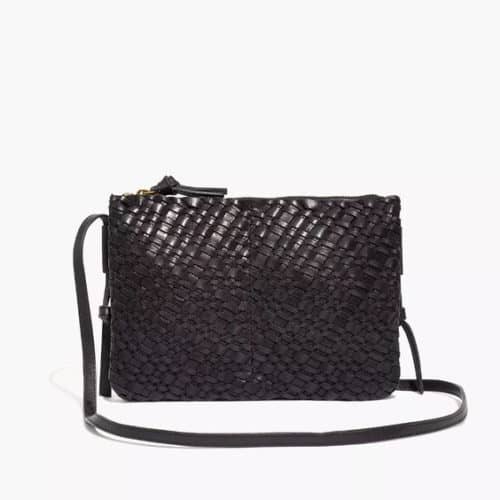 I love the look of woven leather, but it can be spendy. This crossbody with a zippered compartment and two exterior compartments is budget-friendly, and a stylish option for your essentials. It's also available in Camel (tan) HERE.
The raffia detail on this classic saddle bag feels perfect for a casual Spring outfit. J.Crew is currently offering 25% off 2 items, 30% off 3, and 40% off 4 or more styles.
Faux and vegan leathers have really come a LONG way in recent years, and you can find lots of stylish options now. I love the architectural shape of this medium-sized shoulder bag. The shoulder strap is adjustable, and there are multiple interior pockets to help you stay organized. And it's under $100!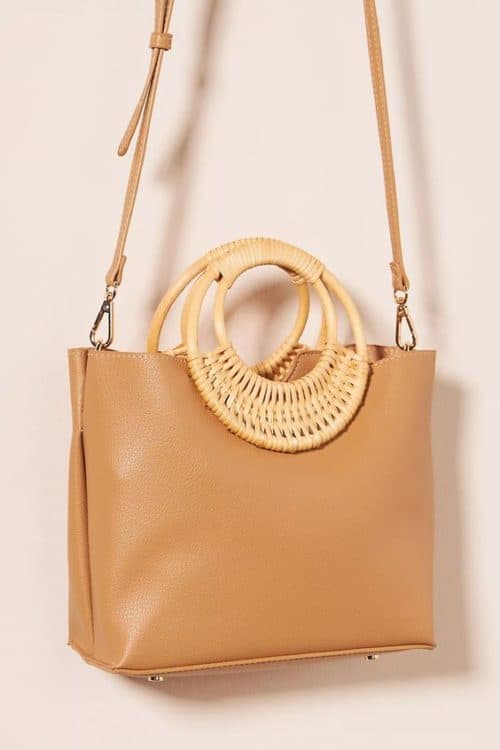 And I love the raffia ring handle detail on this faux leather crossbody bag. Also a budget-friendly option!
Raffia, bamboo, and rattan bags
A rattan bag can be a fun way to add a touch of Spring without breaking the bank. I've had this little bag for several seasons, and always get compliments on it.
Some bags are just for "going out" and this is one of those. I bought the "designer" version (Cult Gaia) several years ago and it's held up brilliantly. Yes, you can find them for a fraction of the price elsewhere, but I can't vouch for the quality.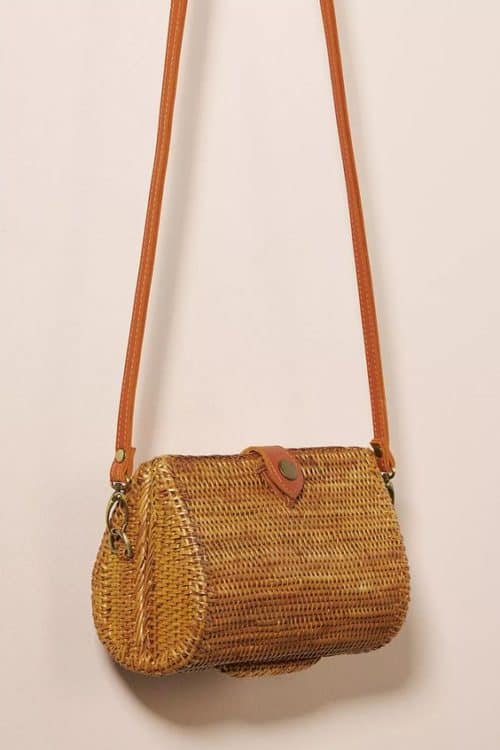 This woven rattan crossbody (cotton lined) has a very vintage vibe.
This bag is handmade in Bali, and your purchase supports the individual artisan directly. The bag is lined with a unique batik print fabric.
What style of handbag do you use most often?
Affiliate links in posts may generate commissions for unefemme.net. See my complete disclosure policy here.