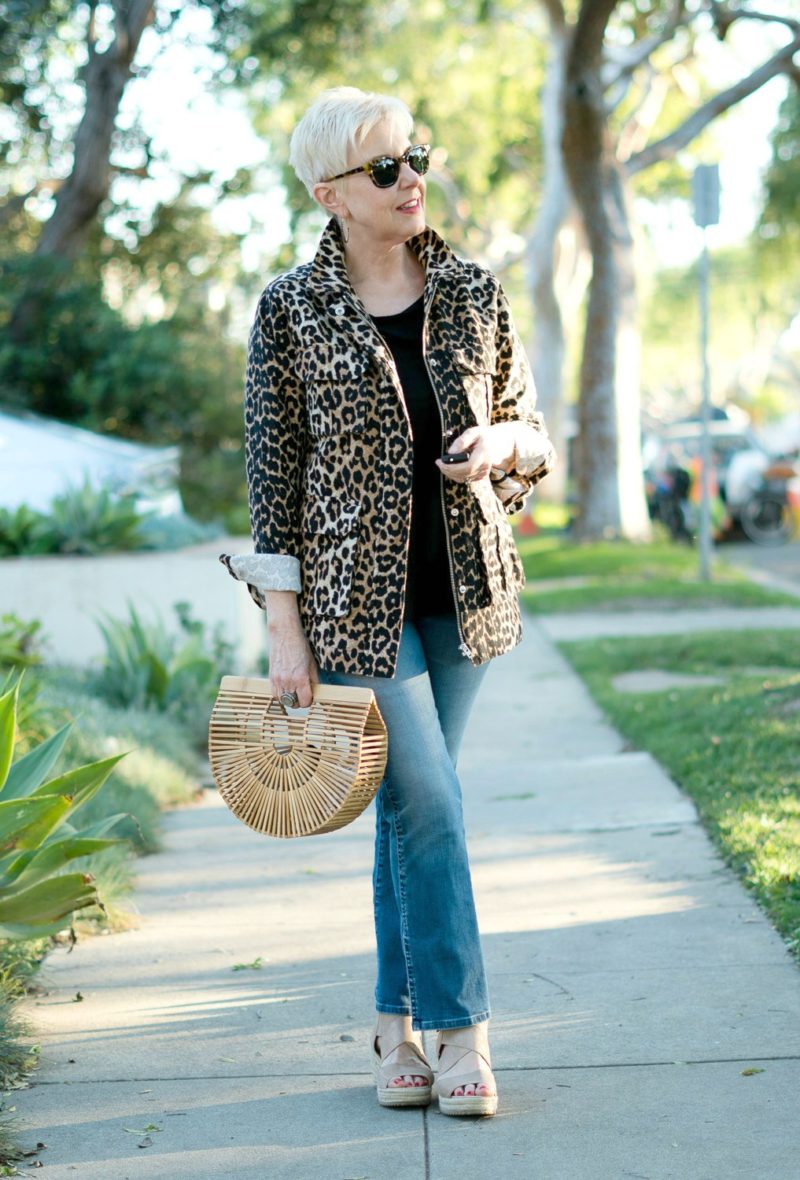 Spring Forecast: Wear What Makes You Happy
A couple of weeks ago I posted about feeling uninspired and needing a style reset. I'd fallen into the trap of Trying Too Hard (to create "interesting" outfits and new looks) and it had burned me out. So I've re-focused on dressing to please myself, and feeling bien dans ma peau. 
I love everything about this outfit. My style mood is still Don't Muck It Up, so I'm all about keeping the look simple, with one or two focal points.
Wearing: earrings | jacket | top (similar) | ring | bag | jeans (similar) | sandals
But yes, there is one new thing here. Did I neeeeeeeed another leopard print jacket? Probably not. In my hunt for an updated utility jacket, I kept eyeing this one. Finally I decided to just order it, figuring I'd try it on, realize it didn't work, and return it. Get it out of my system, as it were. But this one ticks SO many boxes, I just couldn't send it back. Lightweight enough for Spring/Summer? Check. (Linen/cotton blend.) Good fit? Check. (I'm wearing the DK 34.) Throw-it-on-and-go ease? Check.
I really hadn't intended to feature this bag again so soon, but when I saw how amazing it looked with the jacket, I couldn't NOT include it. I love the vintage-y funkiness of it, and I think the appeal will long outlive the current trend.
And hooray for warmer weather! I've been wanting to wear these espadrille sandals again but it's been too chilly the last few weeks. They are incredibly comfortable, and give me a little height with a heel I can walk/stand in for hours. (Nail polish is Chanel "Gitane".)
More Spring Leopard:
bomber jacket | belted blazer | folding umbrella | sneakers
What's your Style Mood these days?
Linked: Visible Monday
Affiliate links in posts may generate commissions for unefemme.net. See my complete disclosure policy here.