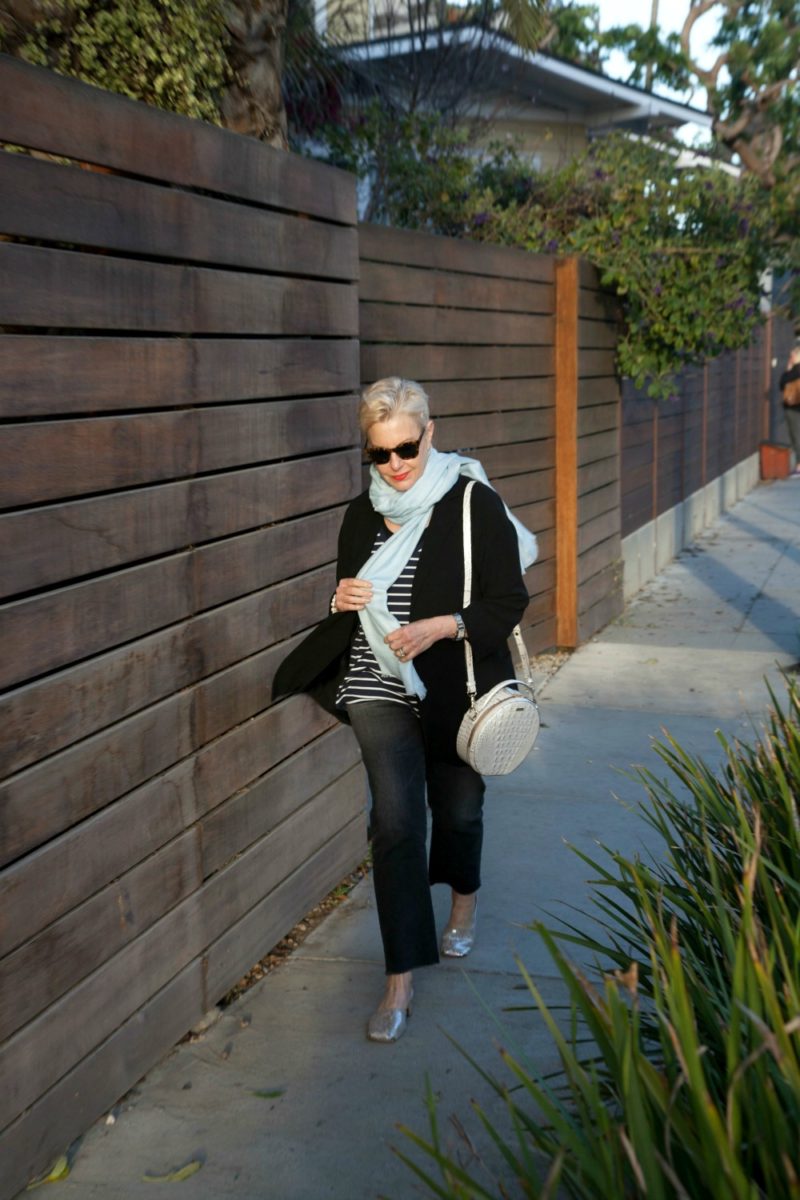 A Style Formula…
Over time I've abandoned most hard-and-fast style rules, but I find that having fallback formula makes getting dressed a breeze. For me, that formula is jeans + tee + jacket. When I'm not sure what to wear, I start with that combo. Then I add accessories to suit my mood.
scarf (c/o) | top (similar) | jacket (similar / Plus) | bag (similar) | bracelet | watch (similar) | jeans (similar) | shoes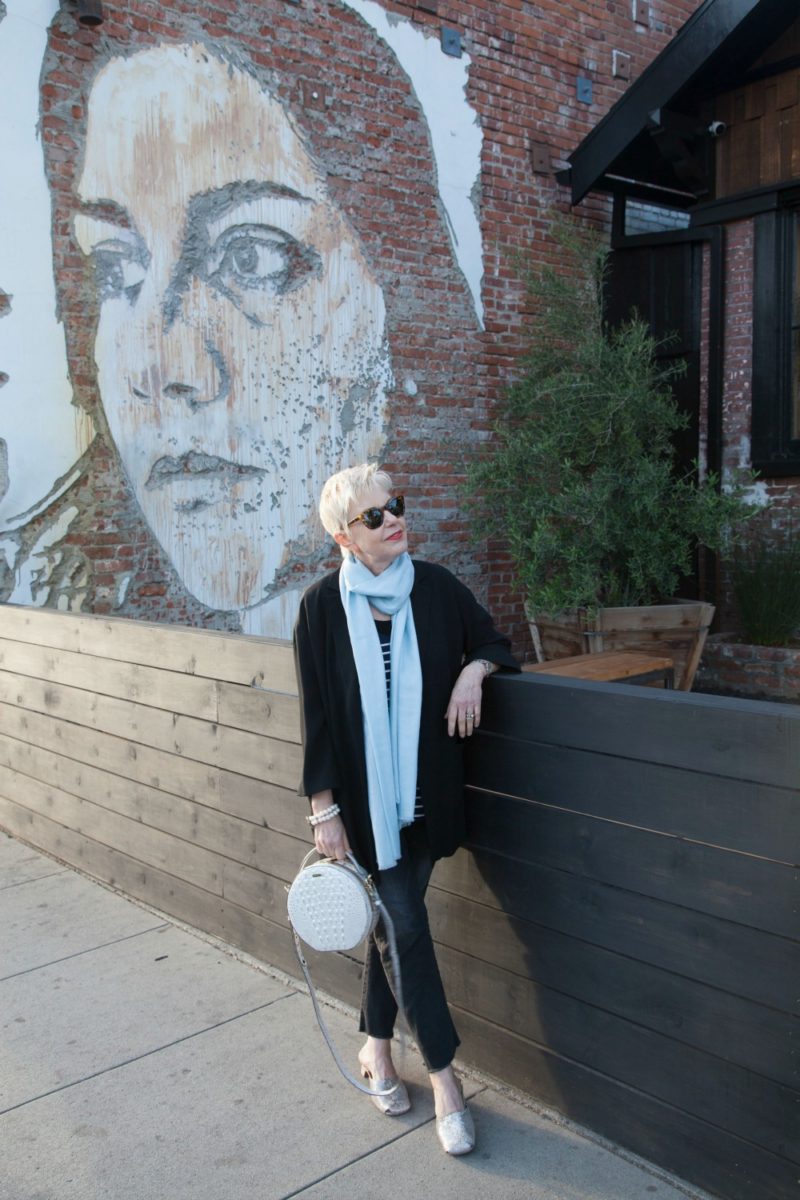 I often warn people who are visiting Southern California for the first time that evenings can be chilly, especially near the coast. The wind had picked up late in the afternoon, and I was very glad I'd brought along this lightweight scarf (gifted) to meet up with my photographer in Venice. It kept me from shivering through our session.
The striped top is a nice easy v-neck, similar. I'm wearing size 2 (Small). For warmth, I'm wearing a silk tank underneath.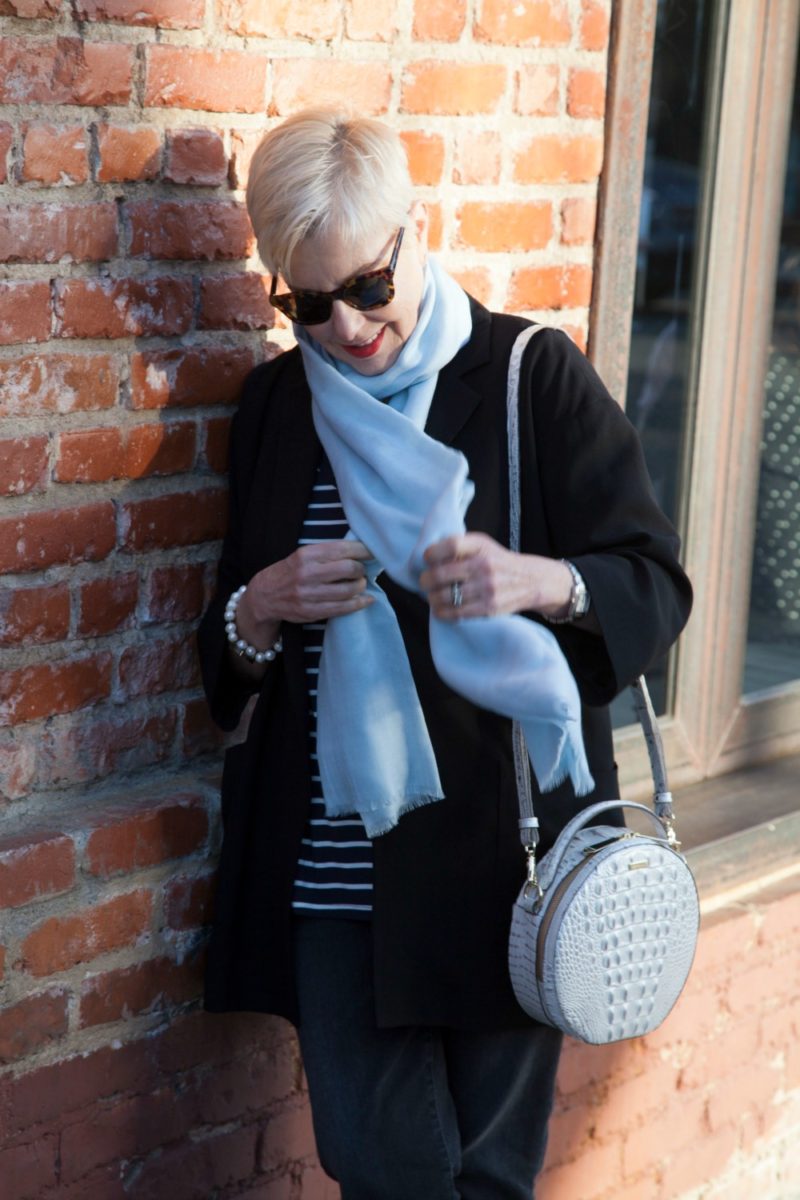 The scarf is a silk-cashmere blend (more scarves), very light and soft. I adore this color. It's definitely going with me to France!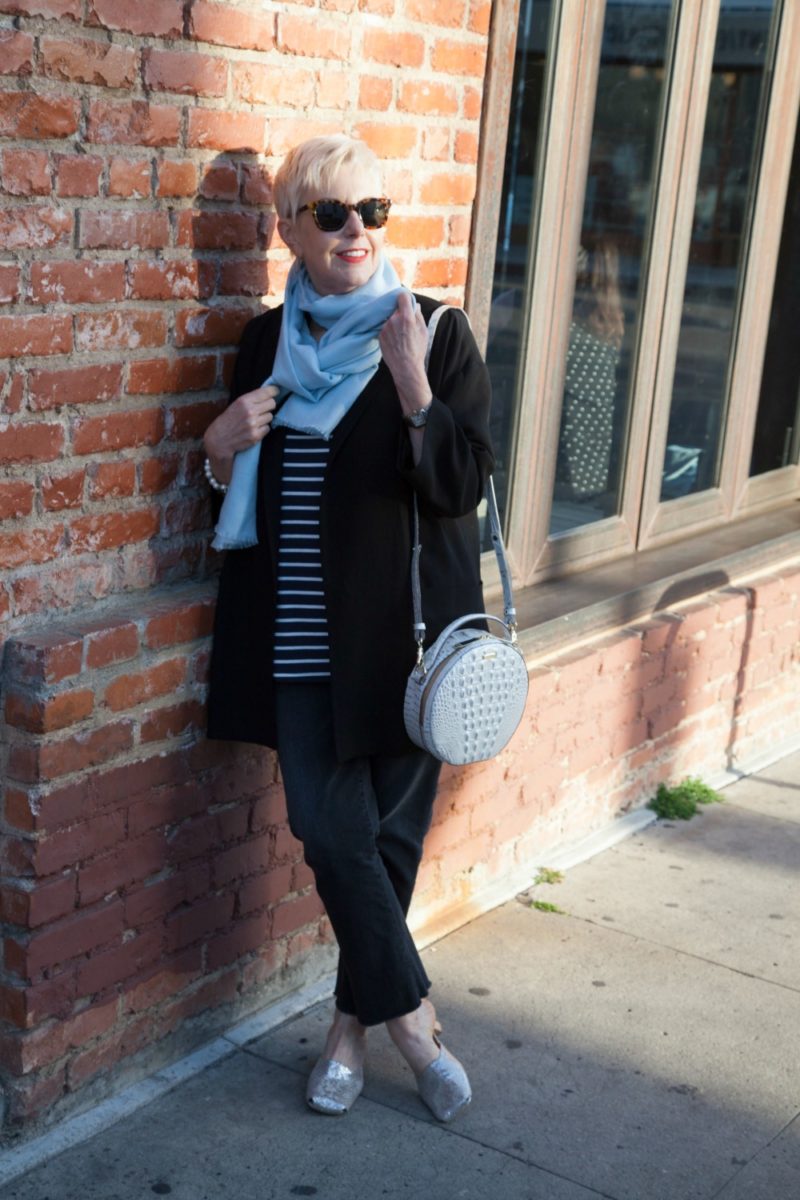 The jeans are in keeping with my current preference for styles with more ease. These are the AG "Ex-Boyfriend" style, and quickly becoming a favorite in my denim collection. This dark grey wash sold out in a heartbeat, but with any luck it will be re-stocked. The hems were already raw, so I just hacked another couple of inches off to shorten.
I've had this Eileen Fisher silk boyfriend jacket for a few years now. It's an oversized style, and probably not the most flattering jacket I own. But it's one that I've worn most often, because it's such an easy piece to throw on over just about anything else.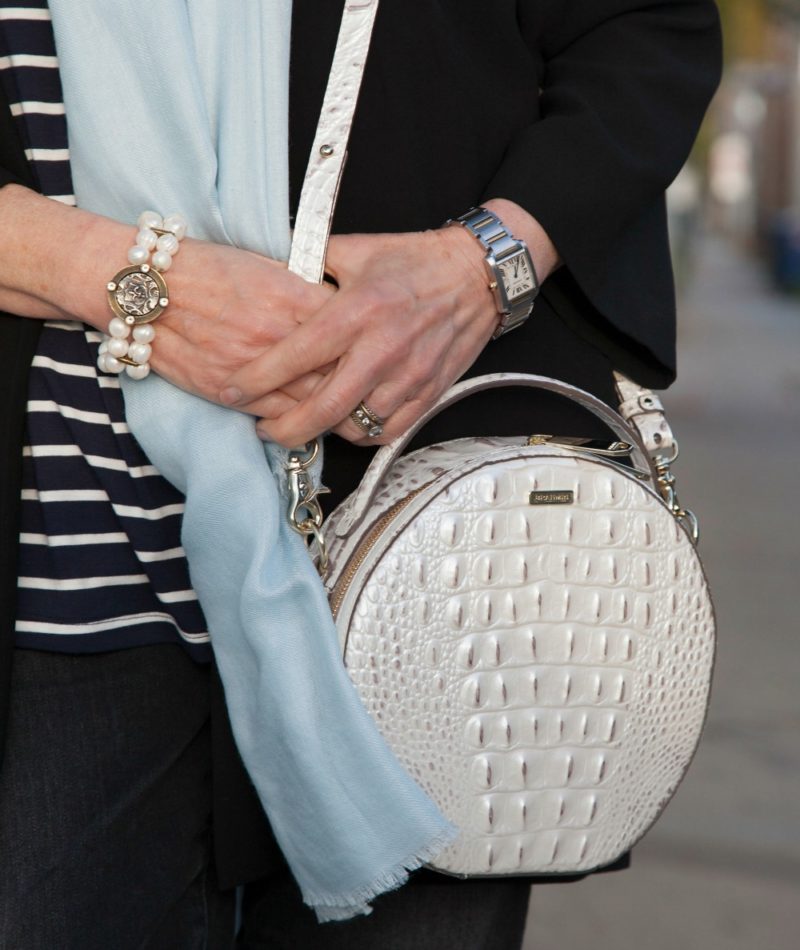 So yes, I succumbed to the charm of a circle bag. This one's from Brahmin, and I like that it has a flat bottom, so will sit upright. Unfortunately this color (Coconut) seemed to sell out quickly in this style. But there are other colors here.
The French Kande pearl bracelet is one I wear almost every day. It just goes with everything!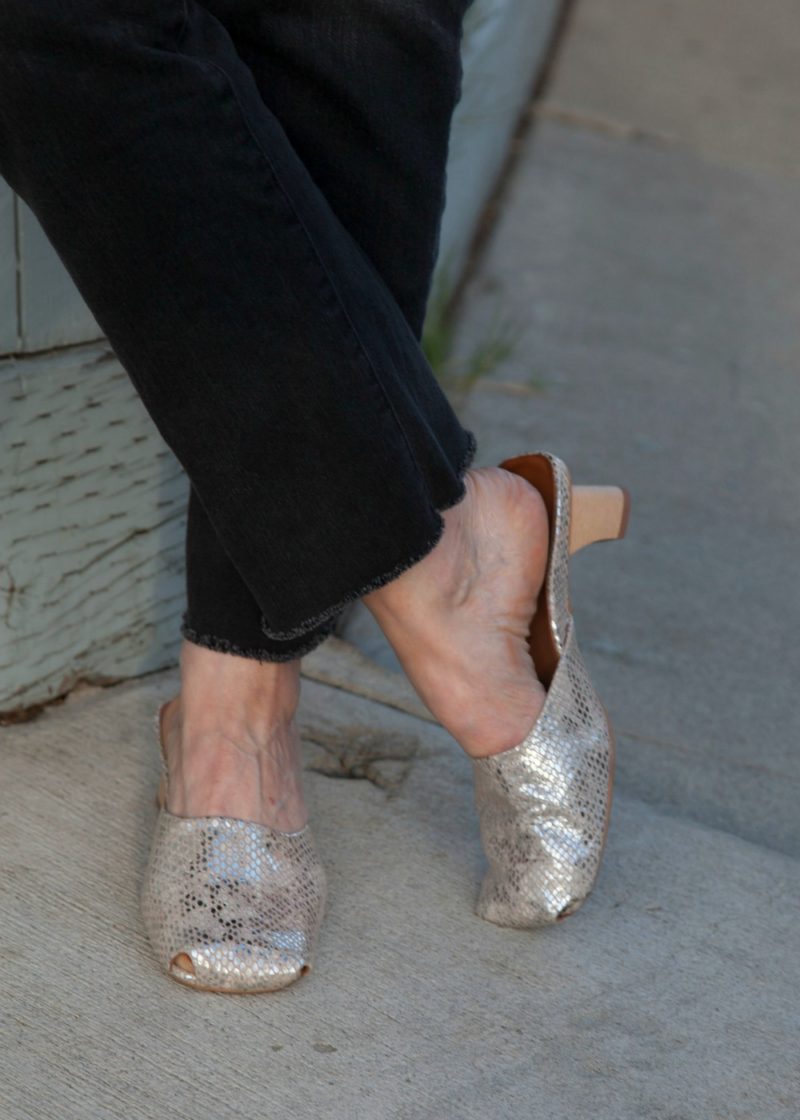 I've had these mules for over a year and they're still favorites. They're so unique and comfortable.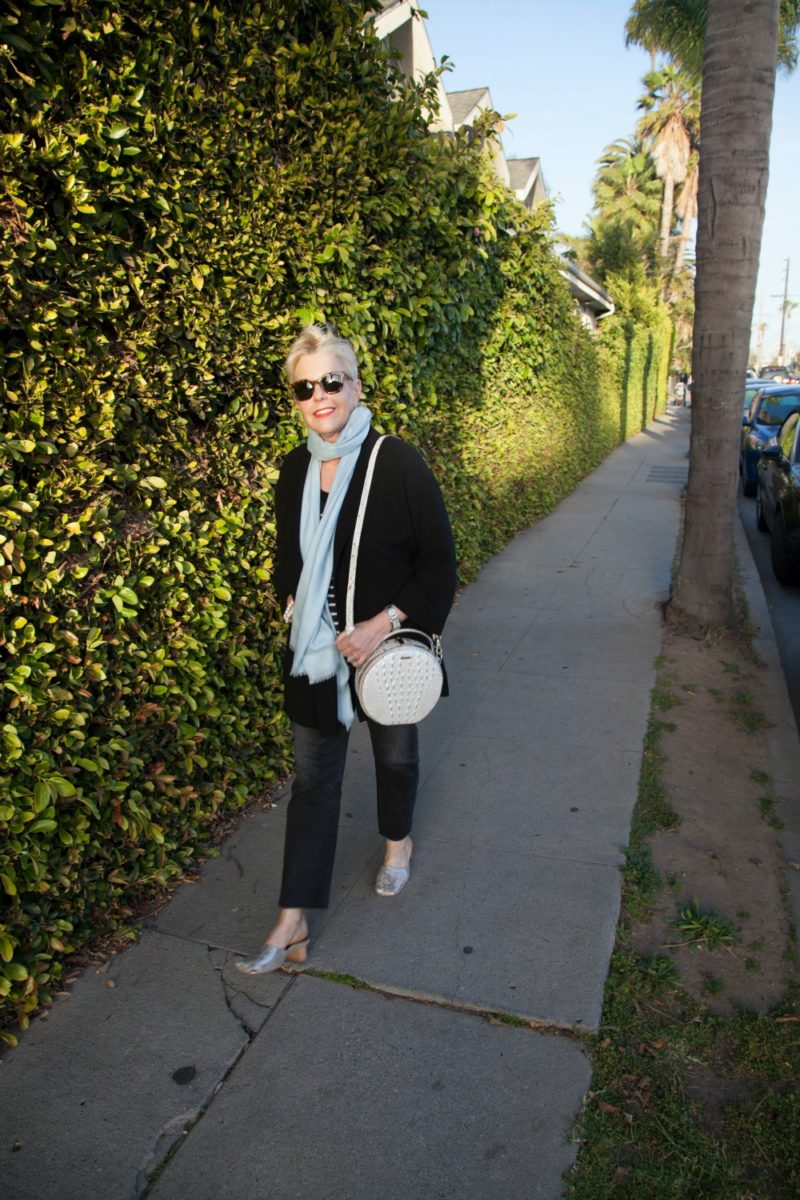 Do you have a style formula or two that you rely on?
A note: if you've followed my Page on Facebook to be notified of new posts, you may be missing some updates due to the new algorithm and privacy settings. If you'd like to be sure you're not missing any posts, you can subscribe by email using the form below or follow on Bloglovin.
Photos by Tannaz Telikany Photography. Instagram here. 
Affiliate links in posts may generate commissions for unefemme.net. See my complete disclosure policy here.