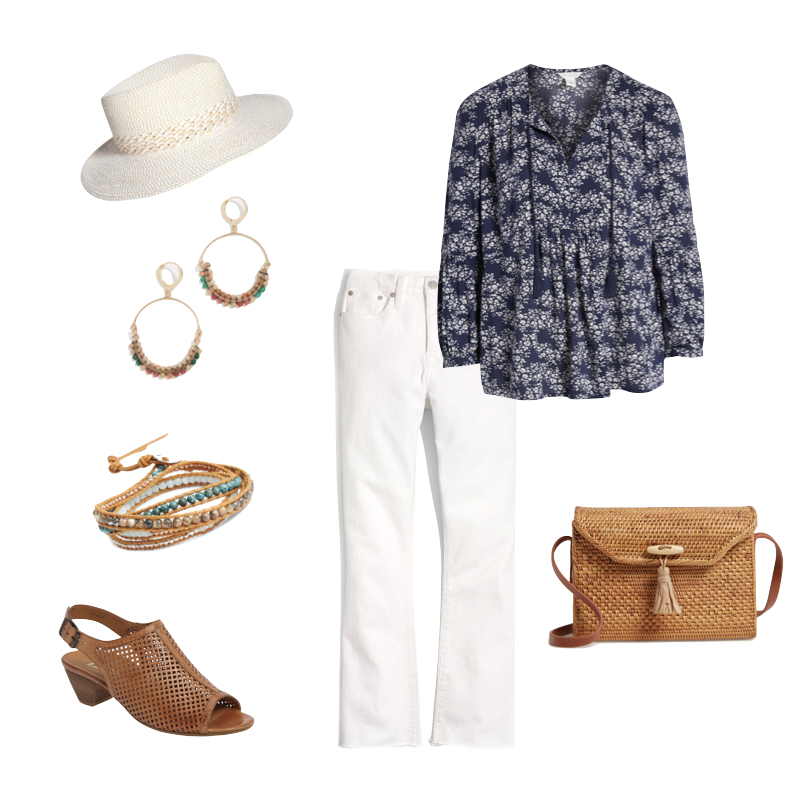 With my own (early) Summer travel wardrobe in mind, I've been keeping my eyes open for some lightweight tops with sleeves. I find that unless it's sweltering, a 3/4 sleeve top in a breathable fabric can be comfortable in warm conditions, as well as providing some protection from the sun.
Specifically, I'm looking for tops that:
are casual, but more polished than a tee
have enough visual interest to make an outfit look finished when it's too warm for another layer
have sleeves that can be pushed or rolled up
could also be worn underneath a jacket or sweater if needed
aren't too stiff and corporate
Blue and white stripes are a perennial. You can roll up the sleeves on this gauzy cotton top.
Here's a budget-friendly option, with roll-tab sleeves. (Other colors available too.)
This plus-size option in a cotton blend has fun, colorful stripes.
Floral prints are big this season, and I've seen a lot of pretty options. The Liberty print floral on this cotton top is just soooo good!
I usually try to steer clear of polyester, but this top is lightweight, breezy, and looks SO much better in person than it does online. (I thought it was silk until I read the care tag.) It can also be worn open as a light jacket, and won't wrinkle, so has travel wardrobe potential.
Covered but cool: the eyelet panels on the sleeves of this cotton wrap top provide both ventilation and visual interest.
Here's a nice compromise between the comfort of a tee, and something a bit more structured. (Several colors available, and some in Plus too.)
Polka dots are a fun touch, and elevate this chambray shirt. The fabric on this one is a Tencel blend, which gives it softness and drape, while still being cool and breathable.
What's your sleeve length preference?
More Lightweight Tops With Sleeves

Affiliate links in posts may generate commissions for unefemme.net. See my complete disclosure policy here.