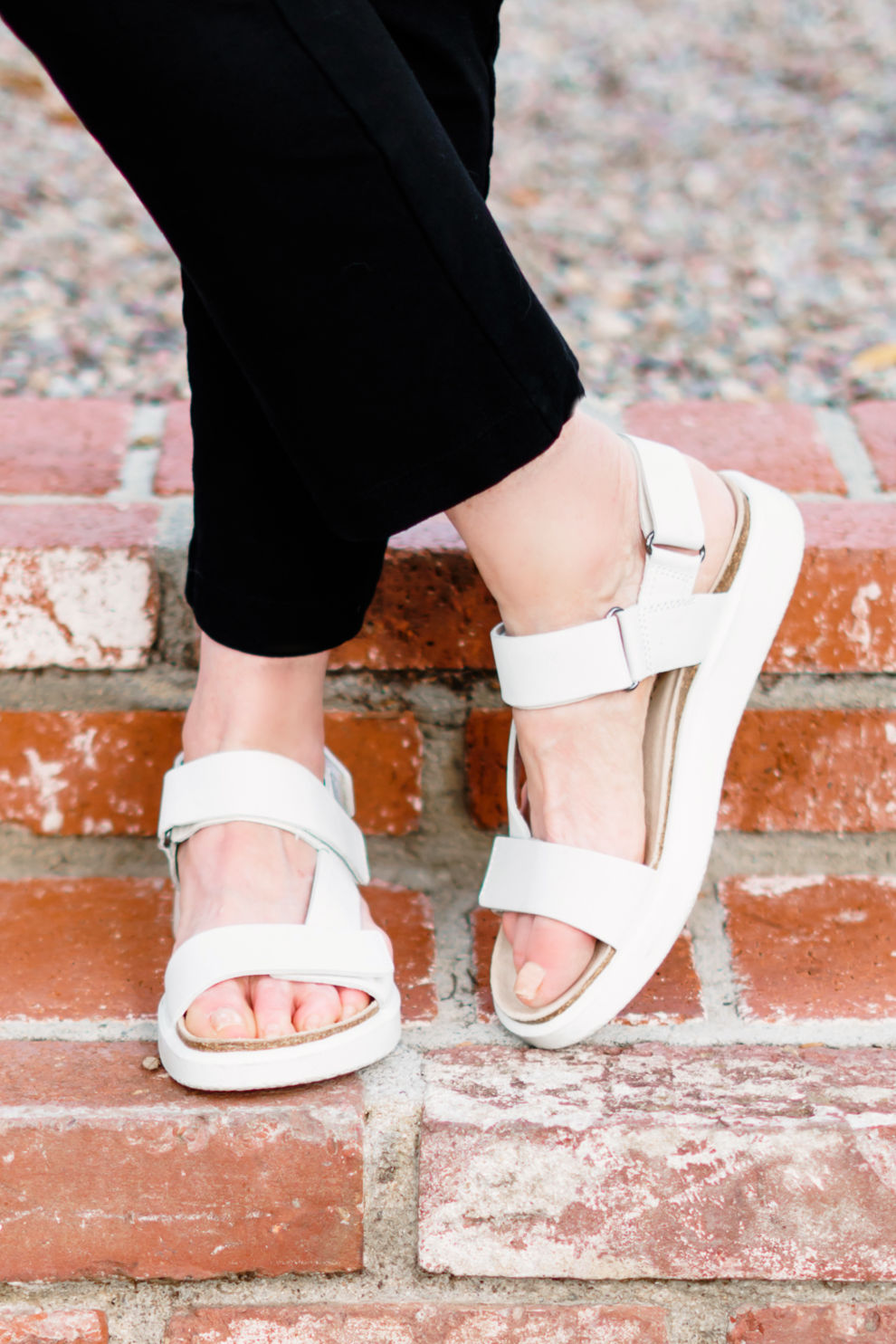 Most current fashion trends leave me cold, but one that I'm on board with is clunky-but-comfortable shoes. Céline made Birkenstocks cool (again) a few years ago, and most recently, Tevas have become fashion darlings. For me, it's all about putting comfort in the driver's seat, and letting your footwear Freak Flag fly.
But then I've always had a predilection for clunky, funky footwear. I wore Birkenstocks almost exclusively through college and into my early 20's. I had a pair of neon lime green Reebok high tops in the mid-1980's that I wore until they fell apart. I went through a Dansko clogs phase in my 40's. And I'm down with the Euro-geek vibe of my Mephisto wedge sandals.
Jolie-Laide Shoes For Summer
These (above) are my latest "jolie-laide" crush…they're reminiscent of classic Teva's but just a little sleeker. They're from ECCO and they are CRAZY comfortable. There are three different adjustment points to customize fit. This also makes them a good travel option, as you can adjust if your feet swell during the day. Good arch support, too. (Some reviews mention that they run small; I found them to be true-to-size.)
As with sneakers, I like these styles of shoes best when worn with slightly more refined pieces, like Little Black Pants, dark-wash, non-distressed denim, or even a floral dress. That way, they feel intentional, and not like you just popped in from the campsite for more granola bars.
If you like a little more lift in the heel, these are also pretty cool. They don't adjust over the toes, but seem to have room to accommodate a medium-to-wide foot.
Back in 2014 when we visited Thailand, I knew we'd be doing some hiking in wet conditions, so picked up a pair of the original Tevas for that purpose. They were quite comfortable and worked well.
If the Tevas canvas versions still register as a big too rugged for you, here's the classic style in leather.
Just don't expect to see me wearing these with socks. 😆 That's just a bridge too far…
Do you wear clunky-but-comfortable shoes, or do you prefer more refined styles?
More Jolie-Laide Sandals

Affiliate links in posts may generate commissions for unefemme.net. See my complete disclosure policy here.