How to choose the best travel shoes for spring & summer
If you're planning travel for this spring or summer, you may already be thinking about what to pack. 🧳 I always suggest you start with the shoes. It's not too early to start auditioning (and perhaps breaking in) your footwear.
This article was published at an earlier date and has since been updated. I've left earlier comments in place.
There's no other component of a travel wardrobe that has as much power to make or break a trip as your footwear. If your feet hurt, or your shoes aren't appropriate for your activities, it will (at best) diminish your experience. At worst, you'll be miserable. And I speak from experience 😉.
How to choose spring and summer travel shoes
So how do you know what to look for in travel shoes? Here are a few of my guidelines:
Comfort, Comfort, Comfort!
If your travel plans include walking tours or other sightseeing, you'll probably spend more time on your feet each day than you would at home. And you may be walking on a variety of surfaces. (Hello, cobblestones!)
Your shoes or sandals should have plenty of support and cushioning in the sole and insole. We tend to lose the natural padding on the bottom of our feet as we age, and may need additional cushioning. If arch support is a requirement for you, be sure there's enough, or that you can add a custom insert if needed.
The shoes should not rub or pinch anywhere. They should be well broken-in, and you should "road test" for several hours on your feet if possible before packing.
They should be secure on your feet. If your shoes are too loose, your legs and feet will have to work harder, and you may tire more quickly. If they are too snug, they can be uncomfortable if your feet swell up over the course of a day. (You may find shoes that lace or have adjustable straps are your best option.)
Rubber soles will provide better traction and more cushioning than leather or other slicker materials. You can ask your cobbler to add a rubber half sole (and heels) to a favorite pair. This also extends the life of the shoes.
I find a low heel/wedge is more comfortable and easier to walk in than a completely flat shoe. But everyone's feet are different, so go with what works for you.
Materials: some people find fabric or canvas shoes more comfortable in warmer weather. (I'm not one of them.) If leather shoes are your preference, look for tumbled or softer leathers, or be sure the shoes have been well broken-in. There are a lot of perforated leather styles offered this season, which allow for more air flow while still providing coverage.
Style
Look for versatile styles that can go from day to evening. Loafers, oxfords, classic sneakers and many sandals will be able to make this transition.
Dark colored shoes will be less inclined to show dirt, but may look and feel too heavy with a warmer season wardrobe. If you choose lighter colored shoes, you can always treat with a waterproofing spray, which may help them stay cleaner.
Neutral colors will be more versatile, but a classic color such as red can add a nice pop.
Unless you have a fancy dress event (e.g. a wedding) on your itinerary, leave the heels at home. "Smart casual" is as dressed up as you usually need to be (yes, even for a nice dinner in Rome, a play in London, or the opera in Paris).
If you'll be traveling somewhere that tends to be cooler and wetter, you may want to include at least one pair of water-resistant shoes or even ankle boots.
Here are the styles of shoes I've found work best for spring and summer travel.
Sneakers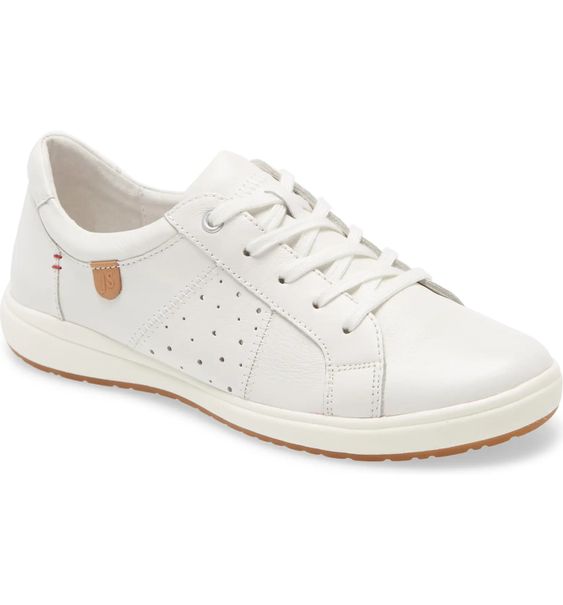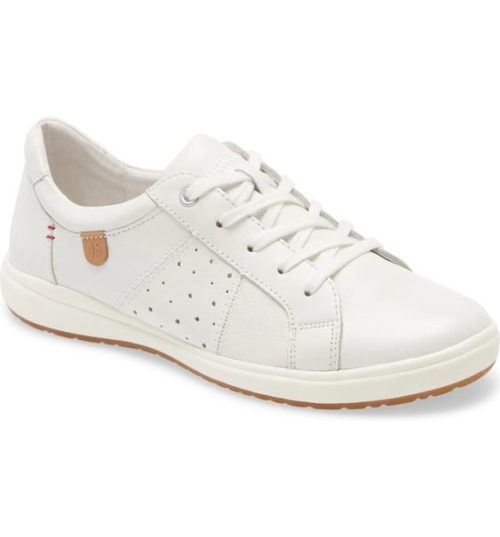 Up until a few years ago, wearing sneakers, especially white sneakers, immediately flagged you as a tourist. But sneakers are ubiquitous now, and if this is your preferred type of walking shoe, no need to leave them at home. Clean, classic sneaker styles in a single color will be the most versatile. (To keep white sneakers looking sharp, use a Mr. Clean Magic Eraser. For travel, just snip off a small piece and pack with your clothing care items.) Shown above.
I also find metallic sneakers can be quite stylish and versatile.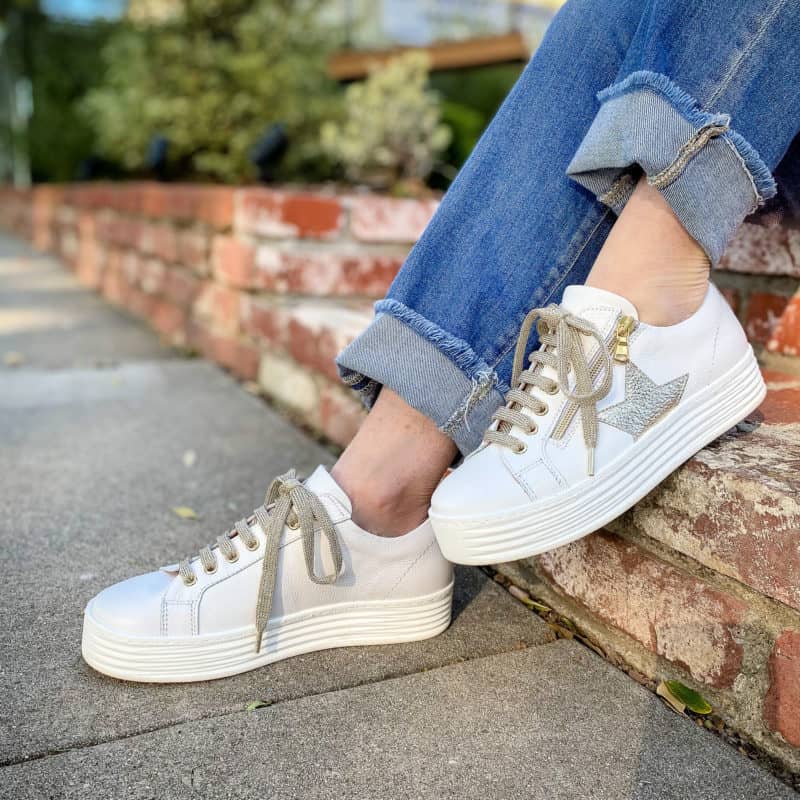 Classic Appeal
Cole Haan | Vionic | Paul Green | ECCO | Taos | Josef Seibel
Slip-On Styles
Naturalizer | ECCO | Sofft | Jambu | Cole Haan
Zip closure
Ryka | Paul Green | Taos | Jambu | Geox | Munro | Sole Bliss*
*Specially designed to comfortably accommodate wide feet and bunions. Use code SUSAN15 for 15% off all Sole Bliss styles
Loafers And Oxfords
These styles will generally be easiest to dress up or down. Again, look for soft leather, a well-padded insole, arch support, and a secure fit. Styles with thicker platform soles are popular and may provide extra cushioning, but be careful that the platform is stable on irregular surfaces.
Above: Sole Bliss loafers, gifted. These are nicely cushioned and have good arch support.
Loafers and Flats
Cole Haan | L'Amour des Pieds | AGL | Pikolinos | ARA | Paul Green |
Ilse Jacobsen | Born | Vionic | ARA | ECCO | Sole Bliss*
*Specially designed to comfortably accommodate wide feet and bunions. Use code SUSAN15 for 15% off all Sole Bliss styles
Oxfords and Brogues
Cole Haan | Clarks | Dr. Martens | Cole Haan | Softwalk | Josef Seibel | Kork-Ease
Sandals
Not everyone is comfortable traveling with sandals, but I find them a necessity on warmer days. Though I wouldn't advise wearing them on flight or travel days…better to have the protection of a closed-toe shoe.
Styles with adjustable straps over the toes as well as around the ankle will provide the most secure fit. Though I often wear backless sandals at home, they're not the best for travel. I'd also be wary of "strappy" styles with just a few, skinny straps. For travel sandals, sturdy carries the day.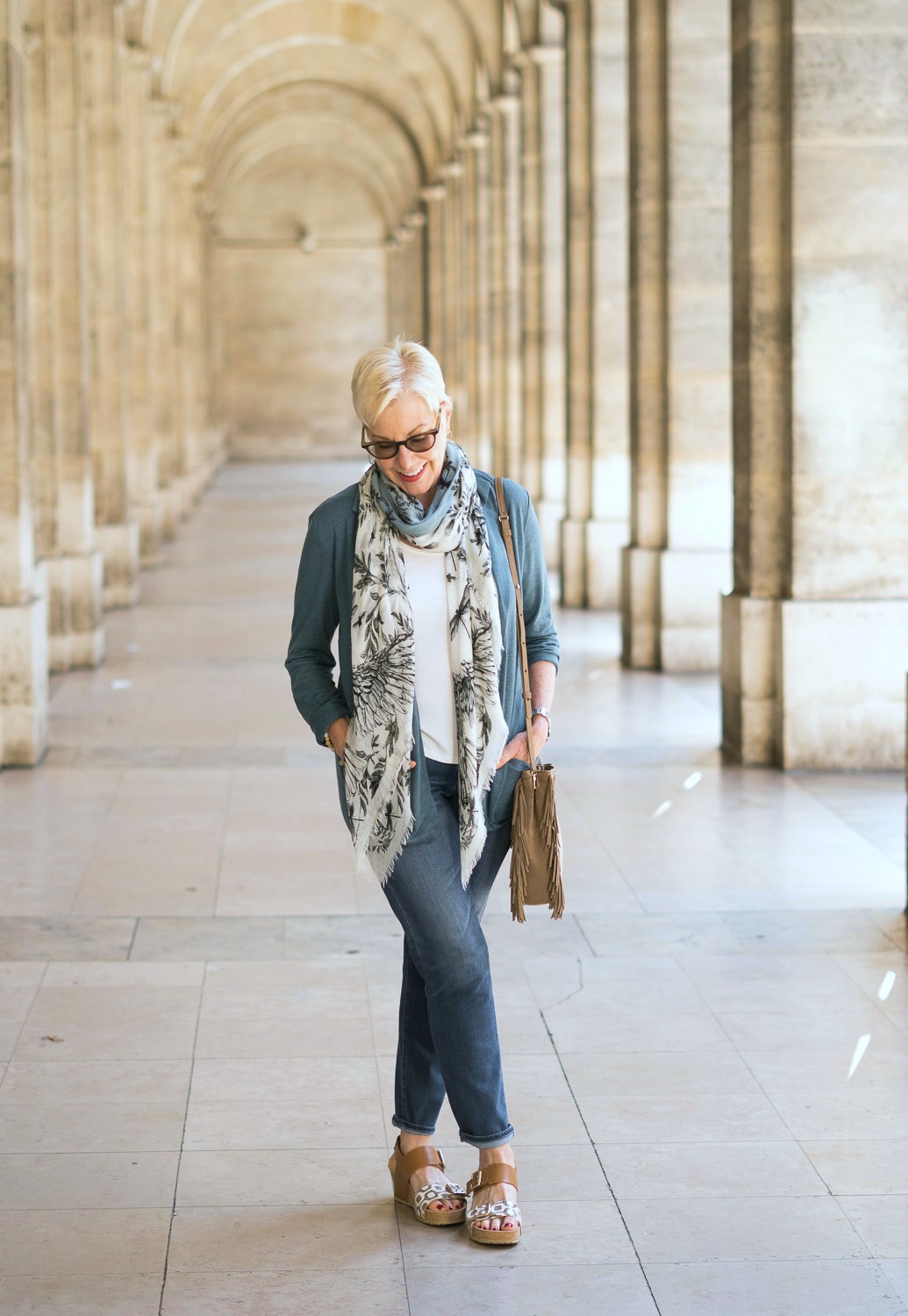 I've wore the style shown above all over Paris during two of our summer visits, and found them extremely comfortable.
More Sandals
Eileen Fisher | ECCO | Clarks | Vionic | ECCO | Teva | Mephisto |
Naot | Born | Sofft | L'Amour des Pieds
What are your favorite shoes for warm weather travel?
Thanks for reading! If you enjoy une femme d'un certain âge, please support me by sharing on Facebook, Pinterest, or other social media, and subscribe HERE to receive email notifications of new posts, and exclusive content. Thank you!
Stay in touch
Sign up to be notified of new posts and updates from une femme d'un certain âge.