Versatile pants 👖 to wear at home now and out later…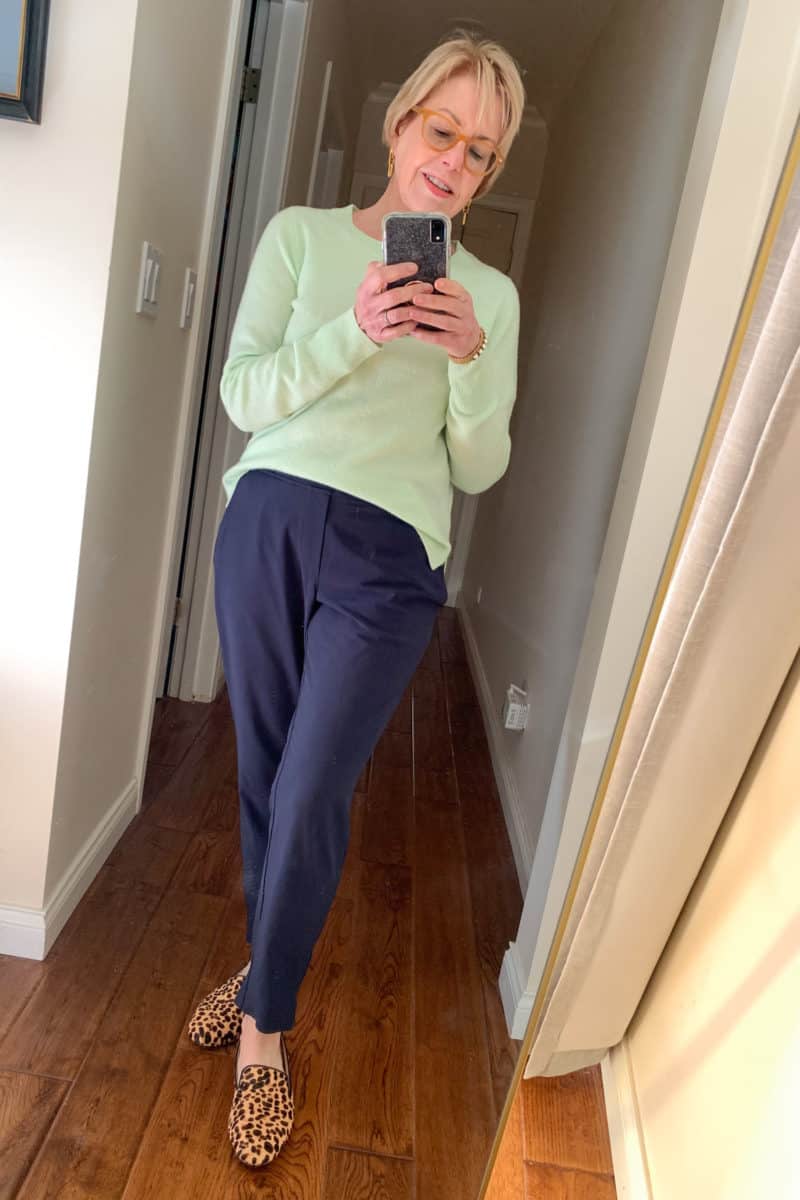 This is the time of year I find myself wanting to pare down and simplify. So I spent a little time this weekend re-shuffling my wardrobe. In doing so, I came across a pile of "maybe's" from my last closet detox, a few pieces that I'd set aside to re-evaluate later. These pants were among that group.
(sizes: sweater size Small, pants size 6P)
Athleta Brooklyn pants, styled 4 ways…
So many of you have recommended the "Brooklyn" pants from Athleta that I finally ordered last Spring. (My size and preferred color seemed to always be on backorder so it took months to get them.) Here, I've styled them four ways with other pieces from my closet. Above, what I wore at home yesterday.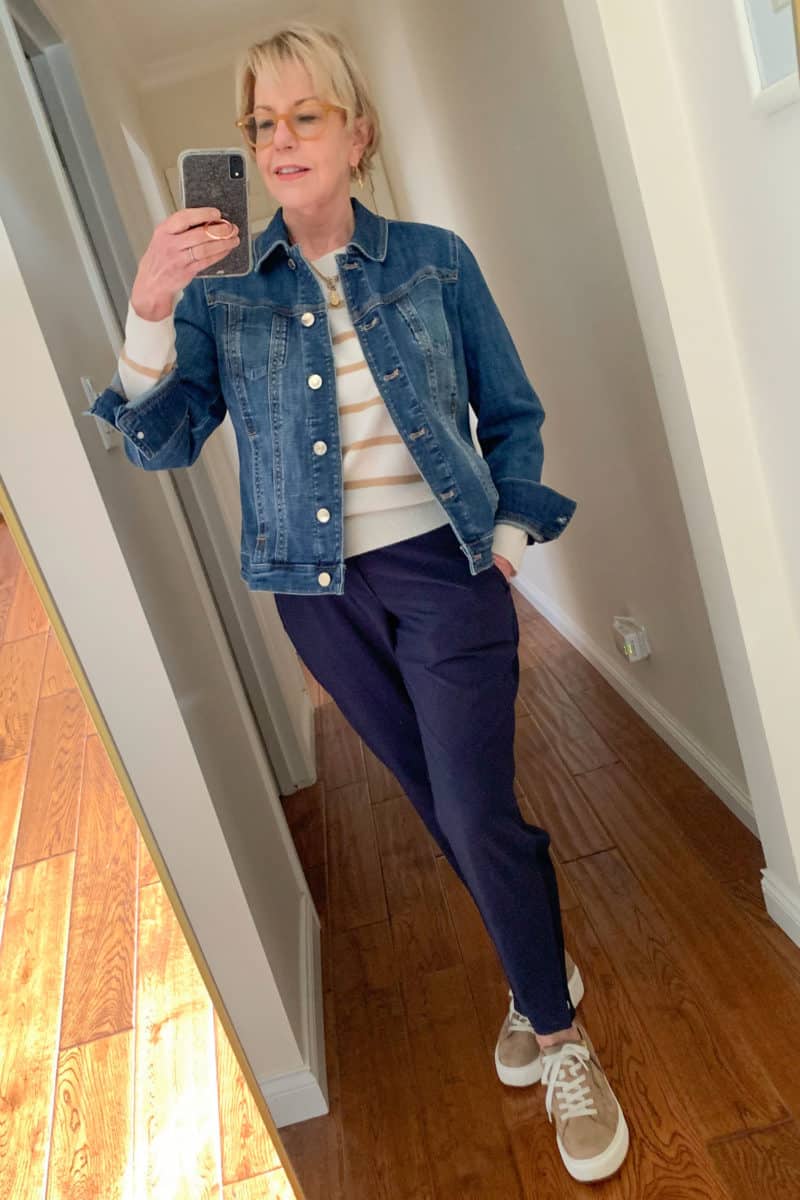 (sizes: jacket size 0/4-6P, sweater size Small, pants size 6P)
I'd wear this out to run errands, walk the dog, or meet a friend for a coffee. These pants are lightweight, and the fabric is silky-feeling and has a nice drape. Notice the pockets… 😉 They wouldn't be warm enough for outdoor wear in winter, unless you live in a mild climate. I'm wearing size 6P.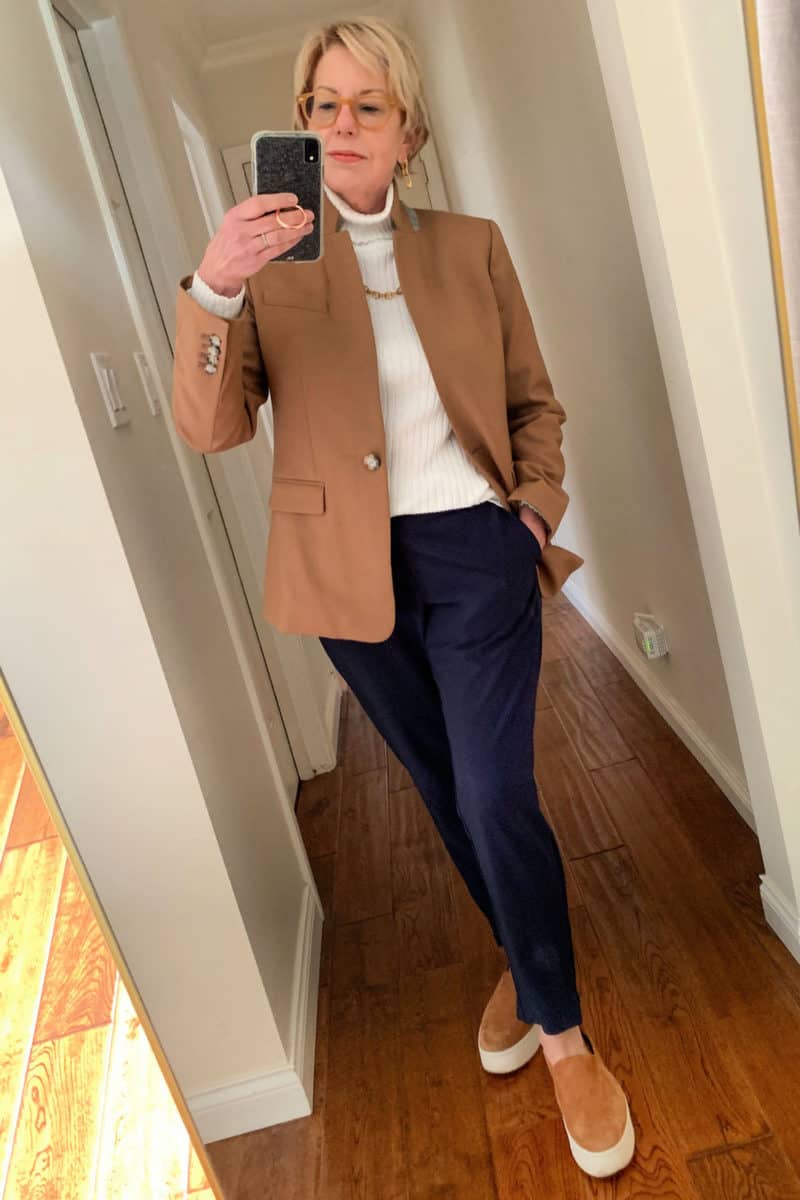 (sizes: jacket size 8P, sweater size 0/4-6, pants size 6P)
This blazer was another piece in the "Maybe" pile, and I think I'm going to keep it for now. I put together this outfit with those of you in mind who are working from home and need to look pulled together for Zoom meetings.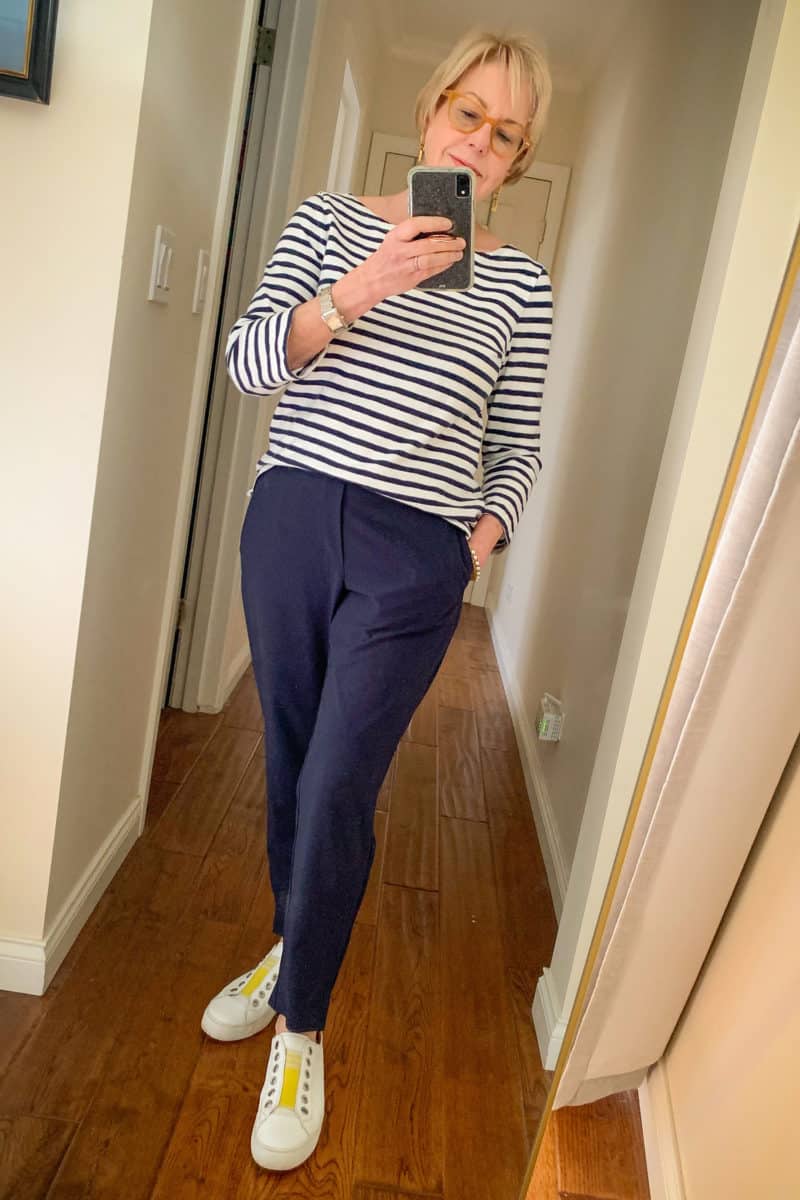 (sizes: tee size Small, pants size 6P)
Here's an outfit for later in the year, once it warms up again. If we travel during the warm season this year, I'll definitely include these Brooklyn pants. They are lightweight and comfortable, don't wrinkle, and can rise to Smart Casual if needed.
The Athleta Brooklyn pants are offered in Misses, Petite, and Tall sizes and a few colors. Pros: they're comfortable, lightweight, washable, versatile. Cons: not for colder weather, not as structured as woven pants. I've decided these are keepers.
Seeking your input…
If the last few months had a mantra, I think it would have been "one day at a time." I'd started the year with a definite schedule in mind for une femme d'un certain âge, which was completely upended in a matter of weeks. I pivoted away from all travel content, and focused on style, wellness, and making the most of life at home.
I didn't plan posts much in advance, as things seemed to change from day to day. While I think that staying flexible was the right choice in 2020, this year I want to move ahead with more direction and intention.
And that's why I'm asking for your input. I've created a reader survey HERE to help me understand what topics you're most interested in, and your outlook and (current) plans for 2021. Your answers will help me to plan content that's helpful and relevant to you.
Thank you in advance! (BTW, your responses are for my use only, and will not be shared with third parties.)
Stay in touch
Sign up to be notified of new posts and updates from une femme d'un certain âge.