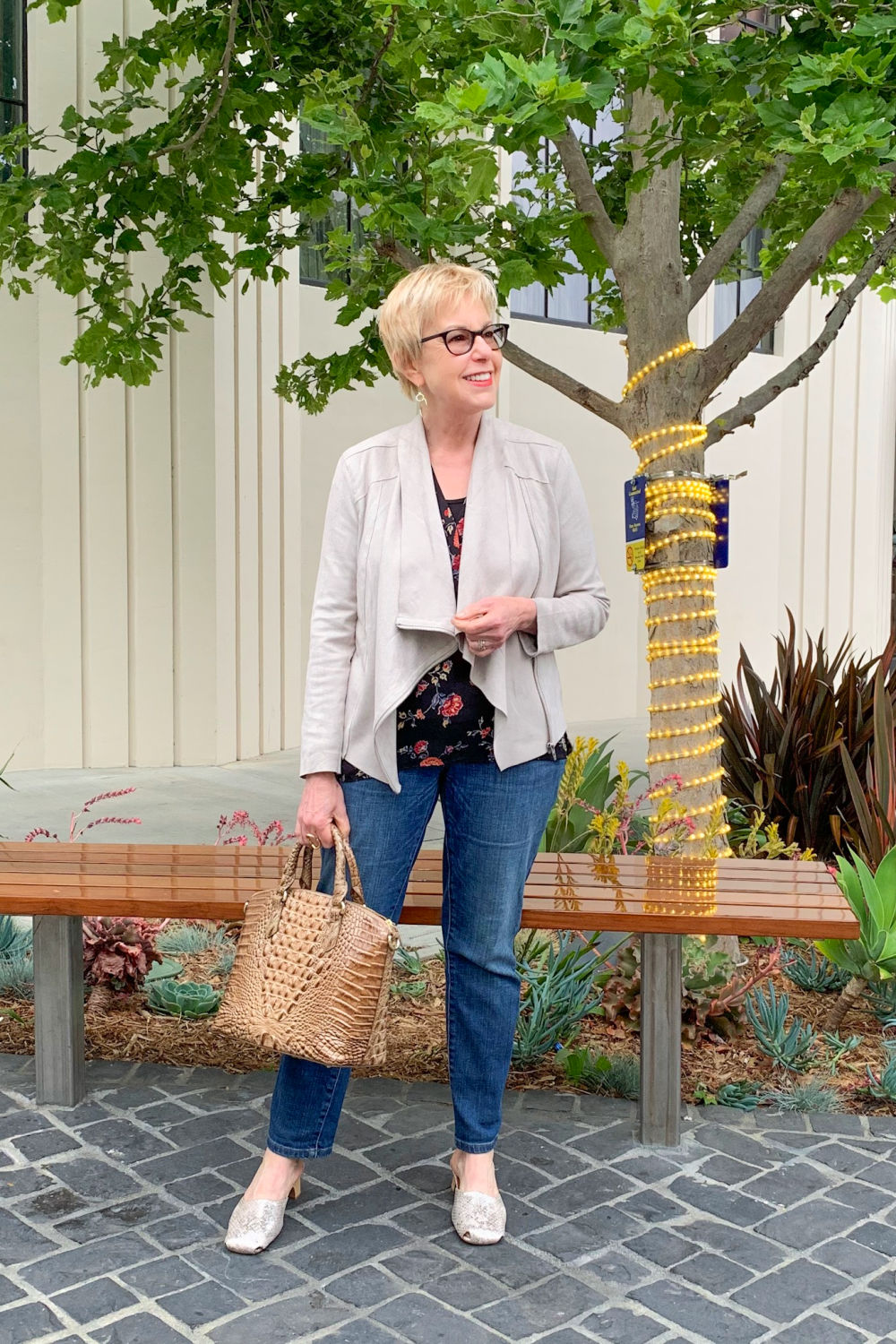 The Drape Front Jacket…
One wardrobe item that's perpetually on my wish list is a soft, lightweight jacket that's not a blazer, and not black. Sounds simple, but the right ones tend to be elusive. Last week I found not just one, but two!
Plus options: Jacket | Top | Jeans
This is the first one. It's a faux suede drape front jacket from BLANKNYC. I wore it out to dinner Saturday night, and was pleased with how comfortable it was, both outdoors and in. I'd seen it online and scrolled right by, never thinking to try it.
A Fresh Pair Of Eyes
That's one of the drawbacks of shopping mostly online: sometimes the retailer's images don't tell the whole story. But I'll admit, I tend to get overwhelmed trying to shop for myself in stores. First, they rarely carry Petite sizes. So trying to winnow through what might work for my 5'1″ frame, or figure out if something can be altered, feels like an extra hurdle before I even get to the changing room.
And then, I tend to get overwhelmed with too many potential choices. A friend of mine delights in looking at every item on the rack. I don't know how she does it. I tend to go into sensory overload after a while (and the loud music in so many stores now doesn't help).
So I decided to give Trunk Club another try. They're a shopping/subscription service of Nordstrom, and I'm lucky enough to have a brick-and-mortar location nearby where I can try things on in person. (You can also order a "trunk" online to try, based on your size and style preferences.) The selection of items and brands is more limited than in the stores or online, but on the plus side you have the advantage of working with someone who's familiar with the merchandise. I figured it would be worth spending an hour to have a fresh pair of eyes, and some options I might not have otherwise considered.
Jacket Jackpot
The stylist/Sales Associate had included this faux suede drape front jacket on rack of clothing she'd prepared for our appointment, and I could see the potential right away. It's right in my "softly structured" wheelhouse, and a light neutral to boot. (Though looking at this outfit now, I wish I'd added more color, maybe a red bag.) The jacket is available in several colors (including Plus sizes), here and here, is budget-friendly and also machine washable! I'm wearing size Small.
The light has been yucky lately for taking photos. Overcast and gloomy, which makes everything look dull and flat. Le Monsieur snapped these on our way to dinner at Lukshon. (Which was fantastic, BTW.) He's a very good sport about it!
Do you find a "fresh pair of eyes" is helpful when you shop?
Affiliate links in posts may generate commissions for unefemme.net. See my complete disclosure policy here.