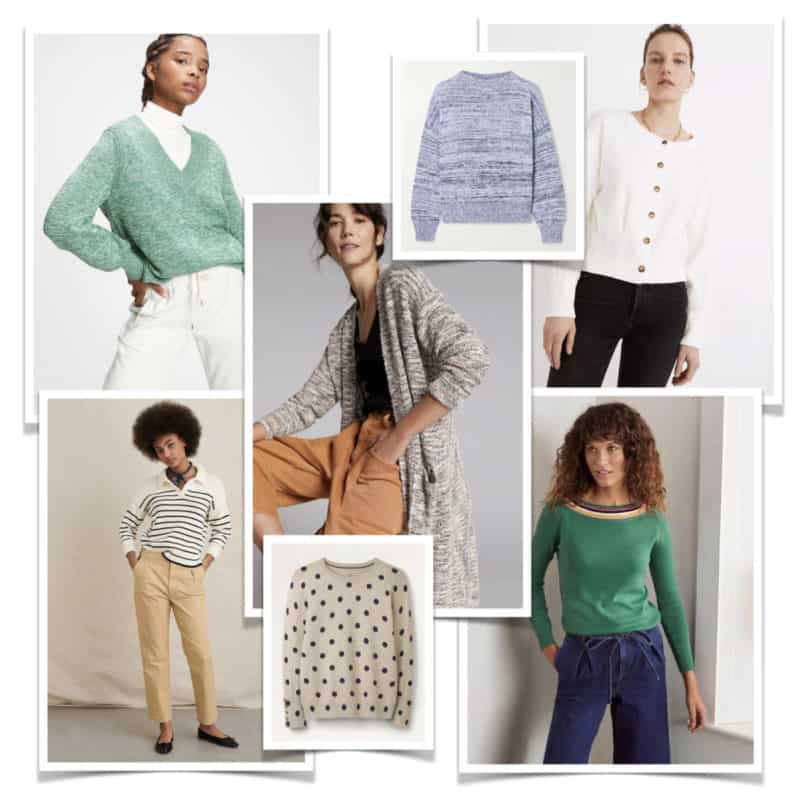 Wool-free sweaters to wear now and into Spring…
Sweaters are the hardest-working pieces in my cool weather wardrobe. I love my wool and cashmere sweaters, but many of you have mentioned that you're allergic or sensitive to wool or other animal fibers, so I'm always on the lookout for alternatives.
With Spring on the way, I thought I'd update this post with some current wool-free sweater styles. I've tried to stick to natural fibers (cotton, linen, silk) for this roundup, though some of the blends do contain synthetics.
Cotton sweaters (or cotton blends) are relatively easy to find. They're breathable and often washable, and tend to be more budget-friendly. But many cotton blends include some animal fibers, so I've done my best to filter those out.
Linen is lighter in weight than cotton, but in a denser weave can still provide warmth. Linen-cotton blends are common too. Early spring is the best time of year to find a good selection of linen and linen-blend knits.
Silk and silk blends are lighter weight and often have a more refined look and feel, but they are often pricier. (These tend to be more widely available in the Fall.)
Here are a few wool-free pullovers and cardigans that I thought you might like.
Pullovers
Alex Mill is a good source for sweaters and other basics in natural fibers. This easy collared pullover is 100% cotton. (Sizes XS-XXL)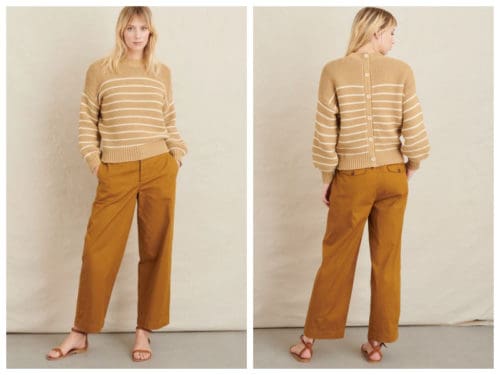 This 100% cotton sweater has some fun details: a button back and blouson sleeves. It's available in several solid colors, but you know me and stripes…😆 (Sizes XS-XXL)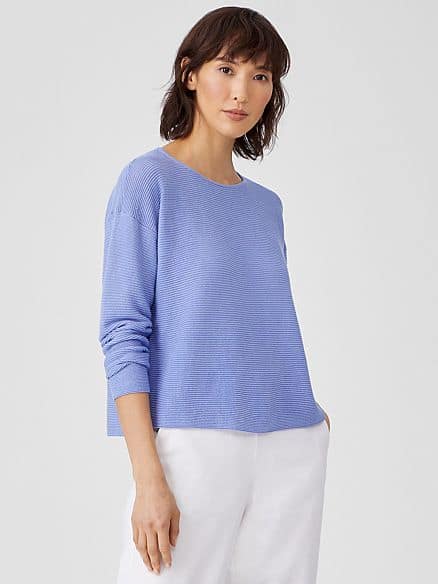 Eileen Fisher always has some good cotton-linen blend sweaters. This one is offered in a few colors; I think this "Hydrangea" is pretty. Sizes XXS-XL. Though the shape is boxy, the linen gives it a nice drape.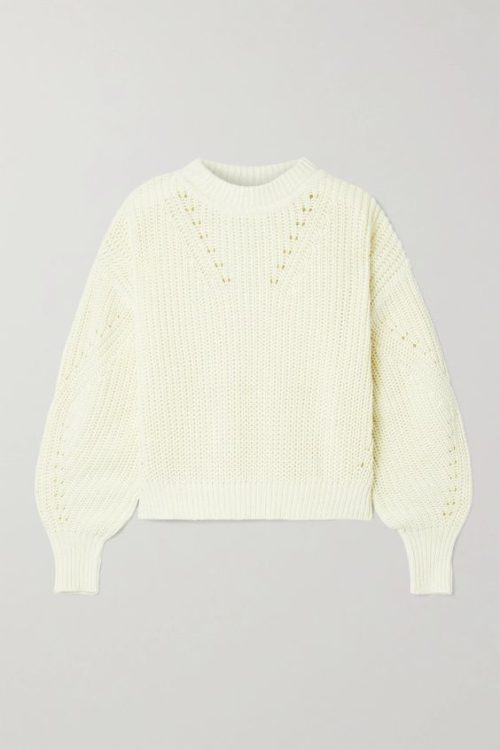 La Ligne makes some very nice sweaters. I like the woven pattern detail in this one. Still available in M-L sizes.
Boden is another good source for wool-free sweaters. They have several styles in cotton and cotton blends at the moment. This 100% cotton sweater with stripe detail at the neck is available in 3 colors, sizes 2-22.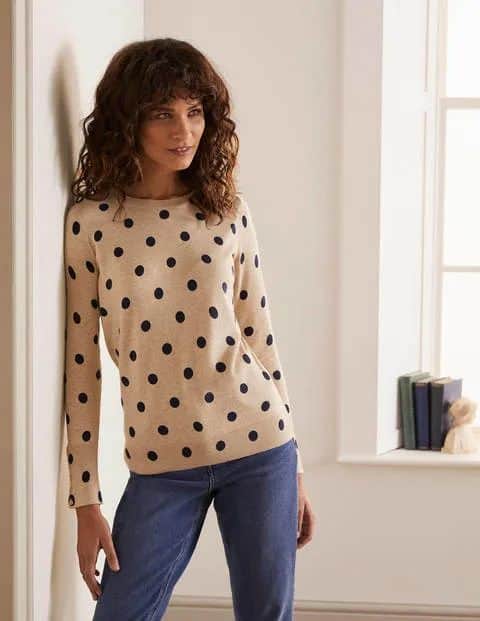 Here's a cotton blend crewneck in a neutral polka dot pattern, with button cuff detail. It's also available in several solid colors too, sizes XS-XL.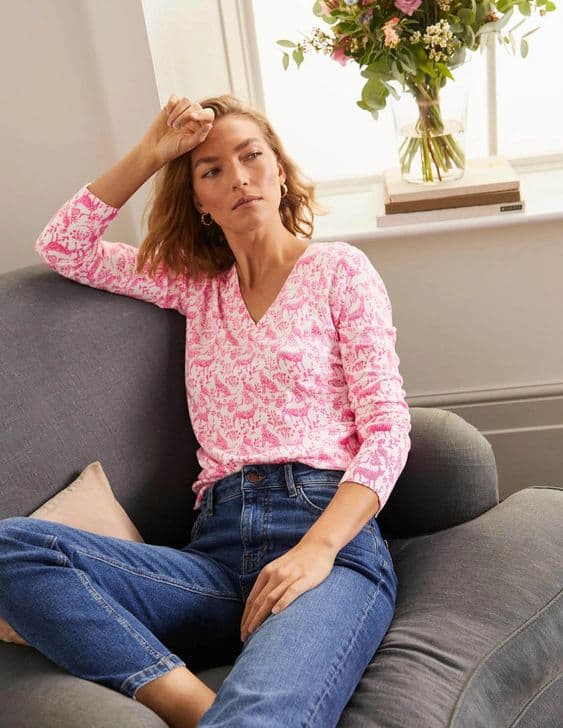 While this cotton blend v-neck is also available in several solid colors, I thought the toile-adjacent animal print was fun. This one also has a button cuff detail, and is available in sizes XS-XL.
I'm still loving this Jenni Kayne cotton sweater…sizes XS-3X available.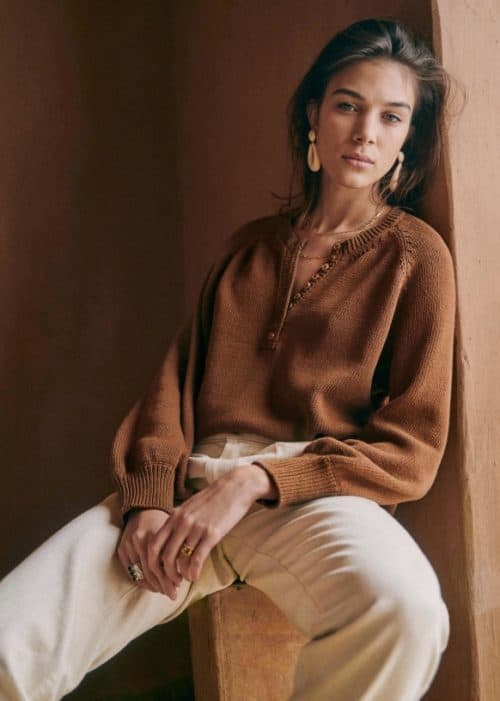 This organic cotton henley sweater buttons at the neck, so you can adjust the opening to your preference. Other colors available too, though some sizes are limited. This "coffee" color is available in sizes XXS-XXXL.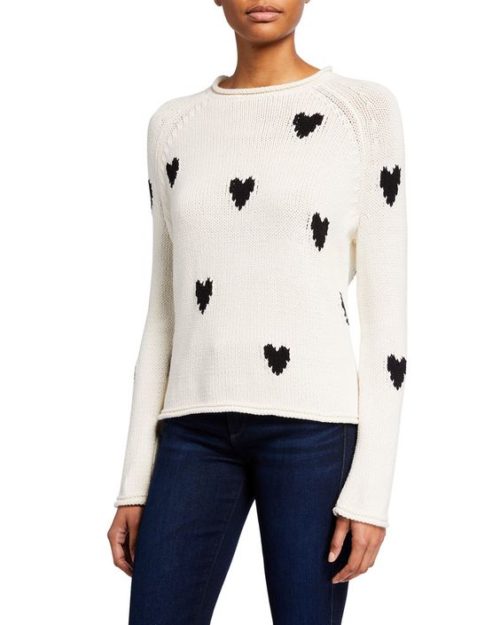 I recently stumbled across a new-to-me brand, Lisa Todd. While many of her designs skew a bit more bohemian, I liked this cotton blend heart print sweater in black* and white. It's available in Large and X-Large, though the other colors have more size availability.
*Or maybe that's navy? Hard to tell on my monitor.
A marled/space-dye knit is a nice option that adds some visual interest without being as demanding as a print. This one is from Max Mara, so it's spendy, but think of everything you could wear this with! It's 100% cotton, sizes XS-XL.
Here's a more budget-friendly option, in a pretty soft green. Sizes XS-XL (also offered in Tall and Petite sizes!)
And I had to include this one, just because Ralph Lauren does such gorgeous Southwestern-inspired prints. This looks to be kind of a sweater/sweatshirt hybrid in a cotton blend, sizes XS-L.
Wool-free cardigans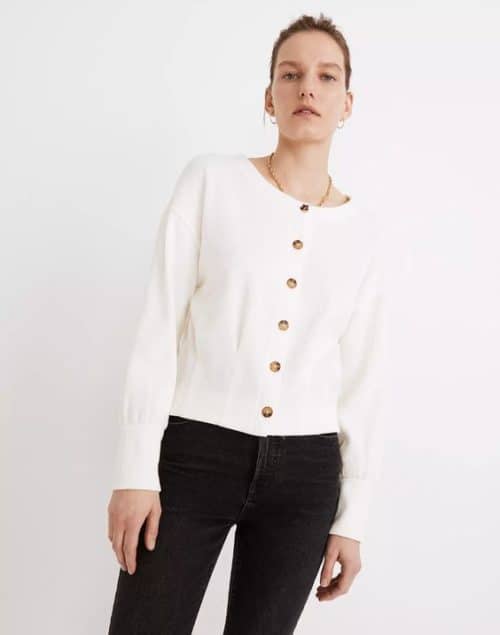 This simple organic cotton cardigan has pleats at the waist to give it a nice shape. Sizes XXS-XXL.
The zip front gives this ribbed sweater in 100% organic cotton a sporty feel. Sizes XS-XL.
There are a lot of silk-cashmere blends, but very few that are wool-free. This v-neck cardigan is a silk-cotton blend. It's available in sizes XS-XL, and also in a dark khaki color.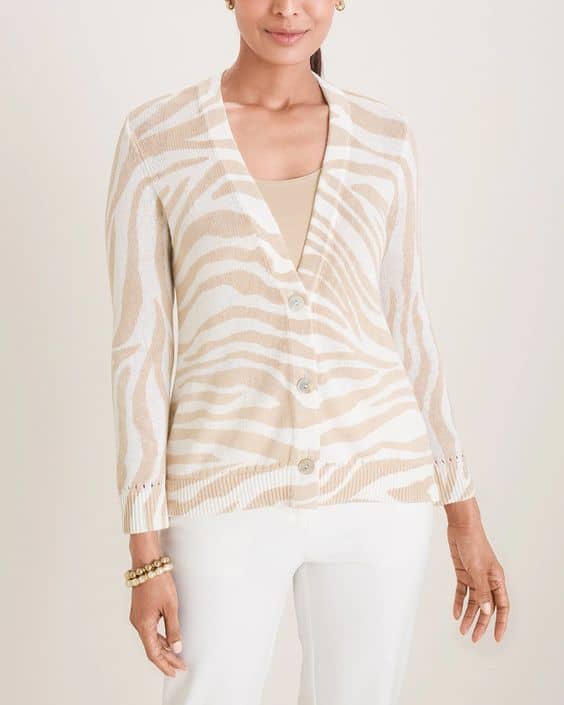 Here's a cotton-linen sweater that's fitted enough to layer under a jacket now, and wear open over a tee or tank when the weather warms up. Sizes 00-(0/2) to 4-(20/22). It's also offered in a blue floral pattern.
This longer fringe trimmed cardigan in a mixed tweed knit is a cotton blend. Offered in Misses and Petite, sizes 00-(0/2) to 4-(20/22).
Here's a long cardigan in a space-dye fabric. This one's 90% organic cotton, available in Misses, Petite, and Plus sizes.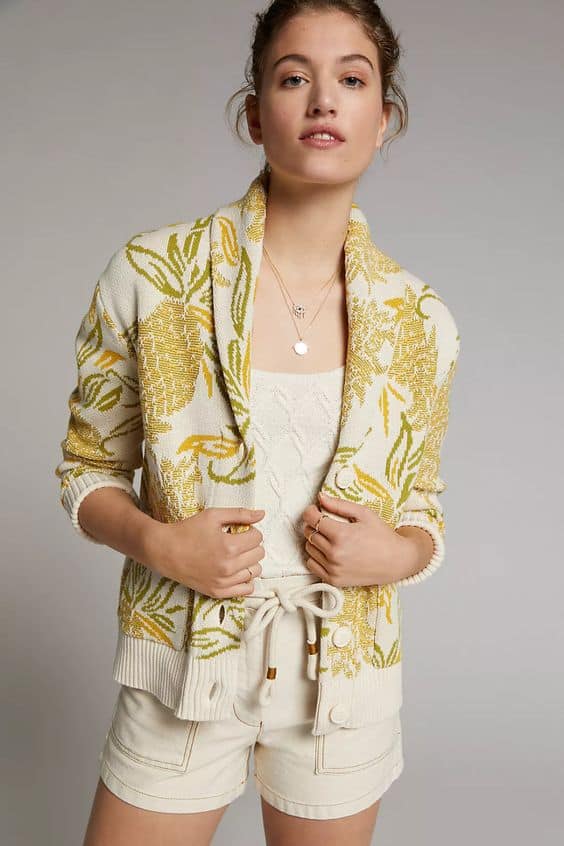 And finally, how fun is this pineapple print cardigan?? This 100% cotton sweater has a shawl collar and button front, and is available in sizes XS-XL.
Thanks for reading! If you're enjoying my posts and don't want to miss out on updates and exclusive content, you can sign up for my newsletter HERE.
Affiliate links in posts may generate commissions for unefemme.net. See my complete disclosure policy here.