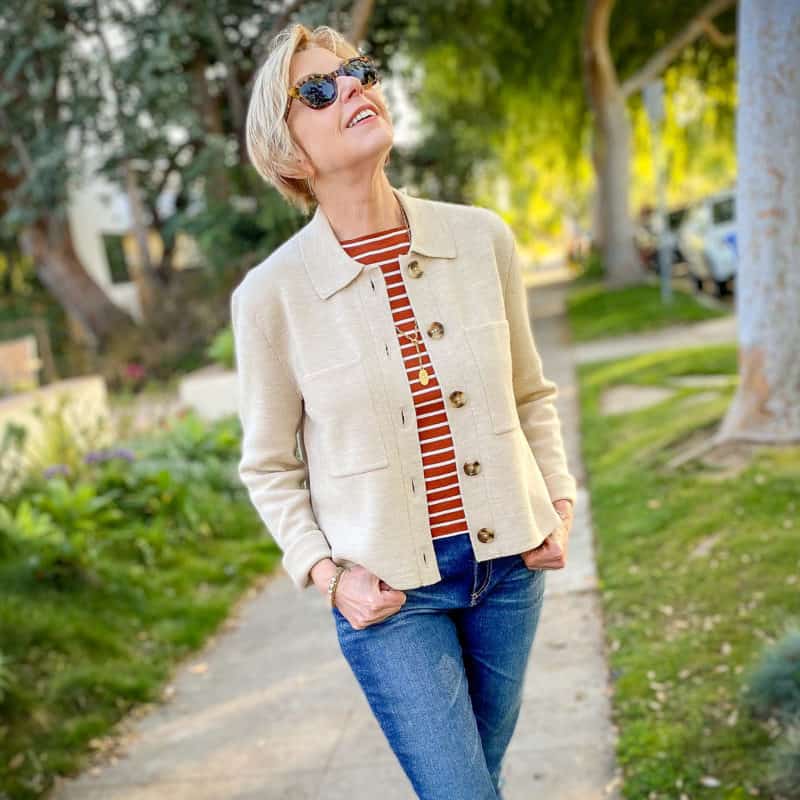 If there's one piece I've come to regard as a transitional season wardrobe essential, it's a sweater jacket. More relaxed than a blazer, but more refined than a cardigan, a sweater jacket can play either part.
I'd intended to style it and post next week, but this Madewell chore sweater jacket is apparently selling like hotcakes, so I didn't want you to miss out. I almost didn't order this when I first saw it online, but curiosity won out. I'll definitely be keeping; I think it's much better in person than it looks online. I'm wearing the XS. I sized down and am glad I did. But if you want a more oversized look, I'd suggest going with your regular size or even sizing up.
(There was a crow chirring in the tree above us, apparently offering creative direction. 😆 )
Yes, this sweater jacket is 100% wool. It's quite soft, not itchy at all, and has a nice drape. Here are some wool-free options…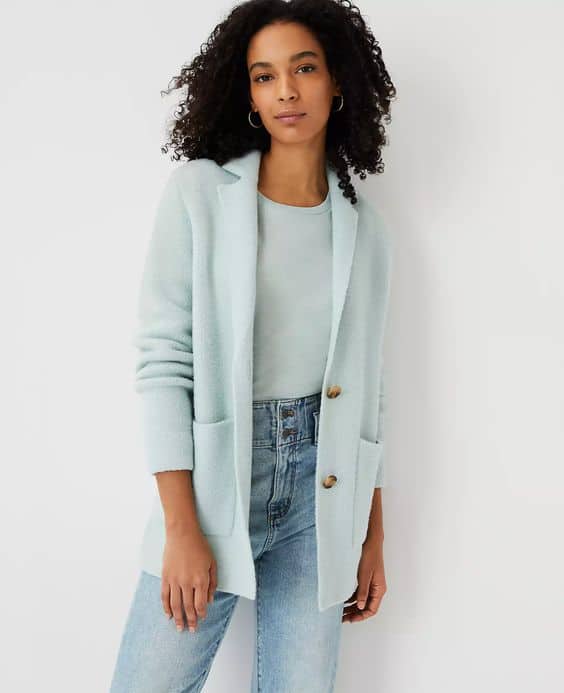 This sweater blazer is a nylon-cotton blend, available in two colors, sizes XXS-XXL.
This plaid sweater coat is also a wool-free blend, available in sizes XXS-XXL.
This cotton blend sweater jacket has a bouclé texture and fringed edges. Available in Misses XS-XL and in Plus.
More Spring sweater jackets…

A mini-refresh
I've been working with a design team to give my SHOP page a makeover, and am delighted to share it with you now. You can shop all of my current faves, or by category. (I'll be adding new categories in the coming weeks.)
I'll be refreshing the content weekly, so do check back regularly.
And speaking of makeovers…
Thanks to everyone who joined me last Saturday for a live Zoom facial with Brian of Brian + MW. We had a blast, and will be doing a few more of these live sessions focused on makeup. Next Saturday 3/6 will include techniques for smoothing, highlighting and contouring. Brian will teach and I'll be the subject. 😆
Save your spot: if you're interested in attending, you can sign up in advance. Just CLICK HERE to register. And if you have any makeup questions for Brian, you can submit them too!
If you're enjoying my posts and find them helpful, please pin to Pinterest and share! And if you haven't signed up for my newsletter, it's the best way to keep up with what's new, and receive exclusive weekly updates.
Affiliate links in posts may generate commissions for unefemme.net. See my complete disclosure policy here.