What caught my eye this week: practical-but-polished barn jackets
"Wearable" seems to be one of Fashion's biggest buzzwords this fall, and I'm here for it! One of the styles I'm seeing across several brands is the elevated barn jacket: practical enough for a country walk, but polished enough for scooting around town.
I featured this Heritage Barn Jacket in a recent travel capsule wardrobe, and received a few inquiries about how it would work for Petites. So I thought I'd show you. I'm 5'1″, wearing the XS here. (Available sizes: X-Small to 3X.) It's almost knee length on me. I'm wearing it with one of the cropped cashmere sweaters (size Small) and there's room enough in the jacket to layer up even more for warmth if needed.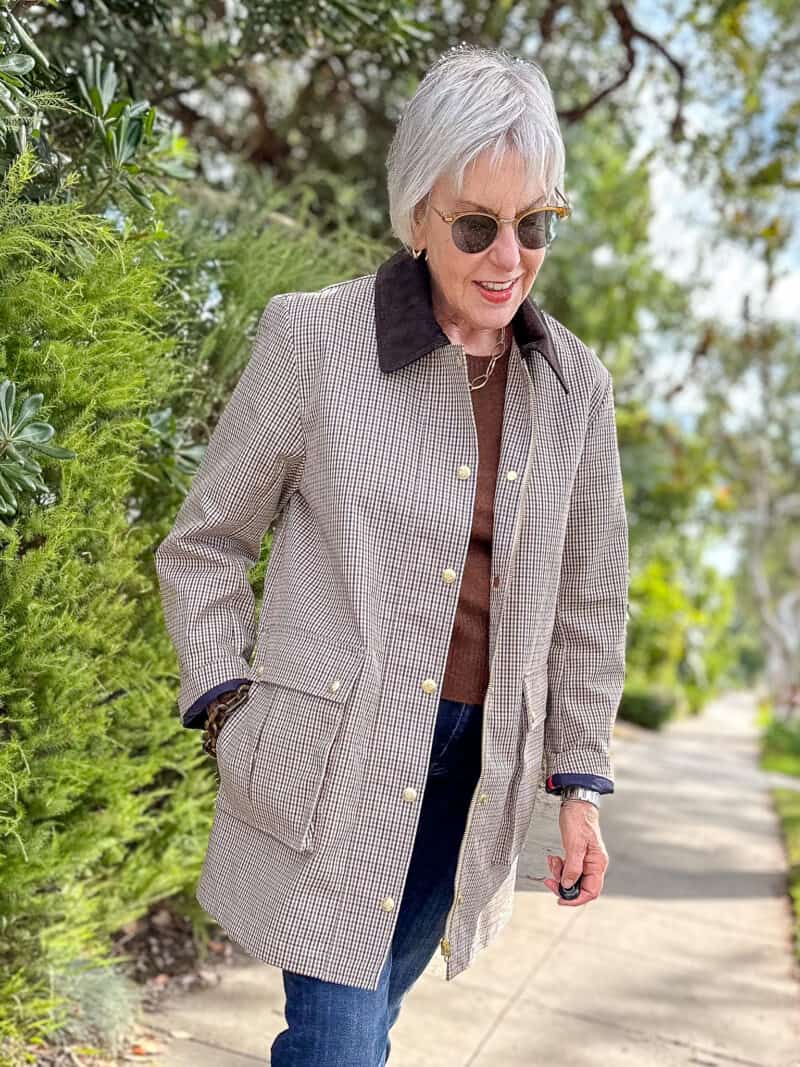 I like the neatness of the set-in sleeves. The body of the jacket has a straight shape, but isn't particularly oversized. To my eye, it looks a bit more refined than most traditional barn jackets. The jeans are the 9″ Demi-Boot, and I'm wearing a 27 Regular.

Dialed-up barn jackets for women
A "barn jacket" is usually a single-breasted, thigh-to-above-knee-length, collared jacket. It may be quilted, or not, lined or not. Here are some of my picks for versatile women's barn jackets:
This quilted version is available in a few colors, in Classic (XX-Small to 3X), Petite, and Tall sizes. I think the navy is a versatile and sophisticated option. And it's 30% off with code SHOPNOW
This one (described as "capelet") has a relaxed shape, available in Misses, Petite, Plus, and Plus Petite sizes. Also in Burgundy for cool palettes. It's very well-reviewed, and currently 25% off.
Barbour is one of the O.G's of barn jackets…this one is sleek and the Black Cherry color is an interesting alternative to black for you Winters…
I love the contrast piping on this one! In sizes 00(0/2) to 4(20/22). The cream color is good for Springs & Autumns.
This cropped version is a more sporty take on the style. The Dark Moss is a good black alternatives for many of you Autumns (especially Blue or Dark Autumns…) Sizes Small to 3X available.
Here's one in leather, currently 33% off.
If I didn't already have a red quilted jacket, I'd be all over this one. (This is Geranium from the Spring & Autumn palettes. Also in moss green and golden yellow, both in Autumn.) Misses, Petite, and Plus sizes available, and it's 25% off.
And finally, here's a bright one for you Winters! It's currently 42% off, and still available in all sizes X-Small to X-Large.
I think a lightweight barn jacket could be a good outerwear option for mild-to-cool fall travel, especially one that's water-resistant. (The one I'm wearing at top is.)
Stay in touch
Sign up to be notified of new posts and updates from une femme d'un certain âge.