Casual chic: the evergreen combination of jeans and loafers
Here's an easy way to make a simple jeans outfit feel more chic and put-together: just swap out your sandals or sneakers for a pair of loafers. Jeans and loafers are a timeless, ageless combination, but one that can be tweaked to express your personal style. Today I'm sharing a jeans and loafers look I wore recently.
It's been a busy few days. I'm finally catching up with doctor's appointments and other errands, so I've been leaning into "no-brainer" outfits to get ready and out the door without fuss. Jeans and a sweater have been my starting point most days. A few accessories help me feel "present and accounted for."
A casual jeans and loafers look
Above, the loafers add some structure and polish to a slouchy sweater and jeans outfit. They're comfortable enough to walk the dog and run errands, and don't feel too fussy or "try hard." (OK, so I know not everyone is a fan of off-white loafers. But here I like how they add lightness, and echo the sweater and my hair color.)
I like the slightly oversized and slouchy fit of the sweater, and have balanced the volume with a slim boyfriend jean. The sweater is SO soft! I'm wearing size Small in the sweater, 28 in the jeans.
Jeans & loafers combos
This combo works with just about any style of jeans: slim, bootcut, flare, wide leg or cropped.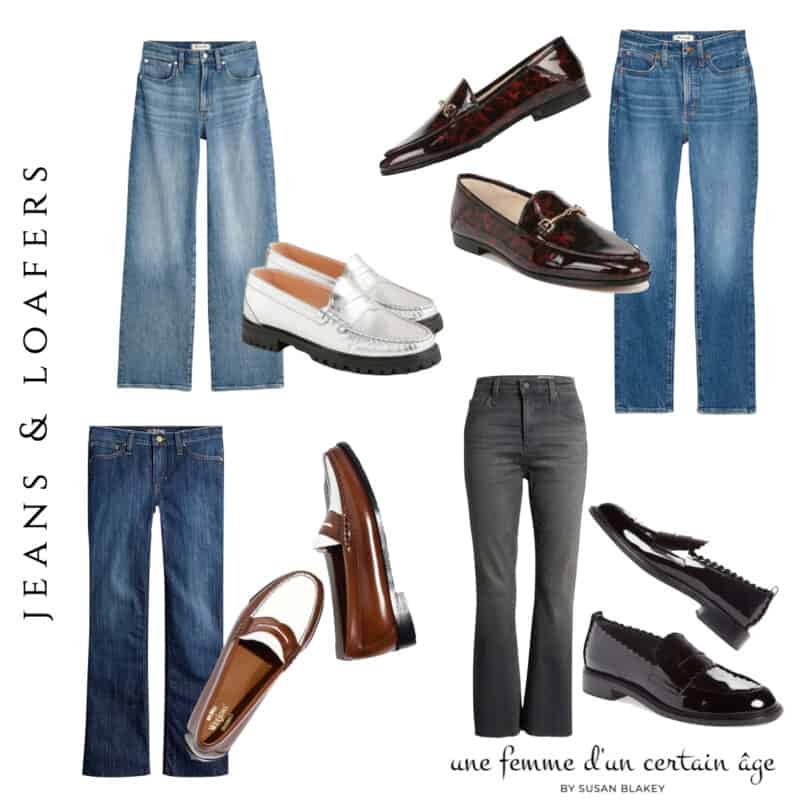 Mixing levels of refinement in an outfit is one of my favorite ways to add interest. So if the jeans are a little distressed, go with more polished (or classic) footwear. And yes, you absolutely can wear socks with your loafers. Coordinate with your outfit or clash…it's all good.
Do you have a favorite outfit combo that always seems to work for you?
Stay in touch
Sign up to be notified of new posts and updates from une femme d'un certain âge.