Summer simplicity: 4 easy neutral outfit ideas to try
Summer is officially here, and weather seems to be running the gamut from cool to mild to OMG-it's-SO-HOT 🥵, depending on where you live. So I've put together a few easy neutral outfits for summer, to take some of the fuss out of getting dressed, no matter what your thermometer reads.
I always find summer to be the most challenging season to dress for. Trying to navigate between heat and air-conditioning (or intermittently cool coastal weather) usually means lightweight layers, or even changing clothes mid-day. In coastal Southern California, it's still cool enough for a light jacket most mornings, but warm enough for short sleeves by noon.
Summer can be a good time to have some fun with our outfits, and bust out the color and pattern. But for those days you want to keep things simple and uncomplicated, a neutral look is hard to beat.
Cool & coastal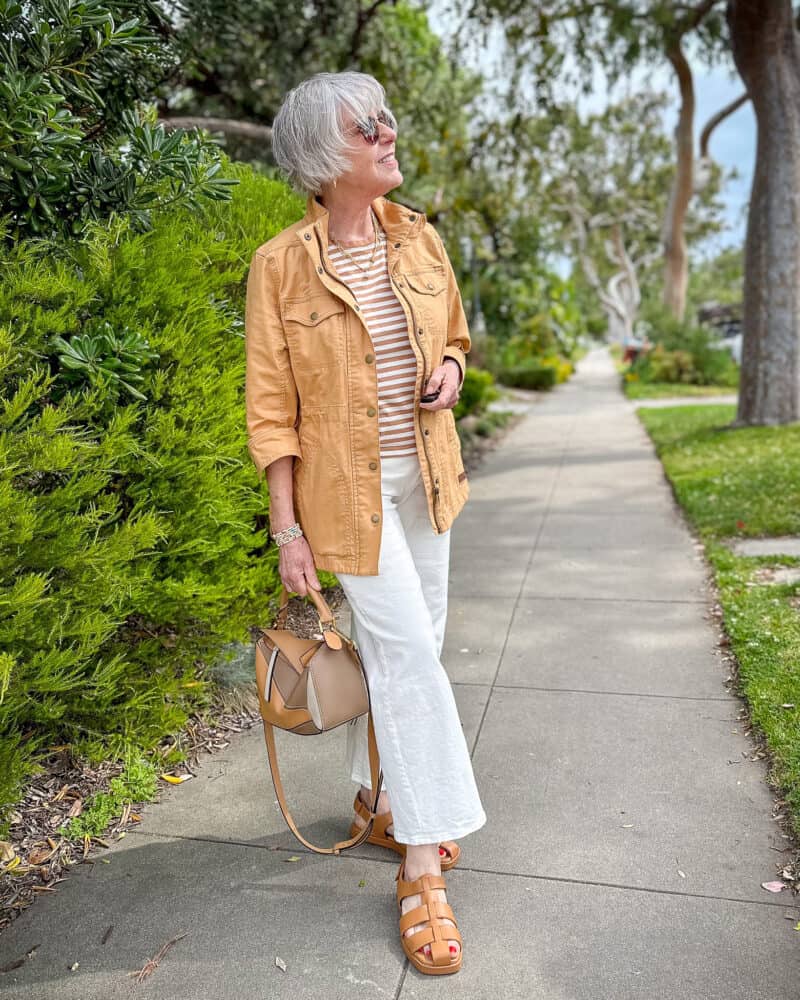 I wore this out to run errands last week and was quite pleased with it. I love these little organic cotton tees from Everlane, and usually purchase a couple of colors each year.
A light utility jacket is a practical and perfect choice for our Marine Layer Mornings. The jacket is mostly sold out in this color, though a few sizes are still available, and there are other colors including a warm brown.
Someone recently asked for suggestions about what to pack for a visit to Carmel-by-the-Sea. It's a charming beach town and artists' community just south of Monterey, California. I was reminded when we visited a couple of years ago that it can be quite chilly, even at the height of summer.
Yes, you absolutely WILL want to have a sweater and jacket on hand! I'd recommend either a lightweight cashmere or linen sweater like this one. You want something that's warm, but that won't be sweltering should the sun decide to make an afternoon appearance. And keep the fit relaxed enough to comfortably layer a tee underneath.
I'd recommend slip-on shoes that are sturdy enough for walking on rocks or gravel. (Slip-on, in case you decide to have a wade in the ocean. Be warned, that water is COLD!)
(By the way, the summer sweater + jacket recommendation would also hold for San Francisco, coastal points north, and south to Santa Barbara.)
The heat is on
I hear you…it's HOT where you are! Here are a couple of simple, neutral summer outfit ideas in breezy linen and cotton pieces.
Here's a wafty poplin dress that won't cling to you anywhere. It's a little crisper than linen, and won't wrinkle as much. It's also available in a green stripe, and white and navy solids. (And here's a linen maxi dress that also looks pretty good, and is available in Petites!)
Yes, you could also go with sandals, but for those who like or need some toe coverage, these cutout espadrilles will provide some ventilation. Statement earrings are a great jewelry choice for hot weather, as they don't require much skin contact.
If you don't wear dresses, or like to mix it up, loose-fitting and breathable separates are another way to stay cool. White and navy are the quintessential summer neutral combo. Here's a more relaxed iteration with a linen top and cotton gauze pants. The shirt is available in several colors, size XX-Small to 3X. Pants are also available in black or white, in Classic, Petite & Tall sizes.
Goings on behind the scenes…
I've been working with tech support and design people to do a bit of work "under the hood" and make some minor updates to the blog. I'm also working on a re-launch of my subscribers-only newsletter for early next month. To be sure you don't miss out on any new posts or exclusive updates, be sure to subscribe HERE.
Stay in touch
Sign up to be notified of new posts and updates from une femme d'un certain âge.