Fall weather was made for for boots and a sweater…
It's finally feeling like fall, and I'm SO ready for it. Today I'm sharing a comfortable, casual sweater and boots outfit that's perfect for lovely fall days.
This post is sponsored by Nordstrom. All ideas and opinions are my own. No items were gifted.
Fall sweater and boots outfit
When fall arrives in our corner of Southern California, it's almost as if someone flipped a switch. One day summer's heat is still hanging on, and the next there's a cool crispness in the air and the light feels completely different. I love this change of season, and the change of wardrobe that comes with it.
Details: I'm wearing size Small in this cashmere henley sweater, and 28 in the jeans. Both are on the cropped side, so are petite-friendly (I'm 5'1″, short-waisted). I've cuffed the sleeves on the sweater. The lipstick color is #440 "Arthur," a warm red.
This soft sweater has a relaxed but not bulky fit, and set-in sleeves. I can wear on its own, as an outer layer over a tee or shirt, or underneath a coat. And you know how I am about a Breton stripe…😍 The slightly bootcut "step hem" on the jeans is shorter in front, the better to highlight the boots.
More casual striped sweaters…

A fall re-boot
The last few seasons, it's been all about the chunky, lug-sole, and combat boots. Those styles are fun, but it's nice to see more variety this fall. Ankle boots are my go-to footwear during the cooler months, and I've been on the lookout for a style with some visual "heft," but that's refined enough for a smart casual look.
I like the square toe on these, which is a nod to 90's minimal style. They remind me of something Caroline Bessette Kennedy might have worn. They run about 1/2 size large, so the 7 was a better fit than my usual 7½. They're available in 4 colors. But I know this shape isn't everyone's cup of Oolong, so have shown a few more options below.
These styles have a walkable heel, but can dress up enough to go out to dinner…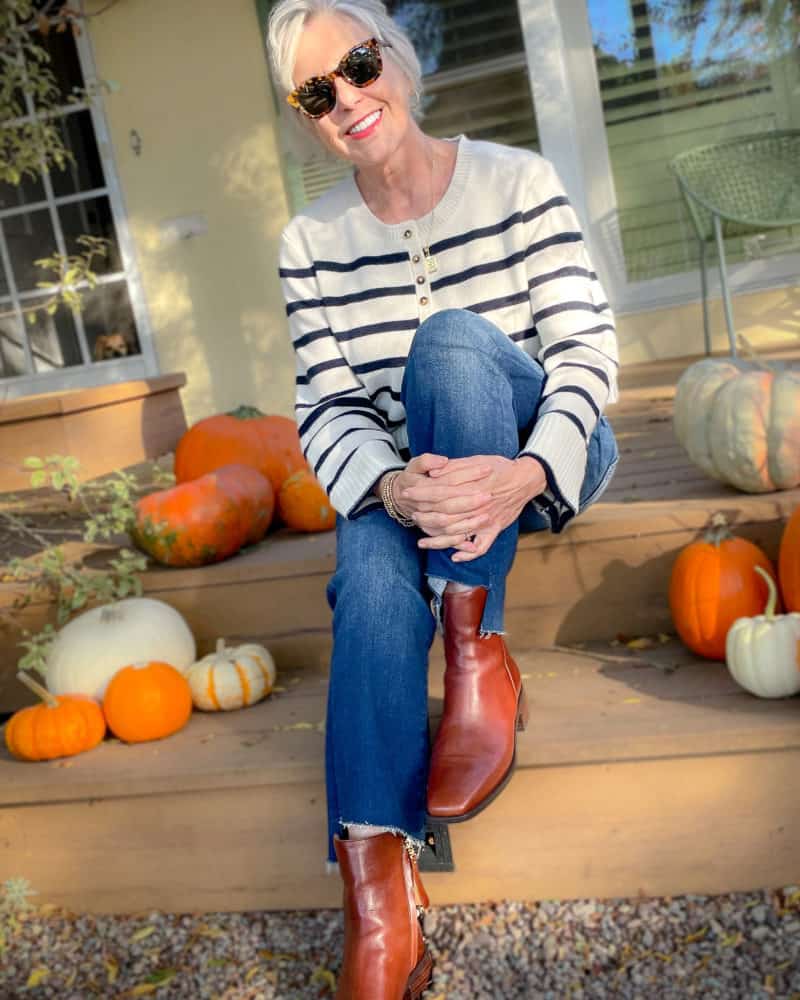 Nordstrom has a great selection of sweaters, boots and other fall styles, in a range of prices and sizes. They offer free delivery and returns, always.
Stay in touch
Sign up to be notified of new posts and updates from une femme d'un certain âge.